For many years, London has been considered the startup capital of Europe. According to StartUp Britain, approximately 90 per cent of all businesses in London are micro-businesses, and the city's diverse business ecosystem has facilitated the development of a booming freelance economy.
Reputation Building

Being based in a leading and established global business hub can help new businesses build a solid reputation and have access to first-class facilities.
Flexible contracts

Many offices allow a month-to-month contracts and flexibility.
Wide Range of Locations and Prices

A wide variety of choice in terms of location, office space specifications, and price tiers.
An Office that Suits You

An office environment specifically created to suit the needs of startups and freelancers and to foster growth, creativity, and collaboration.
Inclusions and Exclusions
London offers a diverse mix of office space for startups and freelancers, who can choose among co-working spaces, serviced offices, hot desks, accelerators, and incubators. Every space type offers a different set of amenities, but generally speaking, most spaces catering to startups and freelancers offer the following:
Access to furnished office space (or to a single workstation), including telecommunications and IT infrastructure. However, specifications vary and tenants cannot choose their service provider.
Round-the-clock access to building.
Cleaning, security, reception staff, and support from an office manager.
In most serviced offices, incubators, accelerators and coworking spaces, tenants have access to whichever shared facilities are available (e.g. kitchen, bathroom, outdoor areas, parking space, lockers, bike storage), as well as to dedicated rooms for events, meetings, and conferences. However, the use of these facilities is not always included in the monthly rental fees, although shared office spaces are more likely to offer all-inclusive access.
Coworking spaces and other types of office space catering to business in the creative sector may offer an additional range of recreational facilities, such as game rooms, gyms, or relaxation areas.
Typical Occupier Profile
Small startups may opt for a serviced office in a business centre or use a combination of shared office space and small private offices. These businesses are more likely to use accelerator and incubator space too due to the additional levels of support offered by this type of venues. On the other hand, freelancers are usually drawn to other office space arrangements, such as hot desks, co-working spaces, and shared office spaces.
With regards to the sectoral distribution, the startup scene in London is mainly driven by tech companies. FinTech has also grown exponentially over the past 10 years. Other important sectors include digital marketing, media, publishing, advertising, mobile gaming, software-as-service, education, digital health services, e-commerce, and data analytics.
Startup Office Space Locations In London
All over London, there are hundreds of coworking spaces, business centres, and other premises offering office space specifically tailored to the needs of startups and freelancers.
Business centres offering serviced offices are more common in the City, Canary Wharf, the West End, Greenwich Peninsula, and King's Cross.
Coworking spaces and other forms of shared space are clustered around the East End, Hackney, and Islington (Highbury, Clerkenwell, Hoxton, Shoreditch, and Bethnal Green) and particularly near Old Street and the Silicon Roundabout.
Incubators / Accelerators: this type of space is usually managed by universities and large private sector companies. Some good places to start your search include London Metropolitan University, Imperial College, and UCL. Blue-chip companies like Google, Telefonica, Microsoft, and Barclays have their own startup accelerator programs/spaces.
Typical Costs and Budgeting Considerations
The following are approximate price averages for each type of startup/freelancer office space:
Coworking space / Shared office space averages £300-£500 / month for a dedicated desk and unlimited access to the venue's facilities.
Hot desks: from just under £200 / person / year to over £400 for unlimited use of facilities, or under £130 for blocks of 35 hours / month. The most expensive packages are usually in the City and Canary Wharf, whereas the lowest priced are in Holborn, Ealing, and South London.
Serviced offices: space is usually charged per workstation and varies depending on location and the number of services included in the chosen package. In the City, monthly costs range from £600 to £1,500; West End: £700; Southbank and Midtown: from £550 to just under £700.
Incubators / Accelerators: space is usually charged per desk and ranges from £225 for a single desk to more than £2,700 for 16 desks.
Coworking spaces may offer rent-free periods or discounts on monthly rentals when signing up for 3 or 6 months. Some also offer small private offices, whose costs are on par or slightly lower than those involved in renting a serviced office.
Shared space and hot desk providers usually offer access to the premises on a membership basis, which sometimes includes some degree of business support (mentoring, advice, legal support, workshops, etc.)
It is also worth noting that serviced offices require a deposit equivalent to 1 or 2 month's rent depending on the licence length, whereas this upfront financial commitment is not required in coworking or shared office spaces.
Other Considerations
Some additional things to consider include:
The level of support needed: accelerators and incubator space are particularly suited to startups who require help with funding and access to intensive business development and growth programmes.
Office space specifications and / or the need for specialised office space, particularly among startups involved in IT or technology. In some cases, it may be worth considering the possibility of moving into a managed office where all IT and layout needs can be personalised to accommodate the company's specific needs.
How frequently office space is to be used: this is especially applicable to freelancers, who may not require full-time access to an office. In such cases, opting for a hot desk solution billed at hourly or weekly rates may be the most cost-effective alternative.
More articles from the Office Solutions Section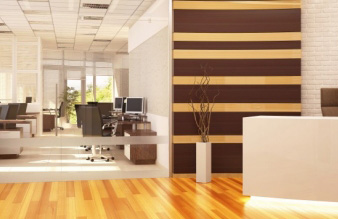 Conventional Office Space
Traditional office space is a good option for businesses with at least 100 employees and, across London, conventional office space is typically favoured by corporates.
Facilitates branding and advertising.
Potentially lower rates or discounts, especially whenever longer leases are agreed.
Flexibility and control over the premises' appearance, layout, and space management.
Only pay for the amount of space used.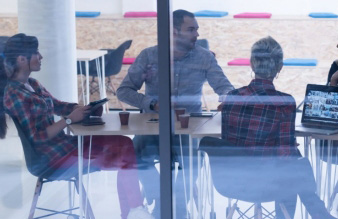 Business Centre/Park Space
Business centre and business park space is available in the form of serviced offices, virtual offices, hot desks, and shared office space.
Flexibility.
Better value than conventional space.
Creative allocation of space and high quality premises.
Lower financial risks.
No legal or commercial agent costs.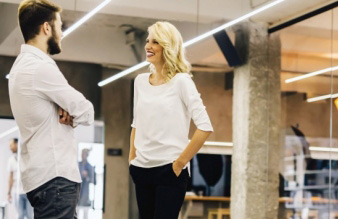 Managed Office Space
Managed or semi-serviced offices are a convenient office solution that suit the needs of business owners who don't want to commit to a conventional office lease but don't want to go down the serviced office route either.
Non-branded buildings.
Flexible licence agreements with easy in-out and renewal terms.
Move in within 3 months of lease-signing.
Credit checks are not usually necessary.
Total personalisation of office space.