Managed offices (sometimes referred to as semi-serviced office space) are a convenient office solution that suit the needs of business owners who don't want to commit to a conventional office lease but don't want to go down the serviced office route either. A managed office differs from a serviced office solution in that the latter are purpose built, whereas the former usually consist of vacant commercial space that may or may not have been built to be used as an office.
Ready for Your Brand

Managed office space is available in non-branded buildings and mostly accommodate a single occupier instead of multiple companies. This makes it easier for tenants to develop their branding strategy as they see fit.
Flexible Arrangements

Flexible licence agreements and easy in-out and renewal terms that can be easily adapted to the company's future space requirements.
Get a Fast Start

Relatively quick access to the premises, as on average managed offices are ready to move in within 3 months of signing the lease as opposed to 6-9 months for conventional space.
Ideal for First-timers

Credit checks are not usually necessary, so this office space solution may appeal to first-time business owners.
Wide Range of Options

A wider range of choices with regards to location and specifications.
The Personal Touch

Total personalisation of office space, as bespoke furnishings and custom-made office layout and décor are part of a managed office package.
Inclusions and Exclusions
The details of which fixtures and fittings are included in a managed office licence vary greatly, since the role of managed space providers is to find out about the occupier's needs and to deliver a bespoke office space solution.
Some offices are already furnished, whereas others are only fitted with cubicle partitions or unfurnished.
Basic ICT infrastructure (e.g. Internet and phone data ports and access points) may be pre-installed and run on plug-and-play system. In other cases, occupiers have a variety of broadband and phone packages to choose from, so this can be a cost-effective solution that is also better tailored to the particular needs of each business.
Utilities such as water, gas, and electricity are usually included in the monthly rate.
Buildings insurance, business rates, service charges, and building maintenance are also included.
Cleaning and security may be part of the contract, but this is not a given.
Unlike in business centres offering serviced office space, access to admin support services and meeting / conferencing facilities is not usually available.
Exit costs such as reinstatement, write-offs, legal fees, and dilapidations are usually included.
Typical Occupier Profile
Generally speaking, managed office space is best suited to the occupational requirements of medium and large companies, as units tend to be larger than those available in serviced offices and average 5,000 square feet. According to a report published by Portal Group, the vast majority of managed offices in London are used by businesses with at least 100 employees and by blue-chip firms. The report also revealed that the average stay in a managed office lasts 2 years, so this arrangement is increasingly viewed as a semi-permanent solution that allows businesses to grow and to easily scale up or down their space requirements. This office solution is also common among representative offices and foreign companies who are looking to enter the UK market without taking the financial risks involved in a traditional office lease.
The typical occupier profile involves companies in the business and professional services sectors and in creative, insurance, technology, and big data.
Managed Office Locations in London
Many managed offices are located in central London, although this office solution is characterised by the availability of a wider range of locations, given that the space offered is not limited to what is available in purpose-built business centres. Many agents can source a managed office property in virtually any area of London, although the areas with the highest number of enquiries are:
The City
Soho
City Fringe (east and north)
West End, Knightsbridge, and Notting Hill
Typical Costs and Budgeting Considerations
Monthly rental fees are determined by office size, the number of services that are part of the rental agreement, and the number of staff. Managed office space is charged per number of workstations, although its bespoke component carries a slightly higher premium when compared to serviced office space. Contract length is another key factor when it comes to pricing, since longer leases often entail a reduction in the monthly fee. The following price averages are intended as a guide only:
The most expensive managed offices are usually located in Chelsea, Knightsbridge, Kensington, Mayfair and other West End locations, where fees average £800 per workstation.
Mid-range properties are usually in Bank, Canada Water, Canary Wharf, Liverpool Street, Covent Garden, and Paddington, averaging £600 / workstation.
Offices south of the River Thames (Battersea, Clapham, Wandsworth, Southbank) and in Old Street ? Tech City areas are usually priced at £500 / workstation.
In north London (Angel, Islington, and Camden) average fees are £400 / workstation.
Other Considerations
One of the most important things to consider when looking for a managed office is the extent to which the premises can be adapted to your business needs. As mentioned elsewhere in this article, the personalisation and bespoke fit-out of a managed office carry a higher price tag, so it is worth enquiring about the cost of fit-out services, the quality of the ICT packages available, and whether these meet specific business requirements (e.g. CAT5e cabling, availability of a VPN, managed VLAN, and support with configuration).
The managed office market is currently relatively small when compared to the serviced office market. A Portal Group study revealed that managed office space amounts to just 5 per cent of total commercial space provision. However, in the near future things are likely to change, and growing demand for custom-fit and flexible office space may result in the growth and diversification of this sub-market in order to suit the evolution of occupier demands.
If you are looking for managed office space or would like to find out more about this option give our experts a no obligation call now on 020 3965 9617.
More articles from the Office Solutions Section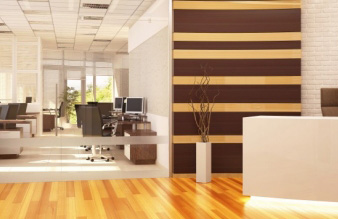 Conventional Office Space
Traditional office space is a good option for businesses with at least 100 employees and, across London, conventional office space is typically favoured by corporates.
Facilitates branding and advertising.
Potentially lower rates or discounts, especially whenever longer leases are agreed.
Flexibility and control over the premises' appearance, layout, and space management.
Only pay for the amount of space used.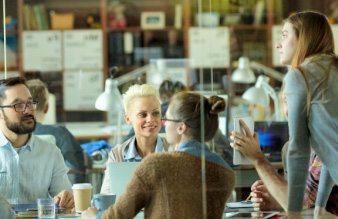 Project/Team Space
A flexible office solution catering to the needs of companies that require short-term space to carry out fixed-term projects.
A flexible, affordable solution.
Wide range of project space types, locations, sizes, and specifications offered.
All-inclusive rates, easy to get set up.
Minimal or non-existent capital expenditure.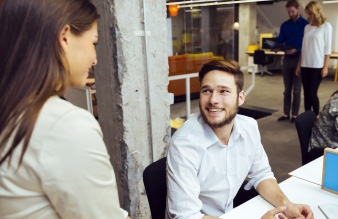 Serviced Offices
SMEs are the most common serviced office occupier. First-time business owners are also typical tenants, as a serviced office is perceived as a less risky option when compared to conventional office space.
All-inclusive pricing.
Short / flexible lease length.
Less capital expenditure.
Opportunities for networking.
No dilapidation costs.