Project / team space is a flexible office solution catering to the needs of companies that require short-term space to carry out fixed-term projects. There are several types of project space available, including coworking spaces, hot desks, and serviced offices.
Flexible Space

Project space is a flexible solution that allows for a better use of a company's financial resources and can help reduce their overheads.
Huge Range of Options

There is a wide range of project space types, office locations, office size, and specifications to choose from, so companies have a good chance at finding an office solution that is just right.
All-inclusive Rates

All-inclusive rates and the option to have access to an equipped office within hours or days of signing the contract.
Predictable Pricing

Simple, predictable costs with minimal or non-existent capital expenditure.
Inclusions and Exclusions
The number of services included in a project space agreement depends on which type of space is chosen and on the packages available from each service provider. However, as a general rule of thumb, coworking spaces, hot desks, and serviced offices include the following:
Access to furnished office space (or to a specific number of workstations). Project space is available in shared office buildings, which may or may not be open 24/7.
A bundle of additional services, such as daily office cleaning, recycling, building security, and buildings insurance. In most cases, service charges, business rates, and utility bills are also included in the monthly fee.
Project space is equipped with IT and telecom infrastructure, although the specifications and capacity of such infrastructure varies from operator to operator. In some cases (especially where coworking spaces or hot desks are involved), phone headsets are available for hire at extra charge.
Since project space is available in shared office premises, tenants have access to the building's shared facilities, which typically include break areas, library rooms, business lounges, training and meeting rooms, showers, kitchen facilities, lockers, etc. However, and depending on the package chosen, some operators will charge extra for the use of meeting / conferencing rooms and for audiovisual equipment rental.
Typical Occupier Profile
Coworking spaces mainly suit small businesses that need temporary project space and that rely on the work of freelancers and independent contractors. On the other hand, project space based on hot desking arrangements is best suited to companies that have a small number of staff working on a project (usually up to 15 people) and to those that must have at least one staff member permanently on call.
Project space in serviced offices is typically used by SMEs (including start-ups) who require dedicated office space and larger premises. Large corporations and blue-chip firms also opt for this type of space when they have teams working on confidential projects or whenever their primary offices cannot accommodate project work.
The typical occupier profile includes companies involved in the creative and tech sectors, and specifically in fintech, software development, digital media, web development, online marketing, PR, and healthcare.
Project / Team Space Locations in London
London is home to over 100 coworking spaces, which are mainly located in:
Tech City and the surrounding areas (including Clerkenwell, Spitalfields, and Hoxton)
The City, Canary Wharf, and Southbank
The West End
Soho
The majority of operators offering hot desk project space are in:
The City and Canary Wharf
Tech City and areas near Old Street
The West End
Midtown
Lambeth and Southwark
Serviced offices are offered in business centres, which are mainly clustered in the following locations:
Typical Costs and Budgeting Considerations
Project office space is charged according to the number of desks or workstations needed. Costs vary depending on the number of services included, the office location, and the type of space.
Typical costs of coworking space in London are:
The average is £357 / desk / month, but can go up to £1,500 for unlimited access to space in the priciest locations (e.g. Mayfair, Fitzrovia).
Average costs in the City are £600 / desk / month.
The lowest monthly rates are usually in spaces located in East and South London.
Hot desk space for project work is more cost-effective when billed on a monthly basis. Average costs across the city are as follows:
The most expensive packages are offered by operators in the City, Canary Wharf, Shoreditch, Clerkenwell, and Farringdon, where they range between £300-400 / desk / month.
In Midtown, Bloomsbury, and Holborn, it is possible to find unallocated desk space for £100-£150 / desk / month.
In Angel, King's Cross, Islington, and Soho, average hot desk costs range between £200-£300 / month.
West End: £450 / desk / month and upwards.
Average monthly fees for a workstation in serviced offices are £420.
In the City, monthly workstation fees go from £600 to £1,500.
Similar rates apply to project space in Midtown serviced offices, where the average is £670 / desk / month.
Average prices in the West End are £700 / desk / month.
The Southbank area is considered a good location price-wise, as average costs are considerably lower than in other parts of London and average £530 / desk / month.
Rent-free periods and discounts may be available based on the number of workstations used and on the length of the contract.
More articles from the Office Solutions Section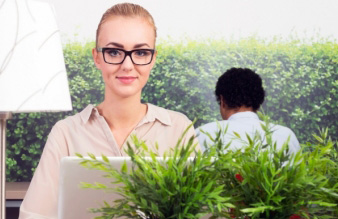 Hot Desking
Along with global entrepreneurial hubs like San Francisco, New York, or Singapore, London is considered one of the best locations in terms of the hot desking options available in the city.
Fosters sharing and collaboration.
Encourages creativity.
Expands professional networks.
Provides staff with freedom and flexibility.
Hourly, daily, weekly or longer packages.
Cost effective.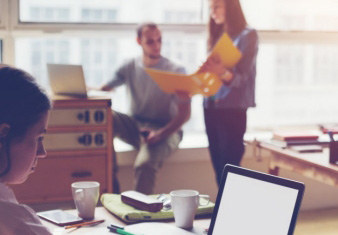 Startup Office Space
London offers a diverse mix of office space for startups and freelancers, who can choose among co-working spaces, serviced offices, hot desks, accelerators, and incubators.
Access to first-class facilities.
Flexible contracts.
A wide variety of locations & specifications.
Environment created for startups.
Fosters growth, creativity, and collaboration.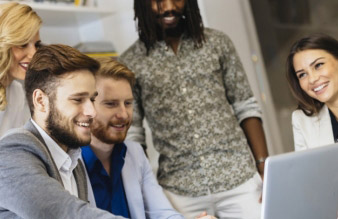 Sublet Office Space
Office sublets are generally a good option for new businesses and for companies of any size going through a growth stage.
Cost-effective office rental solution.
Reduced upfront costs (such as office fit-out).
Shorter and flexible lease terms.
Ideal for new or expanding businesses.