Hot desking is a relatively new form of office space allocation that emerged after it was revealed that traditional office space was sometimes inefficient, since workstations were only used during a fraction of the working day. By contrast, hot desking allows employers to maximise the amount of space available and is generally favoured by organisations known for their flexible working cultures.
Builds Creativity

Fosters a corporate culture of sharing and collaboration, and may encourage creativity by providing opportunities to work with staff from different departments and areas of expertise, making it easier to exchange views and to brainstorm. In business centres, hot desking can improve the chances of expanding professional networks.
Flexibility and Freedom

Provides staff with freedom to make their own choices and offers flexibility. In business centres, hot desks can be rented for 1 hour, 1 day, 1 week, 1 month or longer.
Cost Effectiveness

Cost effectiveness, especially in areas where high commercial real estate prices are the norm. In the UK, it is estimated that businesses that engage in this type of space allocation save up to £34 million every year.
Encourages Organisation

Encourages tidiness and organisation through clean desk policies that require being thoughtful of the person who will be next occupying the desk space.
Inclusions and Exclusions
Hot desks are available in business centres or as part of corporate office space and include:
Access to desk space, although desks are not allocated to specific employees. In cases where employees are not used to this space configuration, hot desking may increase the time it takes to get set up and ready to start the working day. Moreover, hot desks do not generally allow the personalisation of workspace.
The use of shared facilities, which may include other flexible workstation arrangements such as standing desks or communal work tables, meeting rooms, bathrooms, kitchens, break areas, and showers if available.
Telecom infrastructure (mainly applicable to business centres and co-working spaces), including high-speed broadband, landlines, and WiFi.
Basic furniture, including desks, chairs, and sometimes archive storage.
Utility bills.
The following are usually excluded from hot desking packages:
Some business centres will charge for the use of meeting and conferencing rooms or business lounges. Rates may be billed hourly, daily, or monthly.
The same applies to additional support services (like reception and admin) and to the use of printers and photocopiers.
Parking space may or may not be included, although some business centres try to encourage alternative means of transportation and provide bicycle parking.
Typical Occupier Profile
Hot desking was initially implemented by large companies that needed to have staff available round-the-clock but that were also looking make a more efficient use of their office space. Later, this practice was adopted by companies of all sizes, from the British Airports Authority (which reported savings of £400,000 / year) to small start-ups.
A Virgin study also revealed that hot desking tends to work best with a specific demographic group: workers under 35 years old with a university degree and employed in professions that are project or activity-based. Hot desking arrangements are also popular with remote or part-time workers who only need short-term use of desk space, solopreneurs, freelancers (who account for 54 per cent of all users), and contractors in the technology, fintech, and creative industries. These sectors are best suited to hot desking given that they tend to implement flexible working practices such as telework or bring-your-own-device policies.
Hot Desk Space In London
Along with global entrepreneurial hubs like San Francisco, New York, or Singapore, London is considered one of the best locations in terms of the hot desking options available in the city. A study of modern office space arrangements carried out by Steelcase revealed that approximately 17 per cent of all London workers use or have used hot desks or a similar flexible solution, such as co-working spaces. Since hot desks are usually provided at business centres, the main locations are those where there is a large percentage of office-based jobs, including:
The City / Canary Wharf
Midtown (Holborn and Bloomsbury)
Westminster / West End
Tech City and areas near Old Street (Clerkenwell, Shoreditch, and Farringdon)
South London, mainly in Lambeth and Southwark
Typical costs and budgeting considerations
Business centres usually charge a fixed fee per desk space and allow workers to pay on an hourly, daily, weekly, or monthly basis, depending on their schedule and space needs. Other business centres or co-working spaces charge annual membership fees, and it is also possible to find fixed-fee hot desk packages that allow workers to use the space for a specific number of hours every week.
Typical costs are as follows:
Professionals who are considering giving hot desking a try must also bear in mind that paying a deposit is not necessary. However, some business centres and co-working spaces may require that blocks of hours be prepaid.
More articles from the Office Solutions Section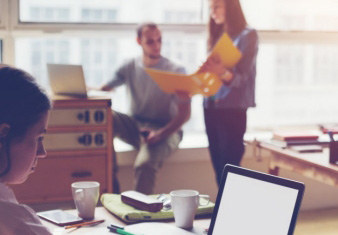 Startup Office Space
London offers a diverse mix of office space for startups and freelancers, who can choose among co-working spaces, serviced offices, hot desks, accelerators, and incubators.
Access to first-class facilities.
Flexible contracts.
A wide variety of locations & specifications.
Environment created for startups.
Fosters growth, creativity, and collaboration.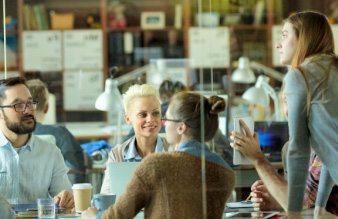 Project/Team Space
A flexible office solution catering to the needs of companies that require short-term space to carry out fixed-term projects.
A flexible, affordable solution.
Wide range of project space types, locations, sizes, and specifications offered.
All-inclusive rates, easy to get set up.
Minimal or non-existent capital expenditure.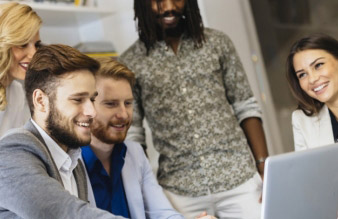 Sublet Office Space
Office sublets are generally a good option for new businesses and for companies of any size going through a growth stage.
Cost-effective office rental solution.
Reduced upfront costs (such as office fit-out).
Shorter and flexible lease terms.
Ideal for new or expanding businesses.