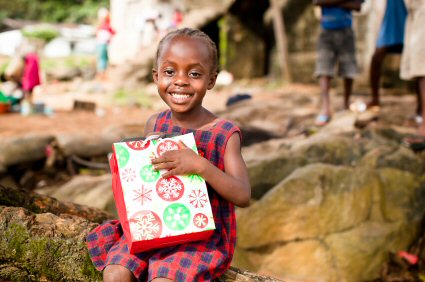 As Christmas approaches, finding the most appropriate Christmas gift for friends and family can turn into a complicated task. Finding the perfect Christmas present becomes even more complex when it comes to corporate gifts for your business partners and customers. Increasingly more, charity gifts are becoming the preferred option for many companies. In addition to helping make a difference for those in need, Christmas charity gifts can help enhance the corporate image and reputation of your company.
Since there are dozens of options available, in this article we aim to provide you with some useful suggestions so that you can choose the most appropriate Christmas charity gift.
Christmas charity gifts for environmentalists
– Buy an Acre of threatened wilderness
By purchasing a gift from The World Land Trust, you can help fund conservation projects and protect endangered wildlife habitats. Each gift pack includes a "land purchase certificate", which details the amount of land your gift is helping protect, as well as a unique greeting card. Gifts start at £25.
For only £15, your gift will be helping the Woodland Trust regenerate forested areas of the United Kingdom. The charity's website has an online shop where you can choose from a wide range of Christmas gifts, including calendars, jigsaws, books, stationery, and more.
Christmas charity gifts for animal lovers
The WWF offers the opportunity of purchasing personalised gift certificates that can help protect endangered species like the Bengal tiger, the Amur leopard, or the giant panda. WWF gift packs include a subscription to the charity's magazine, bookmarks, stickers, and more.
By purchasing a £10 gift from Greenpeace, you can help this organisation campaign for the protection of those "less photogenic" sea creatures that face extinction. Greenpeace's website has a range of Christmas gifts that start at just £4.
– Adopt an Owl Box for Christmas
The Hawk and Owl Trust allows you to adopt a nest box and therefore support the work that this charity carries out on behalf on some of the UK's most fascinating bird species. Nest boxes can also be made to order, and there are other gifts to choose from, including Christmas cards, tote bags, etc.
Christmas charity gifts for sports lovers
– Giving Back to The Lord's Taverners
If your clients or business partners are cricket fans, this could be the ideal Christmas gift. This charity offers a number of gift cards that can be redeemed at several leading outlets, like M&S, House of Fraser, and Boots. A donation is made to help promote cricket among youngsters who live in disadvantaged areas and to encourage those with disabilities to get involved in sports.
Sport 4 Life works in deprived areas of London and Birmingham organising sports events for young people who face social exclusion. Donations start at £10 and include Gift Aid.
Other Christmas charity gifts
If none of the above suggestions seem suitable, why not try some of the most popular Christmas charity gifts? If your clients are photography lovers, you could consider a donation to PhotoVoice. Alternatively, SOS Children's Villages has a range of Christmas gift packs that allow the receiver to sponsor a child in need.
Send a Cow is also involved in educational projects in some of Africa's poorest countries. This organisation relies on donations to provide families in deprived areas with cows, rabbits, piglets, and other forms of livestock that can help them improve their economic situation. Other options include gifts and donations for children's hospitals or organisations like Alzheimer Research or MacMillan Cancer Support.
Of course, Christmas gifts must always be accompanied by a personalised card. You can use this opportunity to help those in need by purchasing greeting cards from the NSPCC, Oxfam, Card Aid, or the RSPCA.