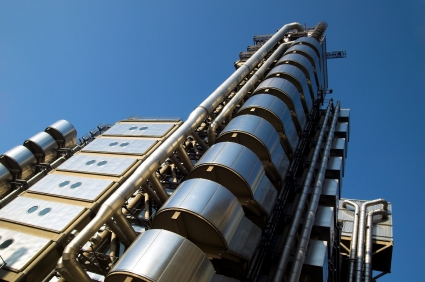 Located in the heart of the City of London, the iconic Lloyd's building is a unique construction, home to the large UK insurance and bank institution, Lloyds TSB. The site was originally home to the very first Lloyd's building, constructed in 1928, but as the organization grew, more space was needed. Initially, an additional building was developed but in 1978, due to further expansion, the original construction was demolished and the building that now stands built and opened by Queen Elizabeth II in November 1978 after 8 years of construction.
The Lloyds building is made up of 6 towers, (3 main and 3 service) built around a rectangle area. The building is unique due to the position of the services such as lifts, staircases, water and electrical lines being on the outside of the building, leaving the space inside completely free for use without distractions.
The building itself is 88 meters tall, with 14 floors, 4 glass lifts and an adaptable interior whereby the partition walls can be moved around to create any desired office layout. The main focal point of the building is the ground floor, where the underwriting room that is overlooked by galleries on the first four floors and lit by a vaulted glass roof. The galleries are accessible from lifts inside the building, however, the remaining floors are only accessible via the glass lifts that run on the outside of the main construction. The building is entirely used as office space for the Lloyds Group, apart from the 11th floor where the committee room is found. The committee room is a dining room, originally created for the Earl of Shelburne in 1798. The room was brought across, piece-by-piece from another Lloyds building nearby.
The Lloyds building was designed by British architect Richard Rogers, known for his modern and functional design, including developments such as the Millennium Dome in Greenwich and the Pompidou Centre in Paris – where you can see some similar influences in design with the Lloyds building. The build cost was approximately £75 million.
The Lloyd's building holds open house days for visitors to tour the building with the dates are available on the Lloyd's website. The building is situated at 1 Lime Street, City of London and is easily accessible via the following London underground stations:
Bank – on the northern, central and city line. Additionally, Docklands Light Railway
Liverpool Street – on mainline services as well as central, circle, metropolitan, Hammersmith and city line.
Monument – on circle and district lines