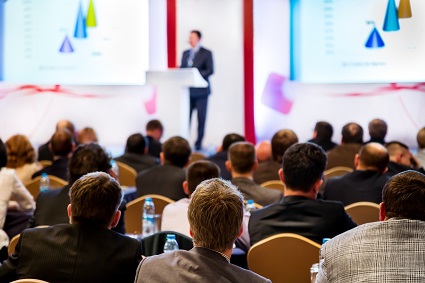 There is a wealth of opportunities to learn about London's property market through conferences and other forums in the capital. These gatherings bring together practitioners, policy and decision makers, investors and others. They are opportunities to network and build relationships, while also making deals with new partners and investors.
The RICS Commercial Property Conference on 27 November 2015 provides market insight through keynotes and panels. The second edition of the conference is also an opportunity to debate macro triggers that impact property market growth. In 2014, speakers included GVA Chief Executive Rob Bould, real estate columnist Peter Bill, Legal & General Property Managing Director Bill Hughes, and Union Investment Real Estate's Head of Investment Management International Martin Brühl. Other speakers represented leaders in the market, including Deutsche Bank, Segro, DTZ, Grosvenor and more.
The Royal Institution of Chartered Surveyors (RICS) stages a variety of conferences, seminars and workshops in London each year. Established by Royal Charter, RICS accredits some 118,000 professionals around the world. More than 50 RICS conferences and seminars are scheduled in London throughout 2015, including events that delve into dispute resolution, construction regulations, contract negotiation, and more. RICS will also organise the RICS Building Surveying Conference on 23 April 2015, the RICS Property Leaders' Summit on 5 June 2015, and the RICS Residential Conference on 2 July 2015. To learn more about RICS conferences and other events in 2015, visit www.rics.org/uk/training-events.
The British Property Foundation (BPF) hosts its Residential Conference on 10 February 2015. The BPF is a membership organisation that represents the interests of the real estate ownership and investment world. Focusing on the theme of 'reinventing residential', the event is an opportunity to bring together decision makers that are influencing the UK's residential sectors. The BPF Residential Conference 2015 will attract investors, developers and landlords. The full-day conference will be held at Deloitte Real Estate's New Street Square offices.
The conference will include keynote addresses by Rain Newton-Smith, CBI's Director of Economics, and Andrew Stanford, DCLG's Head of PRS Taskforce. Minister for Housing and Planning Brandon Lewis will also deliver a keynote address, as well as Sir Michael Lyons. Discussions will look at what local councils can do over the next years with respect to residential development, whether build-to-let can deliver, and what the real estate industry's proporities will be over the next five years.
Each year, the Financial Times hosts the Property Summit in December. The 2015 edition will mark the ninth edition of this conference, which brings together investors, occupiers, lenders and developers from around the world. The summit is an opportunity to talk about property market prospects in the UK, as well as practical solutions to overcoming the market's challenges.
This conference is an exciting opportunity to learn about London and the UK's property market. In 2014, the Financial Times' Annual Property Summit looked at whether London is experiencing another property boom and if London has reached its limit. It also considered what lessons have been learned from the financial crisis and what London will look like in the future. The summit also explored how London's property market is affecting the rest of the UK and where property developers can build in the capital.
APPEX is one of the world's leading prospect and property expos. APPEX 2015 will take place between 3 and 5 March in London. The event attracts prospect sellers, new venture managers, investors, financiers, governments, suppliers and others. The forum is an opportunity to network and connect with properties, prospects and clients from around the world. The programme includes speakers that share insights on trends and discoveries, as well as other opportunities to learn information that will give participants an edge over competitors. APPEX 2015 is also where deals are made. Participants meet with potential partners and negotiate deals with financiers, governments and others.
For further information on office space property availability in London click here.