Coworking office space in the affluent area of Chelsea gives you an enviable business address within the London area at a much more affordable price than traditional office rental. You will be neighbours with a prestigious selection of successful businesses, as well as high end restaurants. If you need to scale up, most flexible workspaces offer private offices alongside open plan desk space.
1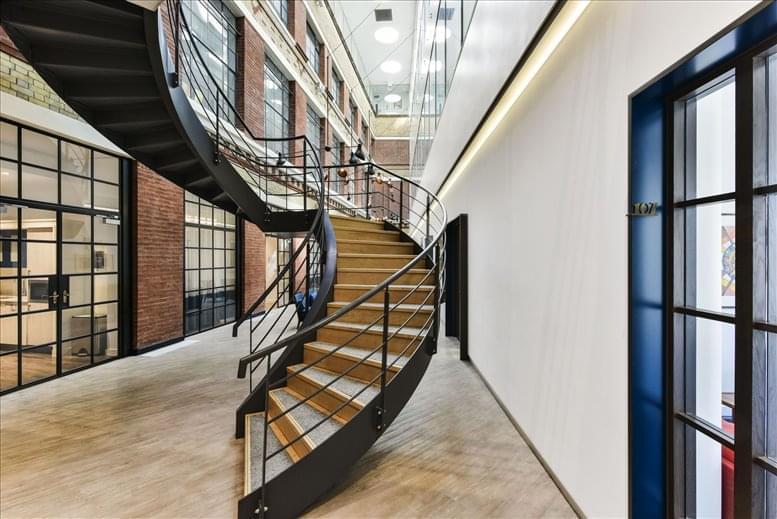 Michelin House on Fulham Rd, London SW3 is a breathtaking, unique Grade II period building providing shared and serviced offices rental in South West London. Opened in 1911, the decorative building housed offices for Michelin until 1985. These Chelsea office spaces and meeting rooms have been thoughtfully refitted to provide a collection of business workspace offering state of the art, contemporary solutions, while retaining many of the... More info
---
Coworking in Chelsea | Flexible Shared Office Space
Chelsea has always been a highly desirable business location. However, being the smallest borough in London coupled with high demand for office space means that the availability of traditional office space is tight across the area. As a result, the coworking and flexible office model has been widely successful among local business owners and those considering setting up a company in Chelsea, since this model provides an alternative form of office accommodation for suites of 5,000 square feet and under in a highly sought-after location.
According to research published by the Royal Borough of Kensington and Chelsea, market analysts anticipate that by 2026, a further 70,000 square metres of office space will be needed to meet current demand. The report reveals that the highest volume of enquiries comes from the largest office-using occupational groups in the area, which mainly include business and management consultancies and advertising firms – and these also happen to be among the most common flexible office space occupiers.
Chelsea is part of the West London market, where approximately 40 per cent of take up involves serviced offices and coworking space. And although this area has the lowest amount of coworking space of all West London boroughs, the supply of shared workspace in Chelsea has grown by 2 per cent in approximately 12 months, and the market still offers room for future growth.
Where Can You Find Chelsea Coworking Space?
The majority of shared workspaces are located in the streets between King's Road and the River Thames. Despite being small in number, Chelsea's coworking hubs are among the best-rated in West London. Some of the most well-known venues include:
The Refinery, which offers full and part-time memberships and is used by small businesses involved in fashion design, luxury goods, digital marketing, and other creative endeavours. It offers easy access to Sloane Square and South Kensington tube stations;
Women Collective, a centrally located coworking hub that offers daily drop-in passes and access to private meeting rooms on demand;
The Workary, situated near the town hall and known for its affordable allocated and mobile hot desk memberships, which are available for under £100 / month.
Multi-desk space is also available in many Chelsea coworking spaces. In Chelsea, entrepreneurs can try out a shared office space model that combines workspace and living space in one. A historical building in the heart of Chelsea has been transformed into a luxurious co-living space called Roam, where residents get access to private bedrooms, open-plan office space, meeting rooms, breakout rooms, and cooking facilities.
Since one of the key characteristics of the Chelsea office market is its needs-driven character, we can expect that the growing demand for flexible and affordable office space will continue to drive the creation of new shared workspaces in this exclusive London neighbourhood.
South West London Coworking | Shared Offices in Chelsea
Coworking spaces in London may offer one or several workspace solutions, including:
day pass access;
monthly membership packages;
fixed desk space;
private studio or shared workspaces for teams;
private offices;
event space;
virtual offices;
and dedicated coworking spaces that foster collaboration among different startups and small business owners.
Not only do these flexible workspaces give you the ability to work as you want for less in the heart of Central London, with easy access to transport links in and near Chelsea including Victoria station, they also provide an extensive array of high spec facilities and amenities including high speed internet and WiFi, event space, air conditioning, 24 hour access, showers, bike racks and much more. Add your favourite coworking spaces and shared offices to rent to the quick quotes form, or call us now on 020 3053 3893.