Successful businesses that find themselves on the verge of scaling up often require dedicated office space during this important stage of the business development process. In London, this type of office space is usually managed by local authorities and higher education institutions, whether it is in their own premises or at designated business parks. Growth space is also run by private sector operators and by companies that specialise in managing short-term office space.
Short contract length

Most initial agreements cover a period of 1 to 3 years and have easy-in-easy-out terms.
Fixed Costs

Fixed rental costs for the duration of the contract and no set-up fees. This makes it easier for companies to make accurate financial plans.
Flexible Contract Terms

Usually only 1 months notice is required, which allows businesses to scale up and move onto bigger premises as and when required.
Collaboration Opportunities

High-growth space facilitates the interaction with a like-minded business community focused on business growth and innovation.
Get the Support You Need

Businesses may benefit from a range of additional support services, such as mentoring, expert advice, consultations with professional business development staff, business planning services, seminars, and access to networking opportunities with other businesses and with investors.
Inclusions and Exclusions
The details of which services are included in a contract agreement vary greatly, but generally speaking they include access to both general building facilities and tenant facilities.
Access to private office space and to communal building facilities (e.g. washrooms, showers, kitchen, breakout areas, etc.).
Offices are usually equipped with electrical, telecommunications, and IT infrastructure (e.g. Cat5 cabling, phone lines, high-speed Internet access). Some centres may also offer direct-dial phone numbers and can configure private Internet networks tailored to the needs of each tenant.
Maintenance of building facilities and infrastructure.
Support of an office manager.
Manned reception and admin support, including basic functions like mail sorting and handling, although these may only be available during limited hours (usually office hours).
Cleaning, recycling, rubbish removal.
Round-the-clock access to the premises.
Utilities (water, lighting, electricity).
Basic office furniture, such as desks, tables, and filing cabinets.
Car and / or bicycle parking. Visitor parking may also be available.
The most common exclusions are business rates, the cost of accessing conferencing, board, and meeting rooms and AV equipment (which is usually charged separately, but in many cases at discounted rates), office services like printing, photocopying, and fax machines, and the cost of telephone calls.
Typical Occupier Profile
High-growth office space is suited to small companies, and particularly to start-ups and spin-out companies that have moved beyond the initial stages. This type of office space is most commonly used by business with up to 30 employees. The occupier profile usually consists of companies involved in high-value sectors such as healthcare, education (in particular e-learning), digital and creative, technology, interactive media, renewable energies, social enterprise, architecture, and e-commerce.
Flexible Short Term Office Locations in London
The majority of businesses requiring space to grow find a suitable office solution in central London. According to a 2015 report published by Telefonica, there are a dozen incubators across London, as well as dedicated office space for businesses in their growth stages at business parks. Space is usually available on and off-campus at universities, in privately owned facilities, and at offices managed by local councils at business parks and Business Improvement Districts. Some of the venues worth considering include:
Universities: Imperial College London (which offers space in West London and at their White City campus), London Metropolitan University (Hoxton), University of London (London City), and Ravensbourne College (Greenwich Peninsula).
Privately owned spaces such as Innovation Warehouse (in Clerkenwell) and Level39 (Canary Wharf).
For information on high-growth space managed by local authorities, contact the Business department at your local council.
Typical Costs and Budgeting Considerations
This type of space is usually charged per square foot and billed on a monthly basis. The costs vary based on office size and on the type of facilities and services available. The following are indicative prices:
High-growth space at universities and educational institutions ranges from £250 / month for a single desk to £700 to £3,000 for private offices, depending on the number of workstations required. Some spaces may offer limited access packages (e.g. up to 4 days / week at under £300 / month).
The cost of space in privately owned facilities varies depending on the type of space arrangements (hot desks in open-plan offices average £200 / desk / month and fixed desks £400). The prices of private offices in dedicated high-growth space are on par with those of serviced offices, ranging between £600 to over £1,500 / month.
For details on the costs of innovator space managed by local authorities, contact your local council directly.
Most operators will require a deposit payment (usually equivalent to 1 month's rent). Moreover, VAT not usually factored in the prices quoted above.
Other Considerations
There usually is an application process to access high-growth space in council-run facilities. The timeline from application to move-in date depends on availability and on whether / to which extent office space needs to be personalised and fitted out, although on average, tenants are able to move in within 3 weeks of signing the contract.
Prospective tenants interested in high-growth space at universities should bear in mind that former students may be given priority. Businesses will also need to consider whether they require access to specialist facilities (research space, labs, etc.), as these are more likely to be available at office space provided by universities, depending on the institution's areas of expertise.
More articles from the Office Solutions Section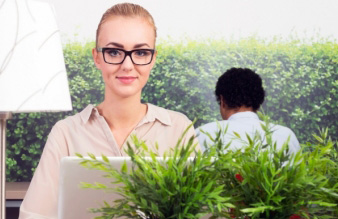 Hot Desking
Along with global entrepreneurial hubs like San Francisco, New York, or Singapore, London is considered one of the best locations in terms of the hot desking options available in the city.
Fosters sharing and collaboration.
Encourages creativity.
Expands professional networks.
Provides staff with freedom and flexibility.
Hourly, daily, weekly or longer packages.
Cost effective.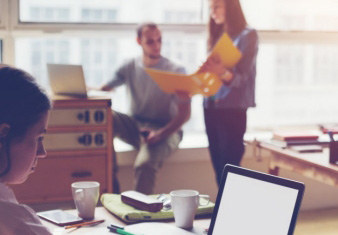 Startup Office Space
London offers a diverse mix of office space for startups and freelancers, who can choose among co-working spaces, serviced offices, hot desks, accelerators, and incubators.
Access to first-class facilities.
Flexible contracts.
A wide variety of locations & specifications.
Environment created for startups.
Fosters growth, creativity, and collaboration.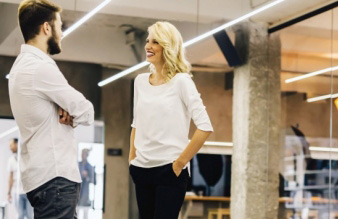 Managed Office Space
Managed or semi-serviced offices are a convenient office solution that suit the needs of business owners who don't want to commit to a conventional office lease but don't want to go down the serviced office route either.
Non-branded buildings.
Flexible licence agreements with easy in-out and renewal terms.
Move in within 3 months of lease-signing.
Credit checks are not usually necessary.
Total personalisation of office space.