London Workspace For Creative Companies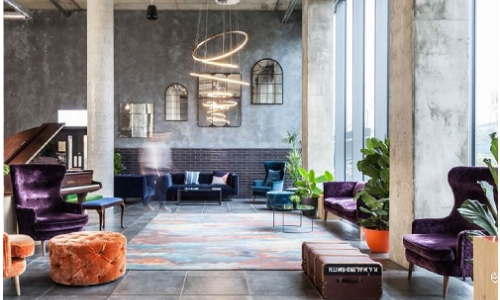 Since the creative industries emerged as a distinct sector in the late 1990s, they have been driving economic growth and helping promote employment growth across the UK. Their impact and rise have been so vast that there is now talk of a creative economy, which is expected to create up to 1 million new jobs by 2030, and also to drive up entrepreneurship to record-high levels.
The creative sector is at its most dynamic in London, known as the largest creative hub in the United Kingdom and one of the most important at European level. In 2017, this sector employed almost 1 million people in the British capital, and accounted for more than 11 per cent of the city's total GVA.
The importance of London's creative sector is also reflected in the city's real state market. This growing sector needs suitable workspace, as office space take-up figures confirm: over the past few years, demand for office space in London has largely been coming from creative firms, especially those involved in technology, communications, and media. During the first quarter of 2019, creative sub-sectors like media and tech were behind a quarter of all workspace transactions in some London sub-markets (like Mayfair and the West End), surpassing those of traditionally stronger sectors like finance and insurance.
Finding Workspace For Creative Businesses
There are several things to consider when choosing creative workspace in London, but the most important criteria are that it must be tech-enabled and flexible in terms of how space is configured and used.
Average space requirements in the creative sector are 7+ people for every 1,000 square feet. The majority of creative companies seek ready-to-move-in spaces (such as serviced offices that cater to creative businesses or coworking spaces), since acquiring existing space and renovating it for creative purposes is pricier. Another important consideration is the telecommunications and digital infrastructure, as creative business have high standards in terms of Internet speeds and specialised equipment / software.
Key Characteristics of Creative Workspaces
According to the UK's Creative Industries Federation, approximately 95 per cent of all creative businesses are micro-enterprises employing up to 10 people, so there is a clear preference for small office units. Irrespective of office size, one of the main priorities for creative companies is finding space that helps them attract and retain staff. Employees working in this industry belong to a predominantly young demographic with some common expectations including:
– Campus-style environment with open-plan office space
– Alternatively, offices set in buildings with history (e.g. warehouses or reconverted industrial premises)
– Dedicated collaborative, communal, or relaxation areas
– Offices located near cultural and entertainment venues
Millennial expectations are influencing creative space trends, moving away from corporate-style offices. Creative offices are not just a place to work, but an amenity-rich space much along the lines of coworking hubs, which offer anything from fitness and wellness facilities to childcare options and a variety of workstation styles ranging from workbenches to individual desk pods or standing desks.
Best London Areas For Creative Workspace
– In East London: Shoreditch, Hackney, Bethnal Green, and Dalston.
– In South London: Brixton and Southwark.
– In North London: Camden, Park Royal.
Examples Of Creative Workspaces In London
The following examples illustrate how versatile and stimulating creative office space can be. The first example comes from Mind Candy, a digital entertainment company based in what has been called "the UK's coolest office", as the environment seems right out of one of their online game productions. This shows the importance of making creative space reflect your brand and the essence of your company.
Another example is the Shoreditch South branch of coworking hub Techspace, which shows that functionality is an important characteristic of modern creative spaces. This office boasts sleek and uncluttered design and space arrangements in open-plan style to prevent distraction and let creativity run free and uninterrupted. Moreover, each area is designed to serve a purpose, whether it is meeting and brainstorming, working, eating, or creating.
Last but not least is Mother London, an advertising agency also based in Shoreditch, known for putting collaborative work at the centre stage with a 250-feet long table. The dicor reflects a workspace that almost looks like someones home, and confirms the value of workspaces that don't look like workspaces, acknowledging that creativity is not only sparked on the job, but in any space with the right mix of comfort and intellectual stimulation.