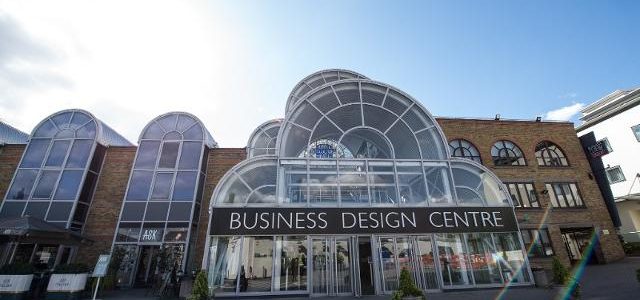 The Business Design Centre is located in a Grade II listed building that has a long history, originating in the mid 19th century. Inaugurated under the name of Royal Agricultural Hall, the building was created to host exhibitions and other large events until the mid 1940s.
This venue hosted a range of historical events, ranging from the 1867 Grand Ball to the annual Smithfield Show. Despite its initial success, it eventually fell into neglect during the post-war era, and for approximately 40 years the building was unused until it was re-opened in 1986 as the Business Design Centre.
Event & Exhibition Space
Nowadays, this is one of London's top event venues, and is used for exhibition, trade fair, and conferencing purposes. Since its reopening, the Business Design Centre has hosted prestigious events such as the BAFTA awards, the New Designers exhibition, and was also used by a delegation during the 2012 Olympics.
Other events hosted here on a regular basis include The World Advanced Therapies & Regenerative Medicine Congress, Digital Marketing World Forum, Cruise Job Fair, Floral Art and Design Show, DX Summit London, and Connected Britain.
In addition, the Business Design Centre is home to commercial space in the form of offices, showrooms, and retail units. In total, more than 100 businesses are based here.
Amenities
Paid car parking facilities include 250 undercover spaces, manual car wash facilities, EV charging points, bicycle parking and motorcycle bays. There are also loading bays and dedicated goods lifts. Meeting and exhibition spaces are equipped with blackout facilities, a registration desk with phone, internet and tannoy systems, digital signage, cloakroom, and photocopier. The building offers dedicated office space for organisers, and all spaces equipped with heating and air conditioning systems, and free WiFi. The Business Design Centre is a fully DDA compliant venue.
Occupiers
Tenants at The Business Design Centre come from a variety of industries, including retail, catering, consultancy, not for profit, and professional business services. The main occupiers are Base Creative, Briffa Law, Canal Architecture, The Good Eating company, London Village Network, TaxAssist, Paramount Communications, Nevilles, Event Academy, and Digital Portfolios.
Capacity & Space For Rent
The venue's total capacity is approximately 6,000 square metres and can accommodate more than 2,000 people. In addition to exhibition space, the Business Design Centre is home to two large conferencing spaces and several smaller meeting rooms, some of which may be partitioned to host several events at the same time.
Office and showroom space amounts to approximately 135,000 square feet in units ranging from 100 to 12,000 square feet. Space rentals include access to networking and social events, discounts at local service providers and retailers, and car parking facilities.
Offices feature shower facilities, modern telecommunications infrastructure, and 24/7 security. Serviced offices are also available at the Business Design Centre, and are usually managed by local real estate agents. There is also coworking space run by BDCworks, which offers hot desk space for £375 / month as well as allocated desks for £550 / month and private office suites for up to 6 people.
Awards & Recognitions
The Business Design Centre has received a number of awards, including Venue Team of the Year, Best Venue Customer Service at the 2016 Conference Awards, and the 2018 Award for Corporate Social Responsibility in recognition of their ongoing support to several charitable and educational causes in the local community.
The venue is a certified carbon neutral space since 2009, becoming the first event venue in the UK to receive such certification, and achieved a Gold Standard in the Investor in People scheme.
Location
The Business Design Centre is located in the heart of Islington, right on the A1 road.
The full address is:
The Business Design Centre
52 Upper Street
Islington
London N1 0QH
The nearest London underground station is Angel (Northern line), only a couple of minutes away. In addition, Essex Road station is 1 mile away and offers frequent services to London Moorgate and to several destinations within Hertfordshire. The Business Design Centre is a short walk to St Pancras Station, which is only 10 minutes away and serves European destinations. The nearest airports are Heathrow and London City, 18 miles and 9 miles away respectively.
Contact Information
The building's office is open from Monday to Friday, 8 a.m. to 6 p.m. The reception team can be contacted by phone on 0207 288 6272.