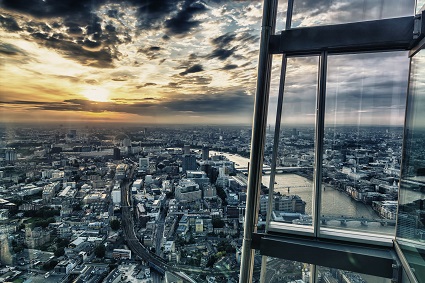 Within the square mile that makes up the City of London, there are more than 14,000 businesses. Fortunately the city's landscape reaches high, otherwise there wouldn't be much more room for budding entrepreneurs.
Known worldwide for being a hub of financial activity, the City of London is home to some of the world's biggest accountancy firms, banks, and investors. Amongst the financial moguls you'll find the occasional law firm, tech ventures like Google, and telecommunications outfits like Three. Competition for rental space is fierce, and the City of London's local government does expect businesses to commit to sustainable practice. Knowing a little more about this area in general can help you determine whether it's the right place to invest.
The City of London's Financial Sector
The City of London is also known as the "Square mile", and when investors worldwide hear that phrase, they know people are referring to the UK's financial hub. There, you will find traditional banks and insurance agencies, including international branches like the Bank of America and the Bank of Canada. Foreign exchange businesses also thrive in the City of London, with a turnover of around 0.73 trillion alone.
Sitting at the heart of all this financial activity is the London Stock Exchange, which has been in existence since 1801. Alongside the heavily regulated London Stock Exchange is the alternative investment market, which exists for those who do not have the usual connections for traditional investing. It's less well regulated, but it does open the financial floor up to a broader range of investors.
Although the finance industry dominates the City of London's business activities, you will find the odd non-financial venture. This includes Google, which is home to one of London's most innovative offices with hundreds of employees. Finally, there's Three, which is a relative newcomer to the telecommunications industry, but is one that continues to grow stronger on a daily basis.
The Cost of Office Space in the City of London
If you're tempted to rent an office in the City of London, you might want to take a look at the average costs first. On average, you'll pay around £85 per square foot of office space in the City of London, which is inclusive of rates and service charges. This isn't the most expensive in London, by any means. For that price, you have the privilege of working in a major financial hub.
While the £85 per square foot average may seem quite palatable for most, there were reports of some City of London offices costing in excess of £170 per square foot. Such costs have seen the city be declared as one of the world's most expensive places to rent an office, falling in line with other global giants like Beijing.
Naturally, these prices are going to put some small businesses off investing in the Square Mile. It's for this reason that the City of London's local authority has devised ways to ensure small business investment is still profitable in the area. This includes small business tax relief for those occupying buildings that are worth less than £25,000 per year in terms of rates. To ensure small businesses are able to find such buildings, the local authority offers schemes to help find them.
Supporting the Local Community and Green Business Practices
If you're going to invest in the City of London, you'll find that you're being encouraged to support the local community, while operating in a sustainable and responsible manner. Part of this commitment involves purchasing and procuring locally, such as using local greengrocers and encouraging your employees to use local tailors. In addition, the City Environmental Forum takes place on a quarterly basis. It includes meetings on how to engage in green business practices.
The Benefits of Renting Office Space in the Square Mile
If you're still not swayed, consider the transport connections the City of London benefits from. Cycling is widely promoted throughout the area, including the now world-famous 'Boris bikes'. The area is in close proximity to London City Airport, making it valuable to those who wish to engage with the international business market. Finally, you can benefit from both the Waterloo and City Line, plus the Northern Line on the tube, alongside a range of buses that run around the clock. When all else fails, the area isn't exactly short on parking either.
When choosing whether to invest in the City of London, consider the general business atmosphere – finance – as well as office costs. While office space may seem expensive, you will benefit from excellent transport links and significant tax relief programmes if you're managing a small business.
For first class serviced office space currently available in the City of London click here.
Also in this series:
Focus on Business in Canary Wharf
Focus on Business in Westminster
Focus on Business in Shoreditch
References:
www.cityoflondon.gov.uk/business/Pages/default.aspx
www.cityoflondon.gov.uk/business/supporting-local-communities/Pages/default.aspx
www.cityoflondon.gov.uk/about-the-city/what-we-do/Documents/an-indispensable-industry.pdf