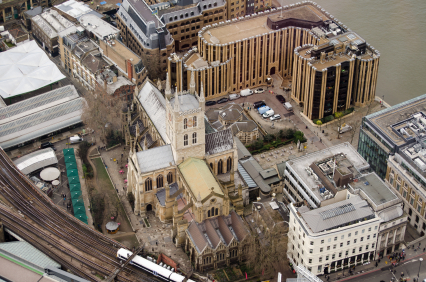 The Most Interesting Office Conversions in London
London isn't a city that does things by halves. While there are plenty of contemporary and standard buildings about, there are plenty of unique office locations. In fact, some of the most interesting office conversions in the world can be found there. From historic buildings to air raid shelters, London features plenty of interesting office conversions.
The Kingsway Tunnels
London's Kingsway Tunnels acted as air raid shelters during WWII. Located in the heart of Holborn, it is perfectly situated for the financial district. Despite this, thousands of people walk past the modest looking doorways without giving a second glance. Over the years, the Kingsway Tunnels have acted as a unique office location for over 200 BT employees at any one time. In 2009, BT announced that they were selling the tunnels, generating a flurry of interest from art galleries, retail stores, and more.
Nike Town in Oxford Street
The exterior of the buildings in Oxford Street haven't changed since the Regency Era. When Nike came along to develop Nike Town, they revolutionised the inside of the building, but left the outside in tact. Indoors there are table legs formed from scaffolding, TVs on every wall, and branded sports equipment almost everywhere. This makes a refreshing change from the usual shops you find on Oxford Street, by plonking a high-tech office in their midst.
Broadgate Office Building
Broad Street station was a functioning tube stop off from 1865 to the mid 1980s. After being closed, the station stood derelict for more than a decade. Today, it acts as office space for artists and other workers. However, that isn't the full story. As well as using the space that one housed commuters on their way to work, there are recycled underground carriages sitting on top of the building. From the outside, these carriages look as though they have been dumped there and grafitied. On the inside, there is a team of artists hard at work, making the most of the sustainable office space they got their hands on.
The Biscuit Factory Tower Bridge
As the name suggests, the Biscuit Factory at Tower Bridge in London used to be a biscuit factory. Today, it is used as offices. There are four key buildings that have been converted. The Almond Building has a Victorian feel, with an open plan ground floor. The Nutmeg building used to be a period factory, with clear ceilings. The Lincoln Factory is probably the most interesting building of all, as it used to serve as a boiler house. Finally, the Mint Building has a 1950s facade. Very few offices in London can boast featuring so many different periods.
Carreras Cigarette Factory
Not only is the conversion of Carerras Cigarette Factory interesting, it is also sort of ironic. The building used to be home to an Egyptian cigarette manufacturing outfit. Outside stands two formidable looking black cat statues, which mimic the Statue of Bastet made in 342BC. During the 1920s, this factory supplied people living in the surrounding area of Hampstead with dozens of jobs, as well as thousands of cigarettes. Ironically, today it now houses the British Heart Foundation–a charity that actively works towards promoting smoking cessation. Other occupants include ASOS.com, Wunderman, and Thomson Holidays.
Historic Royal Palaces Offices
It makes sense that the Historic Royal Palaces would host their offices in the buildings they represent, but that doesn't make them any less interesting. Take the Tower of London, for example; some of the office space there would have held prisoners in horrific conditions. Maybe people were even tortured there. In contrast, Hampton Court and Kensington Palace feature offices that once housed Europe's elite for banquets and overnight stays. Anybody who works for HRP will perform their daily tasks in such interesting environments.
Some of London's most interesting offices feature buildings that were once central to the city's history. From the medieval era Tower of London, through to the Kingsway Tunnels of the 1940s, these structures have played a large part in shaping London throughout the ages. Today, they are continuing their work, as cunning architects have reconstructed them to accommodate workers who fuel the city's ever growing economy.