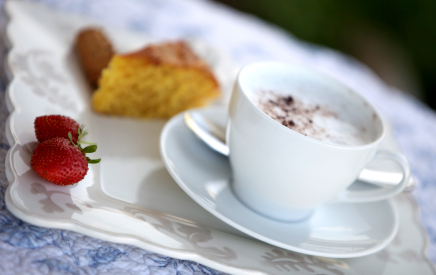 Some of London's finest coffee shops
The heartland of theatre, dining, shopping, and nightlife, the City of London has more to offer than anywhere in the world. The home of unique, artisan coffee shops, exquisite afternoon tea arrangements, and quirky menus designed by talented chefs, makes London the place to stop for the ultimate coffee shop experience, after you've taken in your favourite tourist sites. For a taste of what's on offer check out these six incredible coffee shops in London.
1. South Bank: Westminster Bridge – Brassierie Joel
Park Plaza Hotel, Westminster Bridge
Enjoy free live music, seasonal produce and a snack, on London's trendy South Bank. The lounge and patisserie coffee shop attached to the brand new Park Plaza Hotel, Westminster Bridge, is home to celebrity chef Joel Antunes. Serving gorgeous afternoon teas and a view to die for, this perfect place overlooking the River Thames, is the place to go after viewing the art at the Tate Gallery, or going for a ride on the London Eye.
2. Marylebone: Near Oxford Circus – Villandry Charcuterie
170 Great Portland Street, Marylebone, W1W 5Q.
This delightful restaurant and Grand Cafe venue is also a food store, making it ideal to pick up a hamper to go picnicking in nearby Hyde park. Complete with several dining rooms, two cafes, including an outdoor tearoom, this stylish venue prides itself on sourcing the best produce from around the world. You'll think you've died and gone to coffee heaven sipping deluxe beverages, and sampling the famous cake counter menu.
3. Kensington: Betty Blythe – Fine Food Pantry
73 Blythe Road, Brook Green, London, W14 0HP.
The craze for decorated cup-cakes reigns strong in London town, and this independent shop sits in a row of other small design and art shops on the Blythe Road. This makes it a perfect afternoon tea stop, with home-made delights for sale from the pantry and a gorgeous offering of cakes and pastries. For a truly unusual coffee shop and culinary experience, you'll want to while away the time here, sampling away.
4. Regent's Canal: Towpath Cafe – De Beauvoir
42 De Beauvoir Crescent, London N1 5SB.
Situated right on Regent's Canal, the Towpath Cafe is unlike any eating establishment in the area. If you come on the weekend, you can thrift shop on the Northeast corner of Kingsland Road and the Canal at street level, and afterwards walk down the ramp, grab a table on the path, and soak up the sunshine. If you have bicycle, you can get it tuned up next door, while you sip on a gorgeous cup of coffee, or their unique homemade ginger beer.
The menu, designed by food critic, Lori de Mori, is sourced locally. Fantastic home-made cakes, a wide variety of teas and fresh-squeezed juiced, and yummy coffee, makes this kid-friendly, pet-friendly, and hipster-friendly cafe, an ideal stop for relaxing by the Regent's Canal.
5. Farringdon: Prufrock Coffee
23-25 Leather Lane, Farringdon, London, EC1N 7TE.
The founder of Prufrock Coffee won World Barista of the Year in 2009. For coffee connoisseurs keen to try new bean flavours, decorative latte tops, unique cappuccino foam designs, and all things coffee, this is the place. There's Wi-Fi for your laptop, background tunes, and a studious atmosphere, with friendly and attentive staff attending to your every need. There's cake and light lunches available for the peckish. Nearby you'll find the Museum of London, and the world famous financial district, with a champagne bar on virtually every corner!
6. Shoreditch: The Bridge Cafe
15 Kingsland Road, Shoreditch, London, E2 8AE.
This is a bar where you will get the best coffee in London, or have a late night-cap pit-stop. Using traditional Italian espresso machines by Elektra, this quirky coffee shop, owned by Cypriots, is a sensual delight. Upstairs you will find an extensive 50s memorabilia collection, Royal Chesterfield seating, and exotic chandeliers and lamps. There's a select variety of deep, strong, Eastern European coffee available, brewed the old-fashioned way. The flavour of the coffee, the sensual atmosphere, and incredible service will ensure you return to The Bridge Cafe more than once. A stone's throw away from the famous Vietnamese Restaurant district of Shoreditch, this is a perfect after-dinner coffee stop.
London is a wonderful place to explore unique and unusual coffee shops, where independent owners make choices about flavour, sourcing, and decor, to delight your senses and thrill your tastebuds!