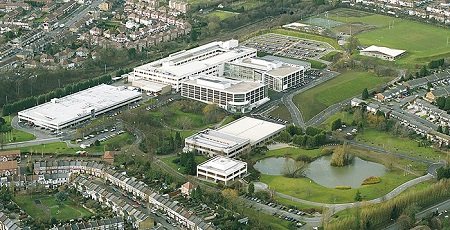 North London Business Park is a 16-hectare campus-style office development located in New Southgate. The park is accessible via Oakleigh Road South or Brunswick Park Road.
Commercial real estate at North London Business Park totals 382,000 square feet and includes dedicated office and educational space. Serviced offices are available at the Comer Innovation Centre, and units range from 250 to 80,000 square feet, making the park a suitable choice for local start-ups.
Office space at the North London Business Park is spread over six buildings, although not all currently offer office space:
– Building 3 is a three-storey structure surrounded by 40 acres of parkland that offers Grade A office space as well as serviced offices. Traditional office units are available as whole-floor units or in smaller suites of up to 125,000 square feet.
– Building 4: over 170,000 square feet with on-site security, a cafe, and close to public transportation. The building has open plan office space (sub-divisions considered) and meeting / training space.
– Building 5: a two-storey building that is currently fully let.
– Building 6: the smallest of all buildings at North London Business Park, also fully let.
Reception is located in Building 2 and there is conferencing and events space available at the Emerald Suite, which is located on the side of the park facing Oakleigh Road. This venue has an approximate capacity of 590 people and has 7 meeting rooms.
Amenities
Tenants at North London Business Park have access to air conditioned office units, round-the-clock security, accessible buildings, office units fitted with category 2 lighting, structured cabling, raised floors, suspended ceilings, and LG3-compliant lighting. There are also over 1, 3000 parking spaces and a car parking ratio of 1:250 square feet.
Serviced offices are fully furnished, equipped with modern telecommunications infrastructure, and are ready to move in. Occupiers can choose among fully or partly serviced offices.
Additional on-site amenities include a coffee shop, a nursery, a gym, a canteen, full kitchens, meeting space, an auditorium, and a number of small ancillary retail units.
Useful Information
Address:  Oakleigh Road South, New Southgate, London, N11 1NP
Phone: 0208 368 9734 (switchboard manned from 9 a.m. to 5 p.m.)
This development is owned by the Comer Group, which can be contacted at Princess Park Manor, London N11 3FL.
Phone: 0208 361 2424
Email: info@thecomergroup.co.uk
You can also use this contact form
Transport Options
The easiest way to reach North London Business Park by public transport is via London Underground at Arnos Grove station (Piccadilly Line) and via Overground services at New Southgate. Both stations are within a mile of the business park entrance. Buses 34, 251 and 382 stop 12-15 minutes' walk from main site entrance.
The park is 1.5 miles away from North Circular Road, which can be used to reach the site from east or west London. Alternatively, drivers can use Junction 25 of the M25 or the A111, both of which are within 5 miles of the site.
Nearest airports:
Heathrow (21 miles)
London City airport (17 miles)
Major Occupiers
The park occupiers mainly come from the public and not-for-profit sectors, but the private sector is well represented too, mostly in sectors like education, transportation, and business support services.
Some of the main occupiers currently based at North London Business Park include:
– Barnet Council
– Central London Community Healthcare NHS Trust
– Middlesex University
– Walsingham Support
– One Transport Ltd.
– Mountview House Group
– AMV Law
– Sigma Design and Consultancy
– Stepping Stones
– Avar & Company
– SRD Engineering
– Deepnet Security
– Radio Taxis / London Black Cabs
Additional information on North London office spaces.