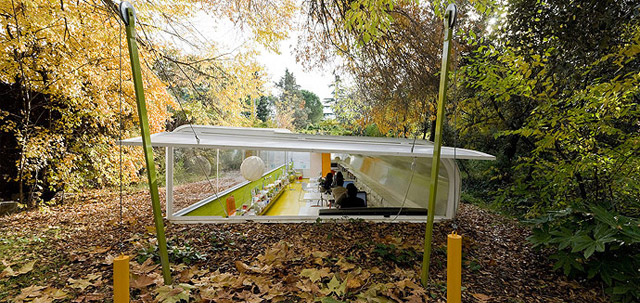 Bringing natural elements into an office space can create a fresh and positive working environment. From using natural materials to incorporating features that evoke the outside environment, there are a number of ways businesses can successfully bring the natural world indoors.
Natural Designs
Incorporating certain design elements into the look of an office is a great way of evoking natural imagery and brings office space closer to natural spaces. For example, windows can be frosted with designs that recreate natural sightings including trees, flowers and wildlife. Sugamo Shunkin Bank in Japan has created an office that uses leafy decor, including using decorative stencils and frosting on windows that mimic large trees with colourful leaves. A forest-like environment is also created thanks to seven indoor courtyards with trees and grass.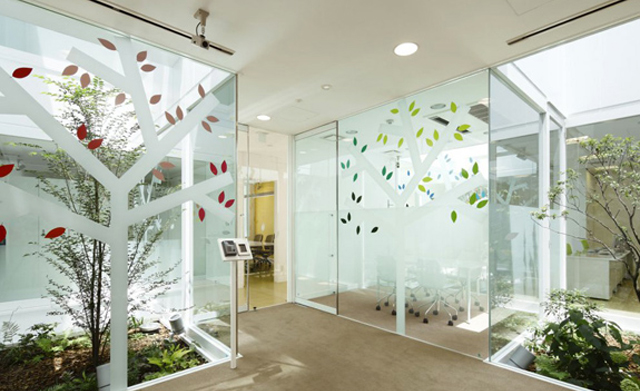 Designed by Geremia, social networking company Path has incorporated many natural elements into its office in San Francisco incorporates many natural. The company also used a nature-related theme to inform its design, in this case Mother Earth. In addition to blond wood furnishings and an abundance of natural light, the office is also decorated with bonsai trees and other greenery throughout the space. Geremia's design for Bloodhound brings nature into the office with prints of birds in motion on ceilings, light fixtures shaped using tree branch designs, and wooden paneling. Although used in a pub setting, these design elements can also be incorporated into office spaces.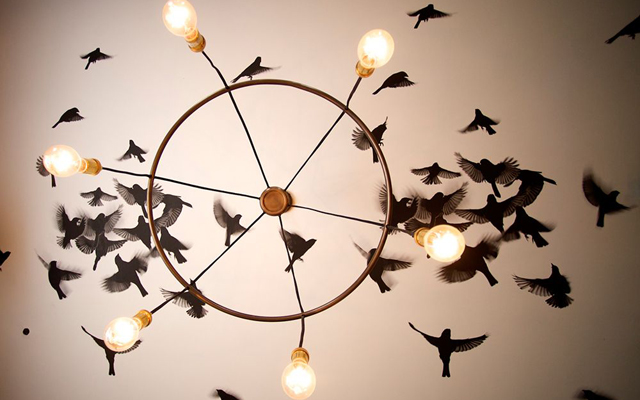 Living Spaces
Introducing plants into an office is one way of combining an indoor environment with the outside world. Beyond the traditional addition of pots with plants, there are a number of creative ways that companies can introduce green elements into their work and business areas.
Airnb's headquarters in San Francisco creates a functional space with a number of unique natural elements. While respecting the industrial heritage of the building, the office space tries to bring nature indoors with anchoring features. Housed in a former warehouse, the office space includes a large central atrium with walls of glass and a green living wall.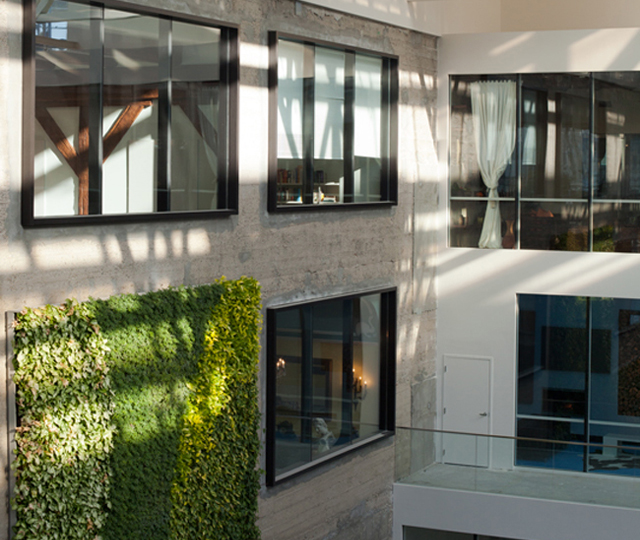 Biopharmaceutical company AstraZeneca has also uses living walls at its office in Södertälje, Sweden. Stunning vertical gardens are found in the office's main entrance. In addition to a defining entrance that welcomes and inspires visitors, the atrium also provides a tranquil spot for guests to sit.
Dropbox's San Francisco office incorporates large palm trees to help bring nature into a primarily industrial space. Using natural elements can also create a certain atmosphere of warmth. The trees at Dropbox's office not only provide greenery but also add colour and a tropical feel into an industrial space. Designed by Boor Bridges Architecture, the bright space also incorporates natural colours such as black walnut. The space also uses large windows to bring in light and provide unobstructed views of the outside.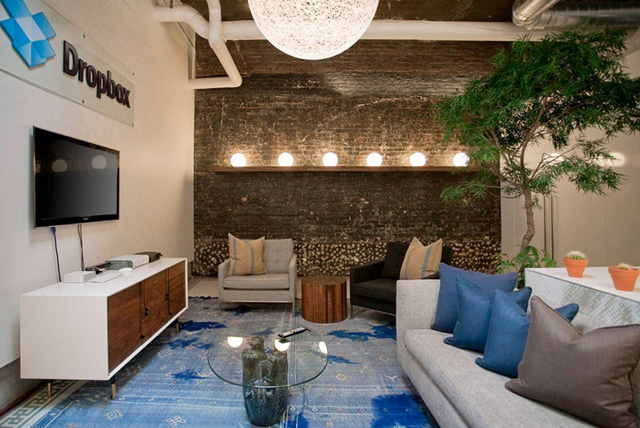 Skype has also brought the outside world into its Palo Alto office in California by infusing objects found in natural settings, including oversized rocks that act as cushions and artificial grass complemented by lawn chairs. These simple design elements create spaces indoors that evoke outdoor settings, providing welcoming spots to network and relax. Designed as a pod, the boardroom is clad with salvaged flavor sticks that were once added to wine barrels to add oak flavours. While paying homage to California's wine industry, it also adds a unique natural element to the space using wood.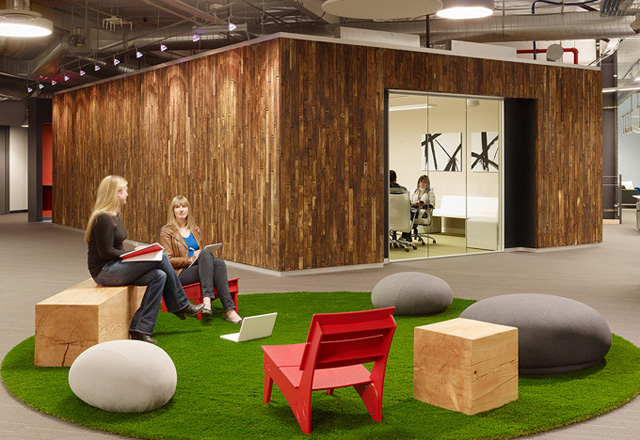 HOK, an architectural firm in London, has also created a green workspace with picnic areas complete with deck chairs. A strip of grass runs through the office's central corridor, creating a natural setting to meet, network and relax. Large windows also bring in natural light into the office.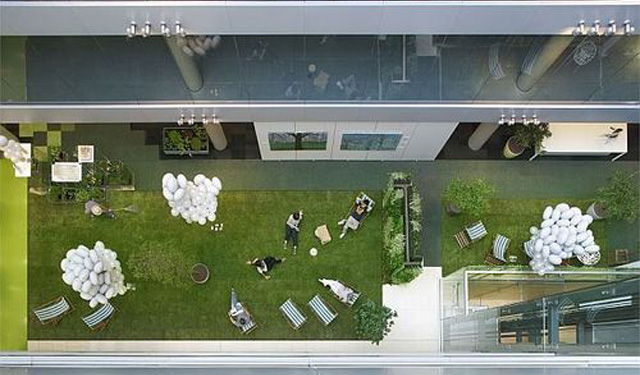 Respecting Natural Surroundings
Using a variety of materials in an office can bring nature into the workplace. For example, lining a staircase with bamboo to create a natural boundary can be a simple yet creative way to incorporate natural elements into an office. Subtle ways to incorporate natural elements include using wood flooring and wooden furniture. The outdoors is filled with vibrant contrasts, from meadows of colourful flowers to bright turquoise seas to a rich array of green tones in a vast forest. Inspired by different landscapes, the use of bright and natural colours can also recall the outdoors. Including feature walls with murals that recreate natural settings is another way to link an office space with the outdoors.
Although easier to do when building a new office, the design of a building can pay homage to its natural settings by being a bridge to nature. Rather than bring the outdoors indoors, an office can open into the outside environment. An office building for Salgascano designed by Jose Selgas and Lucia Cano is surrounded by woodland. Located outside Madrid, the canopy is visible to workers thanks to an innovative glass roof design that places offices under the trees. Not only does the design provide ample sunlight, it provides inspiring views of the natural setting around the office.
From simply adding greenery into an office to designing buildings that merge workplaces with the environment, there are countless ways to bring nature indoors. The decision on what strategy to pursue will often depend on the space available and budgets. Having a clear vision that purposely attempts to incorporate nature into an office design will also help ensure the successful integration of green concepts with an office space. Similarly, finding connections with design elements and a company's ethos can also help create unique and successful spaces.