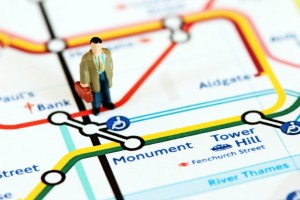 Built 150 yeas ago, the London Underground is now part and parcel of the life of many Londoners. Given the capital's notoriously bad traffic, the tube is often hailed as the quickest way of getting from A to B. But is it really so? Some of the trains running up and down the Metropolitan line can reach speeds of up to 60 miles per hour, but in the city centre, trains barely reach half of that speed. The reason? The stations are too close to each other. This means that in some cases, it might actually be faster to walk than to take the tube. If you are often pressed for time or simply enjoy walking around, take a look at a few alternative walking routes that can save you time and money.
Leicester Square to Covent Garden
These two Piccadilly line stations are only 270 yards apart. In fact, you will see signs at both stations recommending passengers to walk, especially at peak times. Walking takes just 4 minutes, plus you won't be putting your patience to the test on the crowded escalators or using up all your energy climbing the 193 steps at Covent Garden.
Charing Cross to Embankment
Many stations on the Jubilee line are barely 500 yards apart from each other. Charing Cross and Embankment are even closer, at just under 300 yards. Walking will definitely offer you a welcome break from the trains that are often packed with commuters. The walk down Northumberland Avenue is quite pleasant and takes only 5 minutes.
Farringdon to Chancery Lane
Trying to get by tube between these two stations involves changing from the Central to the Northern line at Bank station and changing lines again (after just 1 stop) at Moorgate. The trip seems too much of a hassle considering that you can walk between both stations is less than 10 minutes and enjoy a walk through the backstreets of old Holborn.
Piccadilly Circus to Leicester Square
What would you rather do: spend £4.50 on a single ticket and attempt to make your way through the crowds of commuters and tourists, or walk for 4 minutes between these two tube stations? The answer is a no-brainer, plus if you choose to walk, you can spend your tube fare on a coffee or a snack.
Finchley Road to Hampstead
Looking at the tube map, these two stations don't look particularly close. But covering the distance between both would involve either backtracking from Finchley to Waterloo on the Jubilee line and then taking the Northern line back to pretty much the starting point, or changing lines at Baker Street and King's Cross (both of which are known for being long and crowded interchange stations). The walking route takes approximately 20 minutes, although you should be aware that there's a rather steep hill between both stations.
North Ealing to West Acton
They look close enough on the map, don't they? And yet, attempting to travel by tube between these two stations would involve going to Earl's Court on the Piccadilly line, changing to either the Circle or the District lines, changing again to the Central line at Notting Hill Gate, and then backtracking to West Acton. Total travelling time: 20 minutes. If you don't feel like changing lines three times, you can go all the way back to Holborn, change to the Central line there, and then go all the way back to West Acton. Doesn't sound too appealing, does it? Instead, the walk along Queen's Drive takes just under 12 minutes.
Barbican to St Paul's
If you ever need to get between Barbican and St Paul's, don't go by tube unless you want to change lines twice in less than 10 minutes (after just 1 stop at Moorgate and one stop later at Bank). Plus if you look up this route at the Transport for London website, you will be warned with a message saying 'problems are currently reported on this route'. Save yourself the hassle and walk between these stations in 9 minutes.
Euston to King's Cross
You may think there's no need to walk when you look at this tube journey on the map. After all, Euston is only a couple of stops away from King's Cross on the northern line. But look carefully and you'll realise that you walk through a set of long corridors and make your way on the packed escalators to get from one station to the other. In fact, you could spend more time trying to get in and out of these stations than actually sitting (or more likely, standing) on the carriage. Choosing to walk will save you 4 minutes (14 minutes on foot versus 18 minutes on the tube) and will also save you a lot of stress.