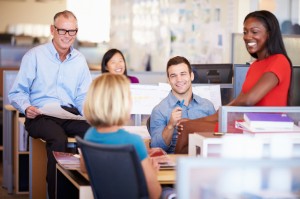 A business incubator is an excellent opportunity for start-up and development stage businesses to grow. Through a variety of supports that include mentorship, office space, financing and more, businesses and entrepreneurs are able to improve networks and develop skills and promising products or services for the market. London is home to some of the world's top business incubator programmes, including Impact Hub and Accelerator.
Accelerator
Accelerator is a specialist business incubator located in Shoreditch. The district is at the centre of London's information and communication technology (ICT) and digital media economy. Part of London Metropolitan University, the incubator provides services for students and businesses. For students, Accelerator offers support, advice and advice for any one interested in starting their own business. The program also runs an annual Business Plan Competition for students. From two-day boot camps for entrepreneurs and start-ups to meeting facilities, the incubator offers, the incubator delivers supports for pre-start up, start-up and early stage businesses. Both physical and virtual incubation is available to businesses primarily in the ICT and digital media community, including affordable office space, access to business support and training, networking opportunities, and other resources. For more information, visit www.accelerator-london.com.
Impact Hub Islington
Impact Hub is an international network with more than 8,000 members from around the world. Business and entrepreneurs in London have access to advice, resources and development opportunities from over 40 Impact Hubs in dozens of cities. The collaborative network includes Impact Hub Westminster, which opened in 2011. Impact Hub Islington hosts monthly programmes and events to provide entrepreneurs and businesses with opportunities to connect. With 1,200 members, Impact Hub Islington also makes a community workspace available for entrepreneurs and businesses to meet, connect, and work. The incubator is based in a modern space located at a converted warehouse near Angel tube station in Islington. Visit www.islington.impacthub.net for more information about Impact Hub.
Google Campus London
Situated in East London's Tech City, Campus is a welcoming co-working space for London-based start-up businesses, businesses and entrepreneurs. The business incubator is spread across seven floors and features flexible co-working space, a café, complimentary high-speed internet, and a variety of supports to help develop ideas. Supports include mentoring programmes, personalised advice, workshops, networking events, and more. A monthly rental option is available for start-ups and entrepreneurs looking for full-time workspace, while an annual fee is available for others who plan to only use the Campus occasionally. To apply to become a Campus resident or for more information, visit www.campuslondon.com.
TechHub
One of London's largest business incubators, TechHub provides start-up companies the technology and supports they need to grow faster. The incubator links businesses with an international network of technology entrepreneurs, offering a place to collaborate and learn. TechHub London is located at Tech City in Shoreditch, which is home to tech giants including Cisco, Google, Facebook and Intel. The incubator offers its members a range of free events, workshops, and advice for businesses that are developing a tech product. TechHub offices also provide an inviting community space to meet and work with secure Wi-Fi, meeting rooms and supplies. Visit www.techhub.com for more information or to register.
Innovation Warehouse
Co-working options provided by Innovation Warehouse are an ideal space for start-up businesses close to Tech City. In addition to a business accelerator programme, members have access to a resident investor angel network, seed investment fund, training academy and various events. The incubator is available for early stage companies, while accelerator and financing options are available for high-growth and high-potential companies. Based in London, Innovation Warehouse is located in the historic Smithfield Market in Farringdon. The business incubator also operates the Innovation Birmingham Campus at Faraday Wharf in Birmingham. Companies that have been based at Innovation Warehouse include Bluefields, HipSnip, Comufy, Lawbite, Gamar, and iNeed. For more information, visit www.innovationwarehouse.org.