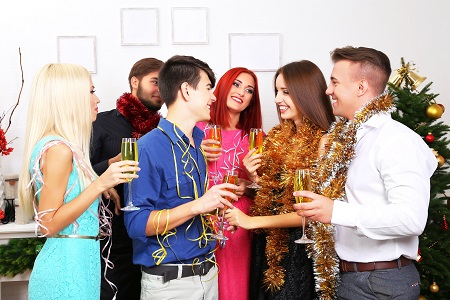 With only a few weeks left until Christmas Day, most office managers and business owners are busy organising their annual Christmas office party. Year after year, the festive season presents us with an opportunity to reward our staff and show our gratitude for a whole year of hard work. Corporate Christmas parties are also effective at building team spirit and motivating employees, in addition to being a great PR and marketing exercise.
But perhaps this year you'd prefer to organise something more interesting and memorable than the typical office Christmas lunch or dinner party. If you'd like to bring your team together by doing something fun and completely atypical, read through the suggestions below and learn more about some quirky, cool Christmas office party ideas in London.
Underground Crazy Golf at Waterloo
Underground Crazy Golf is set to become one of the most popular corporate day out experiences in the British capital. We are all familiar with Christmas golf breaks, which can be as appealing as they are costly. If you are looking for a more affordable way to celebrate Christmas with your staff and do not want to leave golf out of the equation, Underground Crazy Golf is the right choice for you.
A subterranean golf course has been created at the artsy and alternative space known as The Vaults, right beneath Waterloo Station. Golfers can practise their putt at a very different and slightly challenging course, and a fun element is added with the inclusion of hidden prizes that are to be found in the most unusual corners of The Vaults. But Underground Crazy Golf also caters to the non-golfers in your office, as live music, great food, and cocktails are available too.
Graffiti in Camden
This year, why not try something different for your corporate Christmas party and allow your team to unleash their creativity with a graffiti session in central London? The Camden Street Art team runs 2-hour workshops that will help participants get in touch with their inner artist and have a go at one of the most popular expressions of street art. After all, most of us have always secretly wished we could spray paint those walls with our creations, so this is an opportunity to do so in a safe and creative environment. These workshops take place in Leake Street and include all materials as well as personalised instruction.
Themed Masquerade Balls
Masquerade balls stand for fun, indulgence, and merrymaking with a touch of mystery. As such, they are perfect if you are looking to organise a different Christmas party this year. In London, there's no better venue for a masquerade ball than The Brewery, an East London venue that has been keeping Londoners entertained since the mid-18th century. This venue has been beautifully restored and offers a unique and bewitching atmosphere, which can be the ideal complement to a Christmas masquerade ball. But The Brewery offers more than just a space for this type of event: this venue organises themed masquerade balls that include three-course meals, unlimited drinks, and of course, a selection of masks to suit the theme of your masquerade ball.
A River Thames RIB Experience with a Christmassy Touch
RIB boat rides along the Thames have become increasingly popular over the past couple of years. There's something extremely liberating about gliding past London's most iconic waterway in one of these high speed boats, which can achieve top speeds of up to 50 miles per hour. This is also a fantastic opportunity to see the best of London from a different perspective. After all, Christmas is about being grateful for the positive things in our life, and living in one of the world's most exciting cities is certainly one of them! Some event companies organise RIB boat rides along the Thames while adding a very special Christmassy touch, which may include your staff's favourite carols or a Christmas-themed treasure hunt before or after the boat ride. This is a truly exhilarating experience that will be remembered by everyone involved for many years to come.
Cooking Lessons
Sumptuous meals packed with Christmas goodies are one of the highlights of every festive season. Treating your staff to a luxurious dining experience is a great way to end the year, but how about making things a bit more special and hands-on? Corporate cooking lessons are definitely a good way to foster cooperation among your team and to facilitate spontaneous social interactions in an informal setting. Best of all, you all get to sample your creations once the lessons are over!