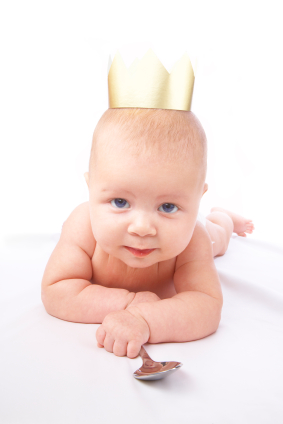 Despite predictions of doom, prophecies of gloom, and the never-ending austerity anachronisms bandied about by the British media, the British economy has edged into recovery. This recovery has leading financial pundits grasping for explanations, including the possibility Royal Baby George is somehow responsible for pushing macro-economic pounds around the United Kingdom.
The mystical source of rising GDP in the Northern Hemisphere's seventh largest economy, is rumoured to be due to a chunk of benevolent circumstances, which fall outside technocratic economic models. Think-tanks have been out-thunk by the birth of a magical boy baby, whose Midas-touch upon arrival, blessed the London Stock Exchange with trading certainty. In the month leading up to the Royal birth the FTSE index rose by 59 points – equalling the highest net-rise for the market in 2013. This can't be coincidence.
Alongside one of the biggest baby booms seen in England since the birth of the previous Royal singleton, Prince William, in 1982, more than an explosion in the coffers of Mothercare has led to the economic recovery Britain is experiencing. The spirited flame containing Olympic Gold, lingering from the incredible successes of the 2012 London Olympics, must have been passed to new Prince George – if the price of gold is anything to go by. Commodity traders cleaned up on July 22nd, 2013, as the COMEX indice shot up to 1315 from a slump of 1200 at the month's start. Pop those champagne corks now – there's a new Royal baby in town!
As if rising markets, and soaring gold prices, weren't convincing enough, the first photograph of Prince George to appear on the New York Times front cover shows him wielding his index and third finger in a victory salute – in reverse. This would seem to demonstrate a return to Empire, as the new prince-ling puts two fingers firmly up – towards the younger American nation – seemingly claiming capitalism back for British Royalty. "Take that world," the young prince seemed to say, "England is back in business!"
Before Prince George entered the sacred hallways of St Mary's Hospital in London, a peloton of paparazzi camped outside, hoping for a glimpse of any member of the Royal Family, the Royally expectant father-to-be, the Royal chauffeur, or even the Royal corgis. As long as it something or someone Royal appeared, to alleviate the month-long camp-out, the paparazzi waited faithfully for Cate Middleton to give birth.
In a kind of "Occupy London" month of madness, the boost to London's fast-food, transport, bed and breakfast, binocular manufacturing, and – let's not forget – notepad production industries, received a benevolent boost to their profits, from a bunch of international press Royalty-stalkers. There's really no-where in the world tourism numbers can be bolstered this artificially, purely because a baby is about to be born. This ordinary event happens every day to millions of women all around the world, but because this baby was Royal, British airliners were justified in cancelling all discount flight offers, or special offers, for anyone inbound to the capital, London.
British Royal babies clearly don't come cheap. A flux of duty free goods flooded into the UK during the birth of Royal Prince George, including a gift hamper from Finland, which is normally given only to mothers of Finnish children. This flurry of gift-giving, created a micro-economic boom in the City of London, with Royal insiders boosting the gift industry coffers personally by purchasing a bounty of thoughtful and tasteful booty.
Simon Nixon writes in the Wall Street Journal (Oct 20,2013), the "British economy has persistently failed to behave as predicted by theory – and continues to do so with increasing evidence it is growing faster than almost any other major Western economy." It is clear that as analysts struggle to identify an economic indicator to explain the UK's positive growth outlook, the reason is clear as day to the man-on-the-street of this royalty-obsessed nation.
The magic baby caused a baby boom around the UK, as mothers everywhere try to give birth to a future princess-partner for the debonair prince-ling. This baby boom creates a housing boom as future princesses need boudoirs and extra wardrobe space. The UK government fixed a broken financial system, no doubt, anticipating the baby prince's money-making potential – forcing banks to lend responsibly to mortgage owners. There's now a consumer-led recovery underway fuelled by rising house prices.
As they say, there's nothing quite so good planning for a family.