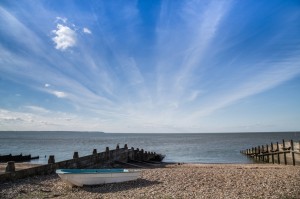 There is no denying that the British capital is an exciting metropolis bustling with countless things to see and do. However, chances are that if you live in London you will need to take a break from the city every now and then. The good news is that you don't need to drive for hours to find a relaxing short break destination, as there are plenty of fantastic spots within an hour of the city. Read on to find out more and be inspired by our selection of short break destinations.
Seaside relaxation at Whitstable, Kent
The quaint fishing village of Whitstable is only 64 miles away from central London. In just over one hour, you can swap bumper-to-bumper traffic by invigorating sea breezes and beautiful beaches. What is more, Whitstable is only 5 miles away from historic Canterbury, which also makes for a great day trip out of London. This attractive little village sits on the southern end of the Thames Estuary, but its beaches and picturesque harbour are not all that Whitstable has to offer, as the village is also home to an 18th-century castle, numerous art galleries, boutiques, antique shops, an arts centre, and many pubs and inns and of course the Whitstable Oyster Festival.
Family fun at Woburn Forest, Bedfordshire
Woburn Forest is one of the most recent additions to the leisure and entertainment offer near London. This holiday park opened is managed by Center Parcs and opened its doors to the public on 6 June this year. The park is now ready for the summer season and offers dozens of activities in its 362 acres of space. The park is just a 45-minute drive from central London and is therefore the perfect weekend destination for families who live in the capital. Family fun is guaranteed thanks to activities like Segway riding, laser clay shooting, canoeing, climbing, archery, and aerial tree trekking. If you are visiting during a particularly hot summer day, you will surely appreciate the park's tropical swimming pool. There is also a range of indoor activities on offer, as well as a spa, shops, cafes, and restaurants.
Cliffe Pools Nature Reserve
Cliffe Pools Nature Reserve is a protected area located 38 miles east of London. It certainly seems hard to believe that one of the UK's foremost wildlife habitats can be so close to a large city, and this is precisely one of the reserve's key attractions. Upon reaching the reserve's entrance, you will be greeted with expansive views of the natural pools and lagoons that are home to thousands of birds, including redshanks, marsh harriers, peregrines, merlins, and black-tailed godwits. Further away, the River Thames flows gently towards the North Sea. The Cliffe Pools Nature Reserve is the ideal place to get away from it all for a few hours. Guided walks are available, but otherwise you can explore the reserve's 6 viewpoints at your own pace.
A quiet retreat in Foulness Island, Essex
Being England's eight largest county, Essex has a large number of attractions on offer. Don't be put off by the name of this charming little island and head off to this unbelievably quiet spot off the Essex coastline. Driving 56 miles east of London will take you to this gorgeous tidal island where time seems to have stood still. The island is sparsely populated and the local traditional architecture is a reminder of how rural life in England used to be in the past. In Foulness Island, the landscape is dotted with old barns, brick and timber houses, sandy beaches, and hay fields that extend as far as the eye can see. Cruises, birdwatching tours, and boat trips to nearby Wallasea island can be arranged through the island's Heritage Centre. Because the island is a restricted MOD site, visitors are strongly advised to contact the Heritage Centre for information on open days.
Pure bliss at the Surrey Hills
The Surrey Hills are a designated Area of Outstanding Natural beauty located 35 miles away from London. Here, visitors can experience the magical English countryside at its best. Hills, valleys, woodlands, and rivers continuously intermingle with each other in the Surrey Hills, providing visitors with a unique opportunity to escape the hustle and bustle of the big city and to go back to their daily routine feeling energised and rejuvenated. The villages of Shere, Peaslake, and Ewhurst provide different access points to this area, and a visit to all three of them can be easily sorted if you have your own transport. For more information on sights, attractions, and events at the Surrey Hills, visit http://www.surreyhills.org/surrey-hills-explore.