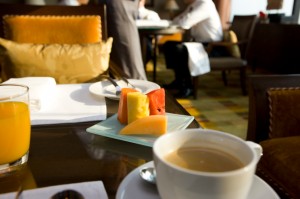 With the pace of business no longer dictated by a 9 to 5 schedule, workers in the City of London are increasingly turning towards alternative arrangements for meetings. From scheduling team brainstorming sessions at coffee shops to meeting with clients for breakfast, meetings are not just confined to office boardrooms. Breakfast meetings are great opportunities for quick meetings over coffee and a light meal. With tight economic times and busy workdays, breakfasts are a time and money saving alternative to long lunches that were once a staple of doing business.
There are plenty of choices for the day's first meal in the City, whether you are looking for a full English breakfast or a quick orange juice and pastry to start the day. Known for its excellent burritos, Poncho 8 has five branches in the City. A favourite breakfast menu item is Portobello mushroom, as well as smoked bacon breakfast wraps with omelettes. Poncho 8 is a fun and affordable spot for a quick breakfast offering flexible options to choose what's in your breakfast burrito. This is a great choice for team meetings or a less formal breakfast with external stakeholders.
The City has some of the most iconic office towers in London, many offering dazzling views of the capital. Some towers have sky-high restaurants that are sure to impress high-profile clients for a breakfast meeting. The Duck & Waffle in the Heron Tower on Bishopsgate offers one of the best bird's eye view of London while enjoying a breakfast. The restaurant is fairly busy and bookings are recommended, like many of the most popular breakfast spots in London. Menu items include savoury dishes from across the British Isles, including Yorkshire pork sausage and black pudding from West Cork.
Another great choice with an impressive view and setting is Coq d'Argent at No. 1 Poultry in the heart of the City. This strictly business venue offers a professional space and friendly service. The beautiful rooftop terrace offers excellent 360-degree views of the City. Delicious dishes are prepared by Chef Mickael Weiss, who delivers one of the best breakfasts in London. A world class menu filled with flavour is also found at Hawksmoor Guildhall. Known for some of the best steaks in London, the restaurant was also named by GQ as the home of the best power breakfast in London. The Basinghall Street restaurant's menu includes a Full English breakfast, a Sausage and Egg HkMuffin, plum doughnuts and many other choices.
For a more international flare, Dishoom Shoreditch offers a Full Bombay breakfast with akuri, which is scrambled egg with onion, tomato, coriander, turmeric, green chilli and chilli powder, alongside back bacon, grilled tomatoes, Cumberland sausage and toast. Freshly squeezed orange juice and flavourful coffee are also provided at this relaxed and delicious spot for a breakfast meeting with a distinctive feel. There's also a spot to eat outside. Like Dishoom, Modern Pantry is just outside the City with a less traditional menu. It is a great place for a less corporate breakfast away from busy restaurants in the centre of London's economic hub. There's an intimate space inside for meetings as well as an outdoor space that is ideal for warmer and sunnier days. Unique menu items include a New Caledonian prawn omelet and other items inspired by the restaurant's New Zealander chef.
Back in the City and with a definite corporate feel is 1 Lombard Street. With prompt and efficient service, the restaurant's breakfast menu includes light and more filling traditional and Continental breakfast options. Located in a former bank, 1 Lombard Street is a very popular choice for early business meetings. Another early morning hotspot is Grace St. Paul's on Creed Lane. The restaurant bustles with well-dressed patrons as early as 6:30 a.m. until well into the morning, with the constant rush only seeming to yield after 10 a.m. From breakfast cereals and sausage sandwiches to hot crumpets and porridge, there's a wide selection of food at reasonable prices. There's also freshly brewed coffees and teas.
London's business day begins well before trading starts. From as early as six, Londoners are meeting with clients, investors and colleagues throughout the City. Deciding where to eat will often depend on the tone of the meeting. From formal setting with breath-taking city views to more relaxed outdoor settings, there are options for any type of meeting. Be sure to pick a restaurant with prices that are relatively reasonable for meeting participants. Whenever arranging a breakfast meeting, choose a venue that will also ensure a productive meeting. Also, select a location that will impress. Most importantly, plan in advance and book a table to avoid embarrassment.
Further Reading:  Breakfast Delivery Services in London