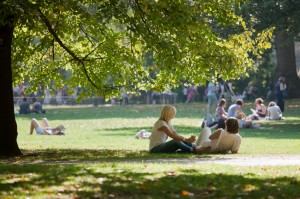 Cities are often associated with concrete and asphalt routes, steel and glass towers, and bustling motor vehicles causing commuter chaos. At the same time, urban areas are home to a wealth of biodiversity. An astounding 47 per cent of London is green space, and the city and surrounding area is home to some 3,000 parks and over 140 nature reserves. In London alone, residents share their city with approximately 13,000 different species of wildlife.
London's natural setting makes it a great place to enjoy the outdoors when taking a break from work at lunch or during the day. The Royal Parks of London are natural choices, and many are within a short walk or tube ride from London's major office hubs. Close to the heart of Central London is St. James's Park. Founded in 1603, the dazzling park sits between the iconic sights of Buckingham Palace and Trafalgar Square. Horse Guards Parade is also next to the park. From a resident colony of pelicans to fine views of Buckingham Palace from the Blue Bridge, St. James's Park is one of London's most scenic and ideal for a stroll away from the office.
St. James's Park is linked with Green Park, Hyde Park and Kensington Gardens, providing an excellent collection of outdoor green spaces to find a quiet spot to work outside, eat lunch with colleague or enjoy a quick break. The largest of the four closely linked Royal Parks in Central London is Hyde Park, which was created in 1637 and covers 350 acres. Hyde Park is also a great destination to unwind after work with recreational opportunities ranging from open water swimming and boating to cycling and tennis.
In North West London, Regent's Park is a sprawling park covering 395 acres. The Royal Park has mostly open parkland, as well as a lake, sports pitches, public gardens and playgrounds. It is also adjacent to the London Zoo. It is a great spot for a lunchtime run or a more relaxing break. Primrose Hill is another lovely green space to the north of Regent's Park. It also offers beautiful panoramic views of Westminster and the City, making the green space a popular spot for workers escaping the daily grind. Both parks are within a short walk of Camden Market, making it easy to pick up lunch and head over to either park for an outdoor break.
A former hunting park, Greenwich Park in south-east London is also a UNESCO World Heritage Site along with the Royal Observatory. The Royal Park offers stunning views of the City and the River Thames. You can also catch glimpses of Canary Wharf and the Millennium Dome, particularly from the plaza adjacent to the Royal Observatory. The garden behind the Observatory is a peaceful spot for lunch or you can venture to the nearby Park Café. There is also a smaller café next to the north-west gate of the park.
Beyond the Royal Parks, there are plenty of smaller green spaces for a short respite from work. Welcoming garden squares and small parks dot Central London, including Russell Square and Soho Square. Lincoln's Inn Fields is the largest public square in London. Laid out in the seventeenth century, the square is a popular spot with workers with a grassed area surrounded by elegant buildings. Although it becomes crowded on warm summer days, Potters Fields Park is an idyllic spot for a break with great views of the River Thames and Tower Bridge. It is a great spot to read a book, drink a coffee or meet outside with colleagues. There are also plenty of events that provide a welcomed distraction.
London's green space provide places to enjoy a stunning view, read a book, eat lunch or simply appreciate the outdoors while on a break from work. From large parks to quaint green spaces in public squares or gardens, there are countless options to enjoy lunch or a break in the open.