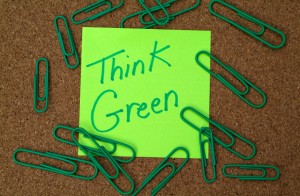 In a world that is increasingly dependent on technology, offices of all sizes use a lot of natural resources. From electricity through to water, businesses across the UK are now striving to reduce their carbon emissions by cutting down on their resource usage. Far from making life difficult, there are a few approaches business owners can take to give the planet a helping hand, while doing their bank balance a favour.
Encouraging Sustainability with the Latest Technology
There was once a time when paper was unavoidable, but today it's unnecessary to use it when it comes to most documents. Shifting most of your office's important notices to the digital world reduces the amount of paper you use. Some software even allows you to add digital signatures to documents, which in turn means you don't miss out on important contracts.
While focusing on digital documents only might seem like a hassle at first, it's worth considering the amount of time it will save. Whether you're working from Microsoft Word or using emails, search functions allow yourself and your employees to find essential keywords, without having to read a document in its entirety. Naturally, there will be times when using paper is still necessary. If this happens, focus on making the most of shredders and recycling whenever you can. The paper you recycle may later be used as a commodity for other businesses.
Efficient Water Practices for Offices
Most offices now have water coolers, and while they act as a great source of hydration and somewhere for employees to gather and converse, they also power through one of the world's most important resources. It would be unreasonable to expect any office manager to do away with their water cooler completely. You can, however, choose to use a reverse osmosis system instead. Reverse osmosis water coolers recycle water that may not otherwise be used due to lack of freshness.
In addition to reducing the amount of water you waste, a reverse osmosis system also buys into the government's Waste and Resources Action Program (WRAP), which has been implemented to ensure businesses use natural resources efficiently.
Taking the WRAP Approach to Energy Use
Another key focus of WRAP is reducing energy use across offices. In the business world, computers, lighting, and other electrical goods are left to power through electricity, even when they're not needed. Whether you're working from home or managing an office elsewhere, you may want to reconsider leaving your computer's screensaver on overnight. While coming into the office and being able to get straight to work is convenient, the energy output that comes with your average screensaver will see your bills rise unnecessarily. Turn them off, and you may see computer energy reductions of as much as 50 percent.
Lighting is also an issue for many office managers. Even once you've switched to energy-saving light bulbs, you may find that you're missing out on one of your cheapest resources: the sun. Take a look at your office and see if desks and filing cabinets block any windows. If they are, move things around and you might find that you need to switch fewer lights on.
Using Environmental Management Systems
In a bid to cut carbon emissions further, the government has developed an environmental management system that's free for businesses of all sizes to use.
The Institute of Environmental Management and Assessment
(IEMA) offers an online tool that allows you to assess the impact your office has on the environment. From there, you can identify areas where you could cut down on your carbon emissions, without having an impact on your productivity. Once you've developed a plan, you simply need to put it into action and review it from time-to-time.
The most effective way to make the most of IEMA's system is to appoint someone in the office to manage carbon emissions. This doesn't have to mean completely re-adjusting an employee's role, it simply involves finding a person who can review the progress of the sustainable practices you suggest and holding meetings periodically.
In order to engage in sustainable office practices, you need to focus on involving all employees. Trying to lower your carbon emissions is easier when the entire workforce is behind your efforts. Always make sure they see the benefits of doing so, both for the company's progress and for their productivity. In the vast majority of cases, reducing carbon emissions is at least a cost neutral approach. If you identify a lot of areas where you can make changes, implementing them one-by-one and allowing the workforce to adjust each time is more likely to result in success than throwing everyone in at the deep end. With a little patience, you'll find engaging in sustainable office practices becomes second nature.