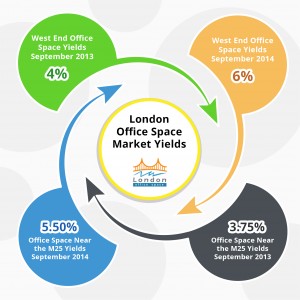 During the third quarter of 2014, the commercial property market in London has greatly benefited from a strengthened economy. Low interest rates and improved consumer confidence have contributed to making commercial floorspace in the British capital attractive to the eyes of investors and property managers, many of whom are trying to make the most out of the fact that overall prices still remain well below the peak they reached in 2007. During the past three months, average values for commercial property in London have been 31 per cent lower than in 2007. Return rates on investment for all types of commercial property have hovered around the 15 per cent mark, a slightly higher figure than the one experienced during the first half of the year. The commercial property market in London remains largely dominated by overseas investors, who currently have a 57 per cent market share, followed by UK institutions and property firms. Read on for more details on the market's performance during the third quarter of 2014.
The London Office Market Q3 2014
On the whole, the cost of office space in central London is currently 4 per cent below its 2007 record high values. Having said that, it is important to note that some areas within central London have managed to return to or even exceed their pre-recession values. This is the case of offices in the West End, whose value increased by 5 per cent during the third quarter of this year. At the end of August 2014, office take-up rates in London were 17 per cent higher than during the previous year.
The latest data also show that the gap in prices between primary and secondary office stock in the city has been consistently narrowing down over the past quarter. Moderate rental growth is now evident across most city locations. However moderate, rental value increases and rising occupation costs have led more than 40 corporate occupiers to relocate from West End core offices to cheaper properties in areas like Midtown, the South Bank, or the city fringe. Year-on-year rental growth values are now 9.8 per cent higher in Midtown properties (which have been clearly outperforming those in other areas) and 7.3 per cent higher in city fringe locations.
Another trend worth mentioning is the significant number of central London offices that have been earmarked for conversion into residential properties. In the West End alone, more than 800,000 square feet of office space are set to be re-developed into residential floorspace within the next few years. It is expected that this trend will continue, as during the past three months consent has been granted to dozens of planning applications that will result in office-to-residential conversions.
In terms of investment values, the most evident trend affecting the London office market over the past quarter involves falling yields. In September 2013, average office yields for prime office space in the city ranged between 4 per cent (for West End properties) and 6 per cent (for properties located along the M25). This year, yields have experienced consistent compression, and are now set at 3.75 per cent in West End locations and 5.50 per cent for offices near the M25. No major transactions took place during the third quarter of the year, although it must be noted that the iconic Gherkin building is for sale and more than 200 bids have already been placed.
Retail Properties in London
In line with the trend experienced during the first half of 2014, the retail property market in the British capital continues to lag behind other sectors (most notably the office market), particularly in terms of investment performance. Most market analysts now agree that the weak performance of this market sub-sector is mostly due to the impact that online retailing has had on consumer behaviour. According to the most recent data, approximately 13.5 per cent of all retail transactions are now carried out online, so it is obvious that this fact has put pressure on high street retailers. Investors seem to be taking a cautious approach, and during the past quarter they have favoured properties in cheaper secondary locations, mostly around Dover Street and South Molton Street. Retail properties in suburban locations (such as Richmond and Chiswick) have performed in line with the forecasts for this quarter, experiencing rental value growth levels of 4.25 per cent.
The highest investment yields (6.75 per cent) belong to retail floorspace located in shopping centres. Next are retail properties in good secondary locations, which are currently yielding 5.50 per cent. Yield values for shops in high streets have remained stable over the past year, but the outlook seems to point at falling values, which could become a reality before the year is over. Average total returns for retail properties in London are expected to reach 12 per cent by the end of the year.
Further information on office and commercial space currently available in London can be found on London Office Space.