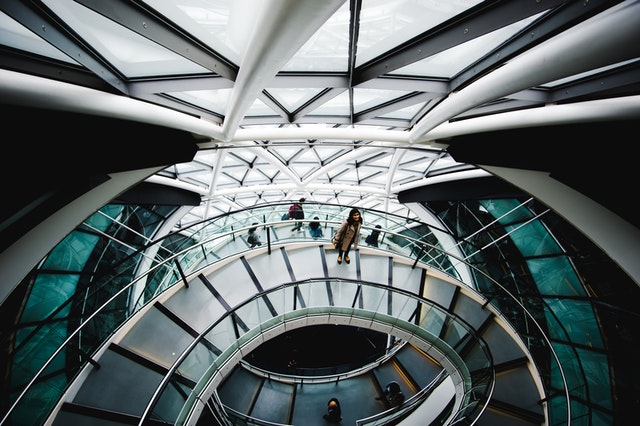 As a renowned global business hub, the city of London has attracted some of the world's most influential companies. This post looks at some of the first-class office spaces that global brands have chosen as their London base of operations.
Amazon
The e-commerce giant has been expanding its physical footprint in London since 2010. In 2017, Amazon moved into a 600,000 square foot building in Principal Place, right in the heart of Shoreditch. Amazon's innovative character found a match in this Shoreditch building, which also serves as the home for the company's Local Development Centre.
This building accommodates the company's head office, a wide range of retail and public spaces, as well as Amazon lockers and restaurants. The 15-storey building also features two roof gardens, top formal and informal workspaces, private phone booths, meditation spaces, a fitness room, and world-class views across the London skyline. Reports from early 2020 suggest that Amazon is currently in the process of searching for more office space in London, illustrating their desire to remain in the British capital moving into the future. 
Facebook
The world's largest social media company has its London headquarters in One Rathbone Square, taking up nearly 250,000 square feet over seven storeys. This office doesn't just serve as the UK hub for Facebook's tech and product development operations but also as home to an incubator that offers space to tech startups that specialise in online community development.
Designed by Frank Gehry, the Rathbone Square headquarters was built to intentionally leave some elements unfinished or 'open' (for example, incomplete ceilings) to provide for the flexibility and adaptability needed for a fast-growing company such as Facebook. Amenities include flexible workstations instead of a single work area, rooftop seating, games rooms, and a staff canteen.
Google
Located in King's Cross' Pancras Square, Google's new head office in London has been established as the first building outside of the United States to be built from the ground up for Google. The Pancras Square area, also known as the Knowledge Quarter, has undergone extensive redevelopment in recent years and has already attracted several world-renowned tech companies. Google's relocation to the Knowledge Quarter is still a work in progress. The company plans to add new buildings and spaces to their London headquarters, including large auditoriums, a swimming pool, and sports facilities. Conference rooms, a rooftop garden, and an outdoor running track are also in the works.
Dubbed a "landscraper" due to its 330 metre long horizontal footprint, Google's uniquely designed London office stands in stark contrast to that of other corporations, many of which tend to establish themselves in high-rise buildings.
Other Interesting Offices in London
Estee Lauder's head office is located at One Fitzroy, not far from the Mayfair area and home to several exclusive office buildings. Designed to look more like a hotel or a first-class airport lounge than a workspace, this sought-after office building includes a staff-only shop, beauty salon, dedicated wellness space, and social rooms for each of the company's brands.
Big Data firm Splunk has its office near Paddington, a centrally located business area known for its competitive prices. With an office that has been decorated to mimic some of the city's most famous streets and landmarks, Splunk's headquarters would rank highly on any list of London's most original office spaces, due in large part to how much it doesn't look or feel like an office. 
Financial technology company Revolut's headquarters are based in Canary Wharf, an area which is quickly becoming London's FinTech hub. Complete with a sleek industrial look and homely décor based on domesticated workspace design principles, Revolut's office space presents one of the most unique places to work in London and a prime example of the changing face of modern office design. 
Another major FinTech company, Transferwise, is based in Shoreditch. Their offices stand out as an interesting renovation project that took advantage of the building's multiple partitions and visual barriers to create a flexible workspace that combines work and play across a variety of social areas, as well as private and shared workspaces.
The last mention goes to Red Bull's trendy office in the heart of Soho. Here, the colour scheme, layout, and amenities have been combined with living walls and task-oriented spaces to reflect the brand's dynamic and energetic character.