Here at London Office Space, we just can't get enough tea and when we were researching for our tea infographic we came across this excellent initiative: Time for a Cuppa. There was just enough time to showcase what it's all about with it being only a few weeks away.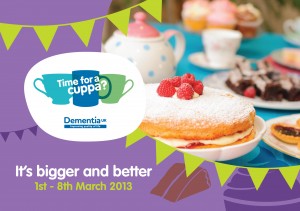 We caught up with Amy Cudmore from Dementia UK to ask her some questions about Time for a Cuppa and what companies and office workers could do to help raise funds for this very important cause.
Jurga: What is Time for a Cuppa?
Amy: Time for a Cuppa is an annual fundraising event where we ask participants to hold a tea party to raise funds in aid of Dementia UK.
Jurga: How will my Time for a Cuppa event make a difference?
Amy: Every penny raised makes a difference.  With your support we can raise money to support Admiral Nurses who provide a lifeline to thousands of families in this country.
Jurga: Let's imagine we have an office with 12 people. Where should we start?
Amy: It's as easy as 1, 2, tea!  No matter how many colleagues you have:
1.    Choose a date and time for your event and organise your tea makers and who will bring cake!
2.    Send an invite to your colleagues and plan a FUN/ novelty activity to boost your fundraising.
3.    Have a fantastic tea party!
4. Collect all your donations and send them to Dementia UK.
Jurga: The colleagues in the office drink their tea out of mugs. How do you suggest we make the whole experience more, well, elegant?
Amy: Your event can be as simple or lavish as you like: you know your audience best so try and gauge what people would like. You can decorate your office/ kitchen/ cafeteria with our Time for a Cuppa bunting and display the collection box on your cake table to add a bit of pizzazz. Invite staff to bring in their favourite novelty mug or best teacup and saucer and make it into a competition.
Jurga: Any tips on how to invite a colleague who doesn't drink tea?
Amy: We don't discriminate against coffee drinkers (or those who just want a glass of water)! Time for a Cuppa is not only a fundraising event where we hold tea parties and generally eat a lot of cake (!), it's an excuse to bring people together; to have fun, take 5 minutes out to treat themselves and raise money for a good cause.
Jurga: I hope there are ways to involve male team members, and not just the ladies? Any ideas?
Amy: With millions around the UK tuning in to watch Mary Berry and Paul Hollywood judge an all male Great British Bake Off 2012, the days of baking being a typically 'feminine' activity are over! With our British tradition of 'taking tea' being so en vogue, there's never been a better time to involve all the men in the office: they might be the next John Whaite (GBBO winner 2012)!
Highlight that your event is not so much about what you do (or who brings in the best cake) but about how and why you do it. Dementia affects everyone, and that is why it is important to try and raise awareness.
In our office for example, we are introducing a Time for a Cuppa Tea Lady for the week, where male and female staff will take turns to do rounds of Head Office with different tea-time themed snacks (we're going to have a Biscuit Blowout theme on one day, so if someone wants to just bring in a packet of Jammie Dodgers that's fine with us we'll still pay 20p for a biscuit once it hits 3pm!)
Jurga: What baking goodies are the best bet (and quick/easy/tidy to consume in a busy office environment)? Cupcakes? Scones? Muffins?
Amy: There are no rules as to what you eat at your event: Biscuits, muffins, brownies, cupcakes, flapjacks and scones, savoury sandwiches or chocolate fridge cake can are all easy to consume and can be served in bite-sized finger food portions. A side plate or napkin offered with each item will help avoid crumbs dropping on the floor. Have a look at our tasty recipes.
Jurga: Any health and safety or hygiene tips? Do the cupcakes and cakes have to be labelled, i.e. for nut allergies?
Amy: Yes, if you are baking homemade treats for your tea party please ensure that all food is prepared and handled correctly and label all ingredients such as nuts that people may be allergic to.  For food hygiene visit www.food.gov.uk.
Jurga: Where in the office could we have this tea event?
Amy: Each office space is different, so it depends on the space available to you and how you organise your Time for a Cuppa.  You can:
1.    Dedicate a time to gather in a meeting room, common room, kitchen area or someone's office.
2.    For a bake sale have a table set up in the staff canteen or reception area.
3.    For a fun retro idea, organise for a tea lady to stop by everyone's office.
Jurga: Should we let the attendees take their cuppas and cakes to their own desks?
Amy: If you are a small office then there is no reason not to have a cuppa and cake at your desk.  As long as you inform your colleagues to grab their attention they will come and take a look, eat, drink and donate. To stop crumbs falling onto your desk consider having a side plate or napkin with your food.
Jurga: Are there any games/ raffle / activity ideas you can suggest?
Amy: Challenge your colleagues to take part in one of our Time for a Cuppa activities.  Ask for a £1 donation to enter.
Time for a Cuppa PIN THE CHERRY ON THE CAKE
Time for a Cuppa BINGO
Time for a Cuppa QUIZ
Time for a Cuppa WORDSEARCH
You can download the following games from http://www.timeforacuppa.org/resources/
Jurga: On average, how long should this Time for a Cuppa event take (in case the managers are worried about a drop in productivity!)?
Amy: Your Time for a Cuppa event can be from 15 minutes to 2 hours depending on whether you organise a gathering or a cake sale in the reception area that staff quickly stop by.
If managers are worried about taking time out of the working day, organise your tea party during a lunch hour and include savoury sandwiches and scones to have with a slice of cake and a cuppa tea.
Jurga: What resources do you have ready for those who want to get involved?
Amy: Everyone who registers for their Time for a Cuppa event will receive a Time for a Cuppa fundraising pack.  The pack includes:
•    A handy Time for a Cuppa guide
•    Bunting
•    A collection box
•    A donation form
•    A Gift Aid guest list
•    Invitations
•    Time for a Cuppa posters
To register visit http://www.timeforacuppa.org/cuppa_users/add
Jurga: How can people donate?
Amy: You will receive a small collection box in the fundraising pack.  Ask colleagues to put their donations in that. If you'd like further fundraising materials, or a larger Dementia UK collection tin please contact us on 020 7874 7230 or email timeforacuppa@dementiauk.org. Please visit http://www.timeforacuppa.org/donate on how you can pay the money to Dementia UK.
Jurga: And last, but not least, could you please give us some numbers as to how many tea parties were organised and how successful the fund raising was in 2012?
Amy: In 2012, 750 tea parties took place raising a total of £55,000.  This helped pay for an Admiral Nurse who provides a lifeline to 100 families. This year we aim to make Time for a Cuppa bigger and better.  With your help we can raise money  to make Admiral Nurses available to everyone who needs them.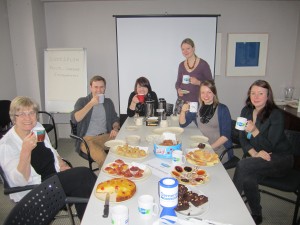 So there you have it – everything you need to know about registering for and organizing a Time for a Cuppa tea party at your office. What are you waiting for? Go sign up and get the party started. And don't forget to take pictures. We'll be setting up a Time for a Cuppa Facebook Album and would love to share your photos. Tweet them to us @officeinlondon or message us on Facebook.