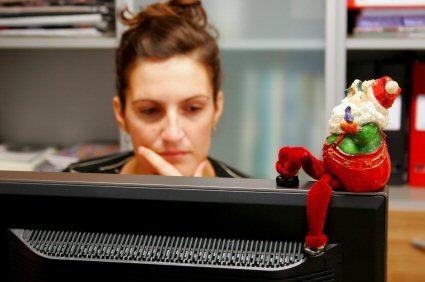 Once again, we are in the run-up to Christmas. While most of us have a good idea about how to decorate our homes during this special period, decorating the office can require additional planning. In this article you will find a quick guide to decorating your workspace and making it reflect your company's character as well as the spirit of the holiday season.
Types of Christmas decorations
Depending on the space available at your office and the budget allocated to Christmas decorations, you may want to go for only certain types of Christmas decorations or for full sets. The most popular decorations are wreaths, garlands, wall florals, desk floral displays, and Christmas lighting. Of course, having a Christmas tree in the office is almost compulsory, and the variety in shape, size, and pricing means that you are guaranteed to find something that is just right for your office.
Wreaths can be placed on individual workstations, on balconies, in the reception area, or on doors. Garlands are the perfect complement to Christmas wreaths but can also be put up on their own to add a subtle festive touch.
Desk floral displays are perfect to have in the reception desk, whereas wall florals are ideal decorative solutions for small workspaces.
Christmas decorations in the office: services available to corporate clients
In many cases, the Christmas period brings an increased workload that makes it very difficult for staff to take care of Christmas decorations. In situations like these, you may want to take advantage of the services offered by companies that are experts in decorating offices and getting workspaces ready for Christmas. Some of the services available include tree hire, installation, decoration and removal, delivery and installation of real and artificial wreaths, indoor and outdoor lighting displays, gift catalogues, and a range of other decorative items, like candles or swags.
Christmas decorations and Health & Safety considerations
Rather surprisingly, there is a large number of employees (and even managers) who believe that Christmas decorations are not allowed in work areas as they could compromise the health and safety of staff and visitors. Some organisations only allow Christmas decorations to be put up by "qualified professionals" and never by staff. You may have heard about this yourself, but how much truth is there to this belief? Not much! In fact, it is a myth that workers are banned from putting Christmas decorations in the office on health and safety grounds. According to the Health & Safety Executive, Christmas decorations in the workplace are perfectly safe, as long as employers provide adequate means to put them up and take measures to prevent potential problems (i.e. using step ladders, ensuring that cables and lighting do not pose a hazard, not blocking emergency exits, etc.).
Getting the timing right for Christmas decorations
Many people would agree with the fact that it seems that Christmas decorations are being put up earlier every year. Some shops and offices are already fully decorated before November ends, and although there are not hard and fast rules as to when Christmas decorations should go up, the general consensus is that the first week of December is the earliest you should start giving your workplace those touches of festive spirit.
As for the time when decorations should be taken down, the popular belief has it that all Christmas Decorations should be removed on the Twelfth Night, which falls on the 5th of January. It is believed that leaving decorations up beyond this date may bring bad luck, and if for some reason they are not removed by that time, decorations must be left in place until the following Christmas period.
Christmas decoration themes
Although Christmas is a time of the year when tradition is everything, you should not feel that your options are limited to certain patterns when it comes to Christmas decorations for the office. There are virtually as many Christmas decoration themes as individuals, so choice is never an issue.
For example, you could choose a certain colour and buy matching decorations (and you do not have to limit yourself to red tones). How about a stylish teal and white combination? And why not consider other less common colours, like brown, bronze, blue, purple, or pale green? The best thing about choosing a colour-themed decoration set is that you can match it to your company's main colour or to your corporate logo.
Another option is to choose a style theme and match your decorations to it. Some suggestions include vintage (which gives you an opportunity to go on a fun search for vintage decorations at charity shops or flea markets), retro, 1970s, or even movie themes, which may range from all-time classics like Star Wars or James Bond films to the staff's preferred movies.
For other Christmas related articles please click here or view our Christmas Decorations for the Office Pinterest board.