Although inhabited for centuries, the area around Liverpool Street began to gain importance during the Middle Ages, when it was established as an important trading centre and as a convenient stop for travellers and merchants. From the end of the nineteenth century onwards, Liverpool Street experienced rapid growth, which was mainly due to the inauguration of the railway station. Nowadays, Liverpool Street is home to a larger number of corporations, hotels, restaurants, and entertainment venues.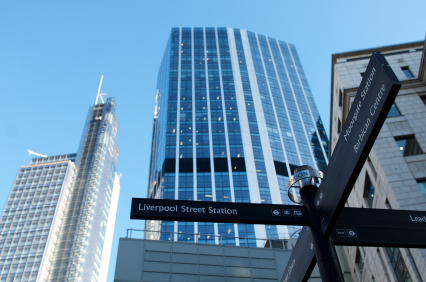 Liverpool Street's importance in the financial world
Liverpool Street is considered one of the gateways to the City of London, and it is sometimes considered a part of the capital's financial district in its own right. There are numerous meeting rooms and conference venues in the area that cater to business people, convention delegates, and employees from nearby blue chip companies. Some important firms in the finance, business, and banking sectors located in Liverpool Street include UBS, Forex Expert, Regus Business Centres, The Japan Bank, Mizuho Corporate Bank, Natwest, Barclays Bank, Panmure Gordon Investment Banking, Shinkin International, Eden Financial, Halifax, H. S. Nordbank, and Bank of Tokyo Mitsubishi.
However, these are not the only industries with presence in Liverpool Street. Other renowned businesses that have chosen this area as their base include Marnix Europe (insurance), Marubeni (energy), Wallis Retail, Primus Build Contractors (construction), ICX Europe (telecommunications), Inpex (oil & gas), Calyx (IT), and BP.
Liverpool Street's importance as a travel hub
Liverpool Street is a major transport hub in central London. Visitors arriving at Stansted airport have the choice of reaching Liverpool Street by bus or train. Frequent Stansted Express trains make the trip between the airport and this area in 45 minutes, while buses ply the same route and take between 45 minutes to an hour. London City airport is also connected to Liverpool Street by a frequent shuttle bus.
Liverpool Street's tube station is served by the Circle, Central, Hammersmith & City, and Metropolitan lines. The premises are shared with the railway station, which has train connections with Cambridge, Southend, Norwich, Colchester, and Ipswich.
There is also a number of night buses serving Liverpool Street that connect the area with Oxford Circus, London Bridge, Paddington, Trafalgar Square, and areas in North and East London.
A tour of Liverpool Street
The eastern end of Liverpool Street is dominated by the Andaz, a 5-star boutique hotel that combines to perfection Victorian architecture with contemporary style. The Andaz is also a great place to stop for a business lunch, an afternoon tea, or dinner, as it is home to a traditional English pub, a Japanese restaurant, a brasserie, a seafood restaurant, and a wine bar. Another feature of interest also located within the Andaz is a Masonic temple that now hosts exclusive events.
Continuing west towards the train station, the visitor will find several coffee shops, sushi restaurants, seafood joints, and English pubs. The Railway pub and tavern is one of the most popular venues in Liverpool Street, and it is just a 2-minute walk away west of the train station. If you continue west towards Finsbury Circus you will find the corporate offices of many of the companies listed above.
More about Liverpool Street:
Bishopsgate Institute – Provide welcoming and inspiring spaces for people with a thirst for knowledge to learn and flourish. Through their library, historic collections, courses and cultural events, Bishopsgate Institute enrich, entertain, and stimulate independent thought in a vibrant city environment.