Compared to the rest of the UK, London has seen significant rises in house prices since the beginning of the recession. With the average home in the capital costing a painful £530,000 in 2014, many employees living in London are finding the property market is difficult to manage. Such steep rises are also reflected in rental prices, leading to a growing number of city workers commuting from outside areas, or living with their colleagues.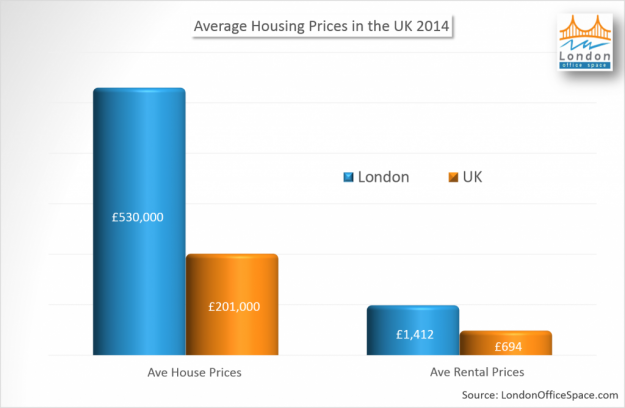 The Rising Cost of Housing in London
Between the start of 2014 and May 2014, housing prices in London rose by more than £87,000. The Bank of England's governor, Mark Carney, has stated that there are deep structural problems within the city's housing market, and that an absence of new builds may exacerbate the issue.
Despite Carney's statement, it appears that even new builds cannot calm rapidly rising costs. In November 2013, a London housing association began plans to build new homes in Streatham Hub. Come May 2013, many of those who had paid a deposit for one of the affordable homes received letters from the housing association claiming that they needed to pay up to 40 percent extra to own their proposed property.
After an outcry that received coverage from the press, the housing association returned to its original prices, stating that they had been given the go ahead to sell at below market value. Still, the event itself is a reflection of an unstable housing market that is leading to unaffordable housing costs for London's employees. Between November 2013 and May 2014, the cost of living in Streatham Common rose steeply enough for the housing association to request such a sharp increase.
How the Government is Addressing London's Housing Crisis
While many of the external factors influencing London's housing crisis are beyond the government's control, Boris Johnson is devising schemes that may make life easier for employees. One such proposal is the London Rental Standard, which accredits landlords who meet certain standards.
While the London Rental Standard is not designed to drive down prices, it does ensure that people working in the city can access a fair standard of accommodation for the money they are paying. It ensures that landlords know what their legal obligations are, while helping them make the most of insurance and deposit schemes that strengthen the landlord-tenant relationship.
Although the scheme is a significant step in the right direction for those looking to rent in the city, it has not been without criticism. Some have pointed out that its voluntary nature means there is little to deter those landlords who are willing to let out accommodation that does not reach its standards. Others have highlighted that the scheme comes with upfront costs, which may prevent some landlords from engaging.
How London's Employees Should Approach Housing in the Area
In July 2014, it was reported that London's rents were twice the national average. Those renting in the Greater London area can expect to pay as much as £1,412 per month for a property, whereas those living in other parts of the UK may pay only £694. Subsequent reports highlighted how rich international students are increasingly dominating the market, as they are able to afford the high asking prices landlords now command.
This leaves London's employees with limited options as far as housing is concerned. One of the more popular solutions for those without families is to use shared accommodation. This reduces the costs of renting a single property, but does come with the pitfalls of having to share with strangers.
An alternative option is to commute from one of the many areas that rest just outside London's zones. This includes much of Surrey, Kent, and Sussex, which may offer significantly cheaper accommodation. However, the costs of such accommodation must be weighed up next to the feasibility of travelling, as well as the price of travelling itself. However, with reports suggesting that the South East and South West of England are becoming as unaffordable as London, this may too prove to be an unaffordable option in the future.
As people continue to express discontent at the state of London's housing market, the remainder of 2014 and early months of 2015 may produce an even bleaker outlook for those who want to live and work there.