For the majority of office workers, there are usually very few things about their workspace that can be considered truly remarkable. Office space can tend to be rather dull and drab, and there is a reason for it too: decades ago, the old school of organisational psychology claimed that making an office slightly inviting would be counterproductive, as employees would feel too comfortable to be productive.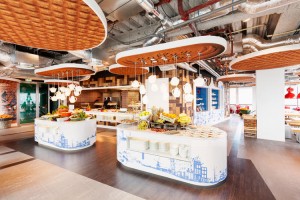 Luckily, that school of thought is slowly being replaced by a commitment to turning offices into convivial and welcoming spaces that inspire employees and encourage productivity. The workspaces listed below are living proof of this, so take a look at some of the world's most stunning office interiors and discover the key elements that can make an office stand out.
TBWA – Hakuhodo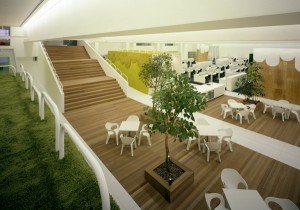 The Japanese subsidiary of this international marketing firm is an example of excellent sustainable office practices. As you can see in the picture below, this office is characterised by having a large amount of green areas that can be seen from pretty much every corner of the office thanks to its open plan design. Instead of using carpet or tiles as flooring materials, hardwood and grass were used to create comfortable, warm, and relaxing spaces. Every aspect of this working space is perfectly in line with the company's motto "think happy". We are pretty sure that staff appreciate working in such a peaceful environment right in the middle of Tokyo's hectic business district.
BBC Headquarters, Salford
The BBC's impressive complex at Salford is often listed as one of the best office spaces to work in. More than 2,500 people work at this shiny, sleek, and modern waterfront office location where creativity and leisure are an integral part of working life. Step into this office complex and you'll soon come across security staff patrolling on Segways, futuristic-looking 'thought wheels', and colour-coded areas (magenta for 'thinking' spaces and green/lilac for 'doing' spaces). The corridors are lined with 'collaboration pods', which are designed to foster brainstorming and creative thinking. The most distinctive feature of this office interior model is precisely the fact that there are no offices as such, but rather closed booths and large open spaces designed to facilitate flexibility and mobility.
BBC MediaCity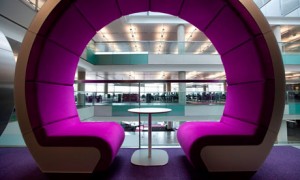 7 West 54th Street
Luxury and sophistication are the words that best describe this New York five storey office. This space certainly has the wow factor, and this was reflected in the office's sale price, which came up to a whopping $40 million. The building was once property of Philip Lehman, who spared no expense in turning the space into something worth of a museum. Hardwood ceilings, period furniture, antiques, works of art, gorgeous chandeliers, and meeting rooms fitted with Greek columns and hand painted ceilings coexist with modern workspaces, like the penthouse area, which has glass ceilings and offers fantastic views to one of Manhattan's most happening streets.
7 West 54th Street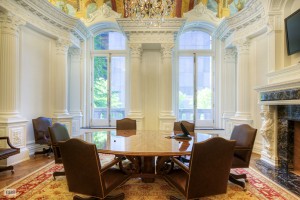 Airbnb Headquarters
This popular travel accommodation firm has its headquarters in San Francisco. Once you step into this office building, it becomes evident that every detail is geared towards reflecting the brand's business ethos: helping you find a home away from home. The interiors are decorated with lush living walls, cozy and bright seating areas that look as inviting as a living room, and rooms named after the site's most representative listings. If you work in this office and feel like taking a power nap, you can always head to the San Francisco room, a replica of a real bedroom that every office worker would love to have at their workplace.
Air BnB Headquarters
Google Zurich

A company that relies on fresh thinking and originality as much as Google does cannot afford to stifle their staff's creativity by having them work in a dull office. Google's Zurich office is an interesting working space that is half way between a playground and a modern office. It seems that Google has taken very seriously the 'work hard and play harder' motto, as their German subsidiary features game rooms, 'down time' spaces fitted with comfy bean bags and rugs, a slide that connects one floor with the other (you can also slide down a fireman's pole if you need to get to the first floor), a library, indoor workout areas, a video game room, and meeting spaces inspired in skiing areas or science fiction artifacts. Moreover, staff never have to walk more than 100 metres whenever they feel peckish, and the company has hired its very own in-house chef to make sure that all dietary requirements are catered for.
Google Zurich