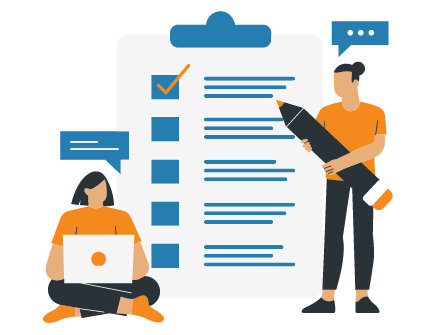 We conducted a poll in May 2022 asking 450 UK office workers to express how they felt their employers had managed their return to the workplace after COVID-19 lockdowns. Limiting our pool of respondents to just UK office workers provided us with the best indication of how businesses across the country managed the extreme transition between remote and in-person working schedules, as this group was amongst the most drastically impacted by mandated isolation.
This poll found that 
54.5% of UK office workers found their employer's roadmap out of lockdown to be well presented, providing clear direction

27.6% of UK office workers felt they were confused by their workplace's poorly presented roadmap out of lockdown

Surprisingly, 18% of respondent indicated that their employers had no plans or roadmap in place for their return to the office

When asked to rate their return to the office out of 5

46.2% of respondents rated it 4 or higher 

40.7% of respondents rated it 3 or lower 

13.11% of respondents indicated that they hadn't returned to the office
These results paint an interesting scenario, one in which roughly half of UK office workers are happy with their return to the office and the roadmap laid out by employers. 
What exactly is a roadmap out of lockdown, and why do they matter?
A pandemic of such far-reaching and drastic size as COVID-19 presented uncharted territory for all office workers globally. Whilst it's true that we'd experienced multiple pandemics before, there wasn't really any correlative for COVID-19 in living memory, something that led to numerous business, health and government leaders fumbling in the dark to figure out the best way forward. After navigating the early months of uncertainty and guiding employees to a point in which they were comfortable working under a remote or hybrid model, a lot of businesses found themselves struggling to communicate a return to the norm. With this in mind, it's no surprise that many UK businesses' roadmaps out of lockdown were formulated on the fly, with a good helping of speculation and numerous emergency meetings forming the groundwork for a return to the office. 
But what exactly is a roadmap out of lockdown? Simply put, these roadmaps outlined the steps required for a business to smoothly transition back to pre-pandemic normality, restarting their in-person operations as efficiently as possible or adapting business practices to match a post-pandemic business environment. No one roadmap out of lockdown was the same, with the unique circumstances of each business factoring into delivery and implementation. 
Typically, roadmaps out of lockdown for UK businesses involved first taking stock of the business environment and making changes based on employee demands or new market opportunities. After re-evaluating the environment, steps would need to be taken to reintegrate employees into the office, ensuring that changes were properly communicated and fresh expectations set. 
That UK businesses did as well as they did, emerging out into a newly opened world after two years of lockdown, is certainly a positive indictment on the modern business world's crisis management abilities and the impact of these roadmaps more generally. 
As with any contingency planning, however, there are always going to be hiccups when plans are eventually implemented. Delving deeper into the key findings from our poll, it's clear that there were glaring inadequacies in many businesses' roadmaps out of lockdown, whether that be tied to a general lack of clarity or the simple fact that some businesses completely failed to have a plan in place whatsoever. 
The majority of employers were able to provide a well presented and clear roadmap
54.4% of UK office workers indicated that the roadmap out of lockdown provided by their employers was well presented and provided clear direction. Whilst forming the majority of our respondents, this number barely sits above half of the 450 individuals polled. The fact that this figure isn't higher is probably due to the unprecedented nature of the COVID-19 pandemic, providing businesses with few, if any, real-world examples to guide their own returns to the office. The vast majority of respondents had also never gone through such drastic shifts in imposed working conditions before, meaning that they had no experiences to compare against. 
That businesses had roughly two years to get their heads around a probable return to the office would have been beneficial for the planning of these roadmaps, and is a likely contributing factor to how well employees viewed their execution. Having the necessary time to develop a clear roadmap guiding workers' returns – or at least one that was clear enough to seem effective considering the novelty of the situation – was obviously a massive boon for businesses, allowing them to spend enough time evaluating the post-pandemic business environment and implement relevant changes. 
Some businesses failed to communicate their return to the office, leaving employees confused
Businesses have crisis plans for emergencies, but usually these are for short-term crises that can be resolved within days to weeks. Even if they have plans in place for dealing with other viral outbreaks, to deal with the likes of gastro or the flu, this couldn't have prepared companies' disaster planning for a global catastrophe of COVID-19's proportions. Our poll indicated that 27.6% of UK office workers felt as if their companies didn't handle their transition out of lockdown clearly, instead viewing the roadmap as poorly presented and confusing.
Despite the length of time that a lot of businesses had to plan their roadmap out of lockdown, slightly more than a quarter of our respondents (27.6%) indicated that their employer presented them with a plan that was poorly presented and left them confused. This doesn't come as a surprise, especially considering that a lot of employees would've felt naturally resistant to any plan to return to an office space after spending the better part of two years working from home. The distance that grew between employees and employers throughout the pandemic naturally led to breakdowns in communications, with some businesses failing to properly determine the preferences of their workforce prior to presenting them with a plan.
The ideal working environment is different for everyone, with some preferring to spend their days toiling away in home offices and others jumping at the opportunity to collaborate with colleagues in a coworking space. Identifying the differences in working preference held by your workforce is a key element to any successful return to work, as it allows you to determine a clearly defined path forward that satisfies as many people as possible.
Nearly a fifth of UK office workers weren't presented with a roadmap out of lockdown
Surprisingly, 18% of UK office workers indicated that their workplace hadn't presented them with any form of roadmap or plan out of lockdown. When combined with the previous finding's contingent of workers who felt their workplace's roadmaps back to work after COVID were lacking, we arrive at a total of 45.6% of employees either insufficiently sure about how a transition out of lockdown will go, or completely ignorant to any plans their workplace has for them. This is a pretty poor showing from UK's business leaders, by any measure, and is the other side of the coin from the 54.4% of workers who felt positive about their employer's post-lockdown roadmaps.
As stated earlier, it was understandable that businesses struggled to develop plans and strategies for their workers' post-lockdown return, but to have no evident plans after two years to prepare hints at staggeringly serious short-sightedness. Even businesses who opted to permanently adopt a remote model should have presented their employees with a roadmap clearly outlining the path moving forward out of lockdown, whether that included a return to a physical space or not. Whilst ultimately designed to reintegrate employees into the workplace, these roadmaps also served as a valuable tool to highlight the ways in which businesses changed as a result of the events of the pandemic, making them vital for all. 
Whilst we hope that these figures can be explained by poor communication of objectives or unpreparedness from quickly announced ending of lockdowns, it's clear that a lot of businesses were asleep at the wheel to some extent. 
Close to half of UK office workers highly rated their return to the office
As mentioned in the overview of our results, 46.2% of UK office workers rated their return to the office as four or five-out-of-five. This figure sits slightly below the 54.4% of respondents that indicated having a well presented and clearly directed roadmap out of lockdown, making it difficult to draw correlation between the two. 
This figure can be broken down and interpreted in many ways. However, when contextualised with the fact that only 12.7% of respondents rated their return as a two-out-of-five or lower, it becomes clear that more UK office workers favoured their return to the office than disliked it. We can draw on multiple explanations for this result, with concepts such as flexible work and a generally renewed focus on employee experience serving as potential keys. Ultimately, these results indicate that media attention surrounding employee dissatisfaction with returning to the office post-pandemic is likely overblown. Instead, it seems as if the majority of UK office workers have been relatively happy with the working environment that they've returned to, as well as the roadmap that has been laid out for them when doing so.  
However, some returns were less than ideal
Despite slightly less than half of survey respondents providing a high rating for their return to the office, 28% opted to provide a middling rating of three-out-of-five, alongside the aforementioned 12.7% that chose to answer with a score of one or two-out-of-five. These results highlight the varying opinions of UK office workers surrounding the subject of returning to the office, with no singular option clearly garnering a majority of responses. This is likely indicative of the delicacy of the situation, with many businesses succeeding in some aspects of their return but failing in others. 
It has been extremely difficult for employers to fulfil the demands of all employees, with some favouring flexible work schedules and others preferring the structure of a more traditional working style. The fact that these clashing workplace preferences often exist within employees in similar roles makes it virtually impossible for employers to land on a working model that fully satisfies all parties, explaining the variety of responses seen in our poll. 
But what of those who haven't returned at all?
At the time of conducting our poll, in May 2022, 13.1% of UK office workers indicated that they still hadn't returned to the office. Labour statistics from this period back up our finding, with a study from Owl Labs indicating that 18% of people in the UK are full-time remote workers. That these figures aren't more closely aligned is surely due to the fact that not all of those 18% would identify as 'office workers', as well as the potential of some of our respondents currently being between jobs. Our poll result, of 13.1% currently fully-remote office workers, is also somewhat reflective of our previous study on hybrid working, where we found that 19.8% of UK's office workers saw full-time remote as their ideal work arrangement – a finding supported by JobDescription-Library.com's figure that 1 in 5 Brits want to work full-time remotely.
That our two findings aren't more closely correlated is probably due to the fact that, as Mick Jagger so eloquently put it – you can't always get what you want. However, the fact that our study indicates at least 13% of former in-office workers are opting to continue working remotely is a good sign that the demand for flexibility is gradually being accommodated by employers.
How have prominent businesses dealt with their return to the office?
As our poll was conducted from a random sampling of the UK's office workers, we believe that, for the sake of thoroughness and more insight, it is valuable to also highlight return to office plans implemented by prominent businesses. How these companies handled their employees coming back to work after lockdown should help to further shed light on the currently established best practices in these still largely uncharted waters. 
We've limited our selection to the obvious global tech giants, as well as a number of major businesses in the British market. This was done to ultimately get an idea of the ways in which UK businesses approached their emergence out of lockdown differently to others. Investigating these leaders of local and international business operations should hopefully provide actionable insights into how disruptions can be managed, as well as the optimal ways for operations to resume in the post-pandemic business environment.
We'll take a look at the international big hitters, first:
Google/Alphabet
When discussing lessons she learnt from COVID-19 lockdowns, Google's CMO, Lorraine Twohill, stated that "things were different" compared to their usual culture of rallying together and sprinting to get things out the door quickly, "everyone was at home, making it harder to get things done". She also went on to say that Google developed higher priorities for promoting worker wellbeing and encouraging self-care during lockdown periods, stating: "Leaders and managers can make it easier for others to prioritise self-care, and they have to model it themselves."
Furthermore, Google Asia Pacific's VP of Marketing and Global NBU Payments Marketing, Simon Kahn, has stated that COVID-19 forced them to be agile, and that they "had to figure out how to not just work together, but work well". Alphabet CFO Ruth Porat said Google is seeing employee productivity rise to pre-Covid levels again, which surely is evidence of their post-COVID adaptations working.
So, what measures did they employ to transition out of lockdown?
It seems like a greater acceptance of hybrid working is the most obvious tactic they've employed in getting back to work. After delaying plans to reopen their offices from the previously slated opening date of January 10 to April 4, due to the emergence of COVID-19's Omicron variant, the long time of lockdown seemed to soften Google's previously hard stance on remote work. Having to continuously change their reopening plans also likely helped to increase their acceptance of hybrid, resulting in a formal hybrid work arrangement coming into effect for all employees on April 4, 2022. This arrangement requires that most employees will be expected to be in the office three days per week, with remote work being an option for the rest of the time.
The adaptability Google demonstrated around reopening their physical offices, and quick acceptance of the new hybrid working status quo, even if grudgingly, speaks to the need for companies to accept more flexibility into their operations. This is particularly true if they are looking to weather potential future lockdowns. 
Facebook
In January 2022, an official statement from Meta, parent company of Facebook, divulged that employees' return to offices would be delayed from January until March 28, citing the lingering effects of COVID-19.
In a similar vein to Google, Facebook has seen a drastic uptake in hybrid and remote work across all corporate locations. The steady adaptation and implementation of flexible working arrangements is clear when examining the timeline of Facebook operations, both during and after lockdowns. 
Since March 2020, 50,000 Facebook employees worked remotely as a result of COVID-19 lockdowns and local health measures. As a result of the pandemic, a Meta spokesperson said that Facebook now allows any employee to work from home or remotely, provided that their job can be done outside of an office environment.  Even Mark Zuckerberg himself stated that he could see half of Facebook's employees permanently working remotely within the next 5-10 years. After previously stating that only senior roles within his company could apply for fully-remote work after the pandemic, Zuckerberg shifted with the times to announce that all employees across the company could request to work remotely full-time.
Unlike Google, Facebook seems to have dropped the ball when it comes to additional wellness offerings for employees on the road out of the pandemic. While gearing up for implementation of their new hybrid working model, which came into effect on March 28, changes to the perk offerings were announced online for all Meta employees to view. Free services like laundry and dry cleaning were now off the table, and complimentary dinners were moved from 6pm to 6:30pm. Whilst something as luxurious as free laundry services could probably be seen as excessive in the first place, rolling back perks at such a pivotal time is probably not the most conducive move to ensure a smooth transition back to the workplace. 
Apple
Like Facebook and Google, Apple has shifted its return to the office plans a number of times over the course of the last two years. After initially announcing a return to the office three-days-per-week in mid-2021, Apple has now told employees that they are slowing their hybrid approach to two-days-per-week with the option to work fully remote for those with health concerns. Masks still remain in place for retail employees across a number of locations, as well as in-office Apple employees outside of personal workspaces.
As reported by The Verge, the current phase-in period for the two-day-per-week pilot has been extended in response to Apple's monitoring of test positivity, new variants and hospitalisation rates. Changes to the Apple return to office plans are often communicated via memo directly from CEO Tim Cook, as well as additional communications from the company's COVID-19 response team.
Whilst undoubtedly carefully crafted to maximise employee retention whilst minimising potential productivity loss, this return to office strategy hasn't been accepted by all workers. An open letter entitled 'Thoughts on Office-bound Work' was written by the Apple Together group to protest the company's hybrid plans, citing the benefits of continuing to conduct their jobs remotely.
What about major UK businesses?
Virgin Media
In the midst of UK lockdowns, it seems Virgin were on the front foot, tackling some probable areas of difficulty with their workers before they had the chance to manifest. Emphasising this proactive stance was their rollout of wellness-focused transition measures for workers returning after maternity and paternity leave. 
After experiencing her own difficulties returning to work from maternity leave during the pandemic, Virgin Media's Head of Sustainability, Katie Buchanan, decided to take the initiative to head-off these difficulties being experienced by others. She decided to talk to colleagues who'd also returned to work after absences in order to identify shared frustrations, which included difficulties related to ever-changing IT processes and a general involving to find information on their return. After being away from work for such a long time, whether that be for familial or health-related reasons, a lot of workers were finding themselves returning to a workplace that was dramatically changed from the one they had initially left. New processes had been introduced, and old ones tweaked, resulting in the creation of difficult hurdles to overcome.
The identification of these shared frustrations led to Katie and her team developing support for returning workers, including:
An interactive tool to facilitate more fruitful communications between returning workers and their line managers.

An informative timeline, provided to employees, of events and steps that they're likely to face when going on leave and returning.

An optional opt-in podcast for workers on leave to tune in to, to keep them in the loop regarding Virgin Media updates.
Adding to these measures, and including the new industry standards of flexible work offerings, a spokesperson of Virgin Media stated that the "9-5 office work day is on its way out, flexible work days are here to stay." Virgin Media clearly has a forward-thinking focus when it comes to doing what they can to ensure smooth transitions for workers coming back to work, along with promoting a culture of overall employee wellbeing, to limit the shock of returning to the office after the lengthy pandemic. 
Lloyds Bank
Even back in February 2021, Lloyds Banking Group was planning to reduce its office space by 20% through 2023, as they'd already identified working from home as becoming more of a permanent feature of the business landscape.
A branch of their extensive Future Culture wing, their wellbeing policies clearly adapted with COVID-19 in mind, with their website stating: "Whilst working from home because of COVID-19, taking care of our minds as well as our bodies is more important than ever." And that they've: "pulled together a wide range of resources to keep on top of your mental wellbeing and cope with how you may be feeling while staying at home." Clearly, after their crashing profits in Q1 2020, drastic adaptation became more than the flavour of the week for Lloyds. Quickly shifting with the times has evidently worked, resulting in a successful transition out of lockdown and smooth adoption of post-pandemic working processes. 
What these approaches tell us
Stepping back and examining how these companies managed lockdown periods, as well as their plan for returning to 'business as usual', we can see that there are some common threads in how they managed the situation. 
In managing COVID-19 lockdowns, it was common for the observed companies to prioritise their workers' wellbeing, with some developing additional policies around remote worker welfare designed to meet the unique challenges presented by the pandemic. These businesses also implemented fairly comprehensive roadmaps out of lockdown, familiarising employees with new working conditions and helping to ensure a smooth tradition back to the office, whether that be in a full-time or part-time capacity. 
Particularly for British companies, we can see that there was a tendency for rapid action in response to changing economic priorities, with new measures being implemented to meet new norms and market expectations. There was also a notable focus on replicating in-person interactions in a virtual setting, something which many employees noted as a key step towards maintaining strong company culture for those opting to remain remote. British companies were also quick to adopt the concept of flexible workspace, with serviced office spaces providing month-to-month lease terms to facilitate the changing circumstances of the pandemic.
Wrap up
The pandemic has undoubtedly caused major upheaval to the modern working landscape, resulting in rapid changes to the workplace that might've seemed completely outlandish just a short time ago. With the worst of the pandemic behind them, office workers have found themselves returning to working environments guided by the way in which their employers have responded to new norms and altered expectations. Since this was all such uncharted territory, companies – along with their workers – have struggled to find an equilibrium. 
Despite these struggles, our poll of UK office workers shows that a clear majority of businesses were able to provide their employees with carefully conceived and well presented roadmaps out of lockdown that gave clear direction. This is a good sign for the future, as the total unpredictability of the COVID-19 pandemic will likely result in the majority of businesses formulating contingency plans for future events. 
Looking for more articles?
For more deep dives into workplace statistics and general office insights, you can visit:
Most Desired Employee Perks for UK Office Workers (2022 Poll)
55% of UK Office Workers Favour Hybrid Working, Will the Office Ever Be the Same?
London Office Market Sees Highest Level of Occupier Activity Since Before the Pandemic
How to Deal with the Stress of Returning to the Office after a Long Layoff
10 Ways to Improve Office Morale
An Overview of Coworking Spaces in London
How to Value a Commercial Property and Determine Rent in London