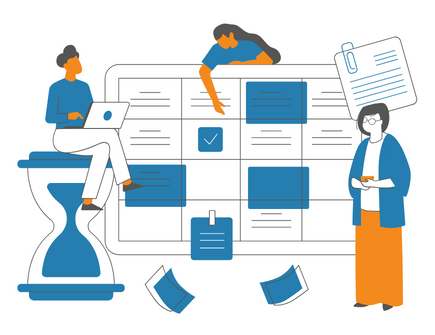 In May 2022, we conducted a poll of 450 working Britons to determine what they look for in a good manager. The ultimate goal of this poll was to gain a picture of where workers' priorities stand after the COVID-19 pandemic, in terms of their preferred managerial style and methods of support. 
When conducting this poll, we made sure to limit our scope to UK office workers only; a group that experienced significant upheaval in their working lives as they shifted between the office and remote locations throughout the pandemic. It's our belief that this group will be especially indicative of the ways in which evolving workplace norms can quickly impact the perceived characteristics of an effective manager.
Characteristics Presented to Respondents
In no particular order, the characteristics presented to respondents were:
Adherence to COVID-safety measures

Frequent and effective support on tasks

Empathetic leadership skills

Facilitation of flexible working schedules

Strong leadership style

Ability to build and maintain work culture 
What Makes a Good Manager? UK Office Workers Outline Their Priorities
48.9% of UK office workers highly prioritised their manager's facilitation of flexible working schedules, placing it in their top two most desirable characteristics

Empathetic leadership was the second most popular characteristic, with 43.1% ranking it in their top two

Frequent and effective support on tasks was seen as somewhat important, with 49.5% placing this as either their third or fourth priority

Managers exhibiting a strong leadership style tended not to be a high priority for returning workers, with only 27% placing this characteristic in their top two

A manager's ability to build and maintain workplace culture was fairly divisive amongst respondents, with 34.2% placing it in their top two and 42% placing it in their bottom two

Surprisingly, 32.2% of UK's office workers rated their management's adherence to COVID-safety measures as their lowest priority
Where do we find ourselves now?
Prior to even conducting a poll, it is glaringly obvious that there has been a change to how workers regard management in a post-pandemic business setting. There have been plenty of stories in the news about the concept of the 'Great Resignation', the growth of hybrid and remote working schedules, and, later, the 'Sustained Resignation'.
Coinciding with this change in perception, there has been a noticeable shift in workplace power dynamics since offices began reopening, with management now offering hybrid schedules, improved compensation, and additional amenities or facilities to entice reluctant employees back to in-person work. In our earlier studies, we've outlined the types of employee perks that UK office workers are now desiring, the general demand for hybrid work that has grown across the UK, and the way in which employees have viewed their return to the office. However, what exactly do these employees now expect from effective management? 
Read on to investigate this question, as we delve deeper into the results of our poll to outline the key qualities that define a great manager.
Managers who facilitate flexible working schedules are highly valued
48.9% of UK office workers had high priorities for their manager's facilitation of flexible work schedules – placing this firmly in their top two desired characteristics of an effective manager. Even when just limiting our scope to workers' number one desired management factor, 35.5% of office workers rated their manager's facilitation of flexible work schedules as their highest workplace priority.
That nearly half of respondents desire this characteristic neatly coincides with our previous study on hybrid working, where 55.3% of office workers indicated a hybrid schedule to be their ideal work arrangement. The high prioritisation for flexibility from office workers echoes common sentiments seen throughout the entire post-pandemic UK working population, in which there is an obvious appetite for non-traditional working models.  
A desire for autonomy and flexibility in the current working climate is no surprise, particularly after the pandemic illustrated the viability of long-term remote work across a number of industries. Combine this with the rapid advancements seen in digital communications tools, and it's becoming almost impossible for managers to ignore cries for change. Many office workers seek flexibility due to the benefits it provides to their personal lives, with the removal of a compulsory commute and the ability to shape their working hours around other commitments making all the difference.
Empathetic leadership skills are highly desirable in a post-pandemic working environment
Further reflective of the general trends towards more humanistic management styles in the post-pandemic world, the fact that 43.1% of respondents ranked empathetic leadership as a top two characteristic of effective managers is hardly a surprise. With many companies of the past heavily relying on micromanagement, treating employees as simple cogs in the machine, and a laser focus on key performance metrics – it is clear to see why employees are placing such emphasis on the emotional intelligence and empathy displayed by their managers.
Whereas in the past it may have seemed wishful for an office worker to hint towards a desire for empathy and emotional understanding in high-pressure roles, the newly emboldened workforce has become increasingly accustomed to expressing these desires – and having them accommodated. Employees no longer see it as taboo to discuss their mental health with management, in fact, these types of discussions are becoming increasingly encouraged as great leaders invest more time and effort into managing their most valuable resources, their workers. The best managers are now often typified by their listening skills and employee engagement bona fides, with performance management now being as much about the ability to empathetically address and identify weaknesses within employees as it is about actual output.
Managers' adherence to COVID safety measures seen as the

lowest

priority for many
In fact, nearly a third (32.2%) of UK office workers rated their manager's adherence to COVID-safety measures as their absolute lowest priority, making it the least desired characteristic of good managers seen in our poll. This figure flies in the face of the perceived opinion, primarily expressed by both legacy and new media sources, that adherence to COVID safety measures serves as a key sticking point for many office employees looking to return from extended periods of remote work.
The lack of emphasis placed on COVID safety measures and their adherence from managers is likely an expression of COVID fatigue among the UK working population, now more than two and a half years removed from the start of the pandemic. As vaccination rates continued to grow and restrictions began to be lifted over the course of the last year, the COVID safety measures that blanketed the headlines for countless months clearly began to take a back seat as people sensed that the worst of the pandemic was over. 
However, the emergence of the Omicron variant towards the start of 2022 highlighted the importance of continued vigilance, likely explaining the 9.1% of respondents that classed managerial adherence to COVID safety measures as their top priority. This situation continues to be in flux, and we expect that many managers will continue to place emphasis on maintaining a safe and healthy workplace moving forward. Expect great managers to communicate effectively with their whole team, ensuring that team meetings are called to outline COVID safety decision-making processes moving forward. Making employees feel confident in their safety at work is essential for any effective leader, particularly in times of crisis or uncertainty.
Managers characterised by their strong leadership style seem to not move the needle for a lot of respondents
Only 27.8% of polled office workers in the UK highly value managers characterised by their strong leadership styles. The majority of our respondents (exactly 56%) instead placed this management characteristic towards the mid-to-low range of their preferences, ranking it between third and fifth. 
This could be due to a number of factors. The cutthroat nature of business, where profits serve as the be-all and end-all, is gradually being phased out in much of the West. Large and successful corporations seem to be leading the way with a more humanistic spin to how they operate, at least on the surface, and these shifts have filtered down to impact long-established industry practices.
Adding to this, trends surrounding employee wellbeing have become especially prominent in recent years, as the discussion of mental health in the workplace continues to be supported by businesses of all shapes and sizes. As illustrated previously, great leaders are now expected to adopt a more empathetic management style that blends strength with solid communication skills.
Ability to build and maintain work culture seen as a polarising
Managers characterised by their ability to build and maintain work culture were seen to be polarising when it came to their effectiveness within our poll. 22.4% of respondents ranked this as their lowest desired management characteristic, serving in stark contrast to the 20% that highlighted it as their single most desired option. These polarising responses come as a big surprise, however, there are a number of potential explanations. 
Firstly, the introverted nature of many UK citizens and the strong preference for hybrid or remote working models may serve as two notable reasons for culturally-focused managers to be in low demand. Despite the best efforts of higher-ups and more sociable employees, many workers simply prefer to conduct their work and leave it at that, foregoing culture-building events and professional networking. On the other hand, many employees thrive off managers who work to facilitate strong cultural bonds between their workers, something which likely accounts for the 20% who held this characteristic in high regard. 
Despite the observed shifts away from more traditional working models, and the existence of introverts within the workplace, the development of strong workplace culture will likely always remain an important factor for UK businesses – contributing to productivity, cohesion, inclusion, and retention. As we continue to shift increasingly towards a landscape typified by remote and hybrid work, company culture looks to become more vital when looking to replicate the magic of face-to-face collaboration. Managers looking to make their employees more engaged in workplace culture can look to bolster the ways in which they engage virtually, increasing the sense of connection between in-house and remote employees by hosting frequent digital activities designed to fill the cultural void left by two years of lockdowns.
49.5% of workers polled placed frequent and effective support surrounding work-related tasks as either their third or fourth priority when it came to management characteristics. This result is likely a holdout from at least some of the more traditional respondents, who prefer hierarchical leadership structures in which managers simply serve as guides, rather than frequent supporters who engage with daily tasks. It seems logical that demand for direct help from management is poised to grow as businesses continue to move away from traditional ideas surrounding office environments, instead seeking to blur the lines between management and regular employees. 
It's also important to view these results in perspective. Whilst clearly not the main priority for the vast majority of respondents, the fact that this management characteristic polled so well when considering the five other options goes to show that it deserves significant recognition. Good managers should focus heavily on helping with the professional development of their employees, whether that be through teaching new skills, guiding them on their career path, introducing new ideas, helping with important tasks, or aiding with goal setting.
Wrap Up
The desired qualities of a good manager have undoubtedly shifted in recent times, with the results of this poll – coupled with our previous studies exploring modern working models and sought-after employee perks – illustrating a reality in which managing people now revolves around recognising and empathetically relating to their unique style of work.
Gone are the days of a one-size-fits-all management style. Great managers who are serious about their leadership development are now having to explore the needs of each individual team member in order to determine the best possible way to positively influence their job, solve problems, and build relationships. Whilst some managers might find themselves focusing on their employee recognition and communication skills to best reach their potential, others might find that a focus on time management and conflict resolution will lead to a more significant impact.
All the characteristics highlighted above should be taken seriously, however, great managers should look to hone in on the essential qualities that will result in the growth, self-actualisation, and career development for employees.
Looking for more articles?
For more deep dives into workplace statistics and general office insights, you can visit:
Most Desired Employee Perks for UK Office Workers (2022 Poll)
How Do UK Office Workers Rate Their Return to the Office?
55% of UK Office Workers Favour Hybrid Working, Will the Office Ever Be the Same?
London Office Market Sees Highest Level of Occupier Activity Since Before the Pandemic
How to Deal with the Stress of Returning to the Office after a Long Layoff
10 Ways to Improve Office Morale
An Overview of Coworking Spaces in London
How to Value a Commercial Property and Determine Rent in London