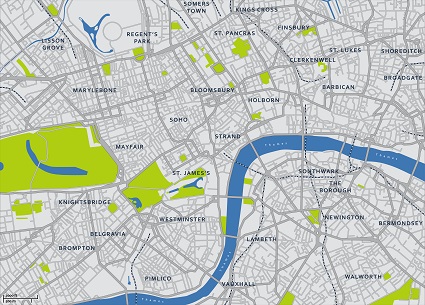 During the second quarter of 2015, we have seen a continuation of the market trends that characterised the first quarter of the year. Overall, the London commercial property market has experienced sustained rental growth in most sub-markets, but particularly in the West End. Researchers attribute continued rental growth to the healthy levels of leasing activity and to the rather reduced supply of Grade A space, and they affirm that increasing rental prices will be the predominant theme in the city's commercial property market for the rest of the year.
This trend is particularly evident in the London office market. According to PropertyWeek.com, supply shortages in the city's office stock are becoming "serious" and total supply dropped by 4 per cent between January and May 2015.
The London office market Q2 2015
Rising prices are the main theme in areas like Shoreditch, Clerkenwell, and Southbank. This trend is contributing to reduce the office cost disparities that have characterised the city core market for years. It is expected that price gaps across postcodes will be further reduced as these sub-markets become more consolidated. Another sub-market that has greatly benefited from strong demand is Hammersmith. Property Week has reported that this office sub-market is becoming a highly-sought after location that has gone from being a peripheral market to an extension of the West End. Similarly, those areas of the Thames Valley that are closer to the city have witnessed a noticeable surge in demand. This increase in demand is most likely caused by the improved transport links that will become a reality thanks to the Crossrail project. According to Colliers International, by the end of this year the office market in this area is expected to grow by 13 per cent.
Demand for serviced offices in London has experienced further growth during the past quarter. The number of serviced office space in central London has grown by 11 per cent so far, and growth is even more impressive in areas like the Southbank, where growth levels are around 17 per cent. In fact, Property Week reports that this sub-sector has outperformed all other market sectors not only in London, but also nationwide.
As far as new office developments are concerned, the most noteworthy deal closed during the second quarter of the year involves the agreement signed by Brookfield Mutiplex. This US-based firm has agreed to develop a £1 billion office complex in what will be London's biggest skyscraper. The building will be located at 100 Bishopsgate, and once completed it will add 900,000 square feet to the city's office stock. Other important projects in the city's development pipeline include 5 Broadgate (700,000 square feet), 1 Bank Street (nearly 670,000 square feet), and 1 Angel Court (300,000 square feet).
The Financial Times has also emphasised the rise in new office developments across the city. As of May 2015, there were 9.5 million square feet under construction, which is the second highest figure of the last two decades. Nearly half of the space under construction is being built in the City, followed by the West End (2.3 million square feet), MidTown (1.3 million square feet), the Docklands (700,000 square feet), and King's Cross (400,000 square feet). More than a third of the office space under construction has already been pre-let, mainly to occupiers in the technology, media, and creative industries.
According to Cushman & Wakefield, rental values for prime office locations have grown across all city sub-markets. On a year-on-year comparison, growth has been more pronounced in Victoria (over 10 per cent increase in rents), Mayfair (9 per cent), MidTown (8.7 per cent), and the city core (8.5 per cent). Along the same lines, BNP Paribas Real Estate reports that record-high values were achieved in April 2015, as headline rents in the City reached the £90 / square foot mark with the lease of the Leadenhall building. Vacancy rates in the City (postcodes E1 and EC1 to EC4) are currently 6.2 per cent (10).
According to BNP Paribas Real Estate, in the West End supply shortages have become chronic, and as of April 2015 there were only 2.68 million square feet of office space available in the area. Vacancy rates are nearly half than in the City at 3.8 per cent. Record headline rents in the West End are £108 / square foot, although average rents range between £60 and £70 / sq ft.
With regards to the investment market, prime yields remain stable and range between 4 per cent for office properties in the City, and 3.75 per cent for those located in the West End. During April 2015 alone, more than £209 million were invested in office properties in the City and £350 million in the West End. The office investment market in London is still dominated by overseas investors, which make up approximately 70 per cent of all investors.
Click here for further information on office space availability in prime London areas including The City, West End and Mayfair.
Sources:
http://www.ft.com/cms/s/0/2cada078-fd47-11e4-b072-00144feabdc0.html#axzz3cDEwS8n7
http://www.cushmanwakefield.com/~/media/reports/uk/UK%20Quarterly%20Marketbeat%20May%202015.pdf
http://www.propertyweek.com/serviced-office-sector-expands-across-uk/5073829.article
http://www.colliers.com/en-gb/uk/insights/property-news/2015/0402-thames-valley-office-market-bounces-back
http://www.propertyweek.com/news/offices/severe-supply-squeeze-hits-london-office-market/5074434.article
http://www.cushmanwakefield.com/~/media/reports/uk/UK%20Capital%20Markets%20Monthly%20Briefing%20May%202015.pdf
http://www.jll.co.uk/united-kingdom/en-gb/Research/JLL_CLR_Q1%202015_hi-res.pdf?fc88934f-bc6d-47ac-8647-5da2557b73fd
http://www.propertyweek.com/news/offices/hammersmith%E2%80%99s-office-market-buoyed-by-strong-demand/5074491.article
http://www.realestate.bnpparibas.co.uk/upload/docs/application/pdf/2015-05/monthly_review_-_city_offices_may_2015.pdf?id=p_1630234?hreflang=en
http://www.realestate.bnpparibas.co.uk/upload/docs/application/pdf/2015-05/monthly_review_-_west_end_offices_may_2015.pdf?id=p_1630261?hreflang=en