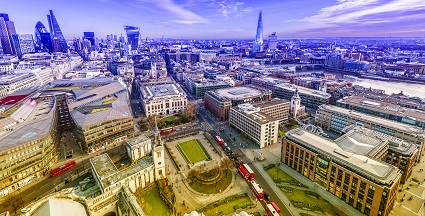 Farringdon is strategically located just outside of the financial and economic hub of the City of London. Along with Clekenwell and Shoreditch, the area makes up the City Fringe North. It is one of two City fringe areas, with the other located to the east and comprising of Aldgate, Spitalfields, and Tower Hill.
Office Space in Farringdon
Farringdon refers to a historic area around Farringdon Station in the London Borough of Islington. Comprising of the wards of Farringdon Within and Farringdon Without, Farringdon is split between areas that once lay inside and outside the London Wall. Like many parts of London just north of the City, office space in Farringdon features warehouse and factory conversions. Sizes typically range from 1,500 to 5,000 square feet, according to property consulting firm Carter Jonas. The area often attracts media and creative industries looking for more affordable office space than traditional locations like Covent Garden, North Oxford Street, and Soho. The northern City fringe also attracts companies in the technology sector, particularly due to its close location to capital markets for tech companies in nearby Shoreditch and popular business incubator programmes in the area.
Rents in Farringdon
Typical landlord quoting rents in Farringdon in the First Quarter of 2015 were £46.50 to £57.50 per square foot, per annum for new or comprehensively refurbished Grade A office space. For a refurbished Grade A office, rents ranged from £39.50 to £45.00 per square foot, per annum. The typical rate for refurbished Grade B office space was between £27.50 and £37.50 per square foot, per annum.
Grade A offices are new or newly refurbished space in buildings with suspended ceilings and fully accessible raised floors for data and telecommunications cable management, as well as lifts and air conditioning facilities. By comparison, Grade B properties feature office space that may only have under floor or perimeter trunking for cable management. They may also not have fully accessible raised floors and air conditioning systems.
Rates are generally rising in the area, with rents rising between 3.3 and 15.5 per cent in Farringdon and the City Fringe North between the First Quarter of 2014 and the First Quarter of 2015. Rents are now higher than eastern portions of the City Fringe. The typical rent-free period for lettings over 5,000 square feet was five to seven months for offices with a five-year lease or ten to 16 months for offices with a 10-year lease.
The Future of Farringdon
The arrival of the Crossrail in 2018 will help give Farringdon's office market a significant boost, and the redevelopment and expansion of Farringdon Station will have a major impact on the area as a result. The new east-west link created by the Crossrail service will improve connections between Farringdon and other parts of London, particularly the City and the Docklands as well as the West End. Canary Wharf, for example, will be an eight minute trip from Farringdon once the new line is completed. In addition to relatively lower costs and a strategic location, the improved transportation links created with upgrades to the existing Thameslink service and the new Crossrail line will strengthen the area's position as an attractive base for businesses.
For information on business centre availability in Farrindgon click here.