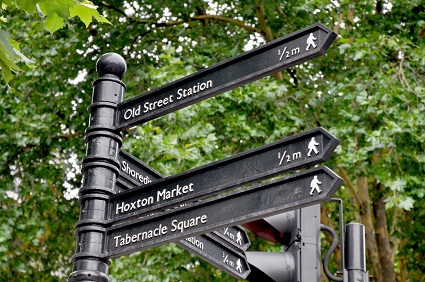 Situated in the East End of London, Shoreditch is synonymous with the capital's high tech sector. This change has had a significant impact on the types, quality, quantity and price of available offices and coworking spaces in Shoreditch.
The district is located within the London Borough of Hackney, just north of the City of London. Once an industrial and working class area, Shoreditch has gentrified significantly with the influx of creative and technology industries and their employees. Today, the district is home to many art galleries, bars and restaurants.
Commercial Property in Shoreditch
Many former industrial buildings in Shoreditch have been converted into commercial spaces, including offices. Some have also been converted into flats, creating a fashionable area to live within London. Many employers in Shoreditch are technology companies, particularly within the internet and digital technology sectors. Shoreditch is also home to many media businesses. The presence of many of the UK's leading technology companies has led to being commonly known as the Silicon Roundabout, which centres on the Old Street Roundabout.
The Silicon Roundabout is the heart of London's technology sector and home to several of the UK's web-based companies. The area is home to technology companies as well as leading financial and professional service providers. Major tech and digital companies have been brought into the area, including Amazon, Cisco, Facebook, FourSquare, Google, Intel, Microsoft, Pinterest, Twitter and Rekoo. Other employers include 7digital, Aurora Fashions, Kyzox Technology, Growth Intelligence, Import.io, Inmarsat, Intel, Last.fm, New Brand Vision, Qualcomm, Simply Business, Songkick, Sports Interactive, Tweet Deck, Ve Interactive and others. Barclays, KPMG, McKinsely & Company, Capco and Taylor Wessing also have offices in the district.
Shoreditch's Future
Several development schemes with residential and commercial towers will transform Shoreditch's landscape, including plans for new towers at the former Bishopsgate Goods Yard. The Goodyards will be built around Shoreditch Station and add office, residential and retail space, including approximately 50,000 square metres of offices. The new developments will not only bring employment opportunities and new homes to Shoreditch and Hackney over the next ten to fifteen years, but they are also expected to drive up the cost of property in the area.
Other major developments include The Stage, a 40-storey tower built over the foundations of one of London's earliest theatres. The tower will include residential, retail and business units. Located next to the popular Broadgate Tower, Principal Pace will be a 50-storey with more than 240 apartments and a 15-storey office complex. Shoreditch Village will rise over a former car park next to the Village Underground. The mixed use development will include offices along with a market, retail outlets, restaurants and bars, and residential units.
Read more about Business in Shoreditch.
Average Commercial Property Costs in Shoreditch
Shoreditch remains more affordable to secure office space compared to other parts of London. The average cost of renting office space in Shoreditch is about £40 per square feet, with average rates at about £10 per square feet and average service charges at £8 per square feet in the third quarter of 2014. This compares to rents of £58 within the City of London and £90 in Mayfair or St James's.
According to estimates by Carter Jonas, the average rent in Shoreditch was £45.00 to £55.50 per square feet for comprehensively refurbished office accommodation, £32.50 to £42.50 per square feet for refurbished Grade A office space, and £22.50 to £30.00 for Grade B refurbished office accommodation. These rates were comparable to offices in Canary Wharf and elsewhere in the Docklands, but lower than other areas of central London.
For smaller businesses, freelancers or sole traders that may only be interested in hiring desk space rather than a full office, office space in Tech City remains highly desirable and costly. The average price for a desk in Tech City is about £450 to £500 per month in the Tech City area, which includes Shoreditch and Old Street. This compares to an average per desk cost of £600 per month in Canary Wharf and £750 per month in the West End.
Sources
"For Investors". Tech City Investment Organisation. www.techcityuk.com/investors.
"London's moment: the tech cluster in the east of Britain's capital is on a roll". Wired. 5 April 2013.
"Silicon Roundabout". The Economist. 25 November 2010.
"The 'Canary Warf-isation Of Shoreditch". Londonist. 4 February 2014.
"We have no option by to build high, says Bishopsgate developer". Building Design. 8 December 2014.
"A look at office rental prices in London". Business Zone. 11 September 2014.
"Central London Office Market Update". Carter Jonas. October 2013.