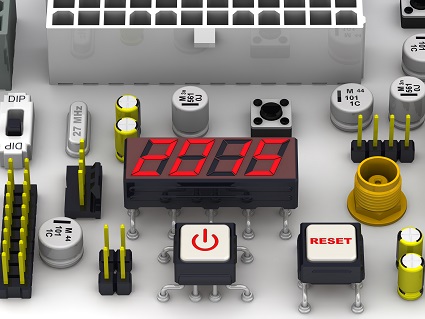 As the UK's technology hub, London is the home of leading businesses and innovators in the sector. It is no wonder that the capital hosts some of the top technology conferences in the world. The following are just some of the best technology conferences that will be held in London during 2015.
Big Data Week
Celebrating its fourth year in 2015, Big Data Week is the world's largest global big data festival. Big Data Week runs from 20 to 26 April in more than 40 cities around the world, including London. Events focus on the social, political and technological impacts of data. It connects cities with events, networking opportunities, demonstrations, discussions and debates, meet-ups and more. The annual festival brings together technology experts from various industries, including media and entertainment, health and science, finance, retail, public and government, and other sectors.
London Technology Week
London Technology Week features major international conferences, investor meetings, pitching competitions, workshops, hackathons, and much more. The week-long festival is London's premier technology gathering. In 2014, 203 events brought together more than 40,000 people from over 40 countries. Events cover a range of themes, including gaming, IT, wearable technology, music, education, big data, science, finance and other topics. Organised by UBM, London Technology Week 2015 will run from 15 to 21 June and focuses on six themes: talent and education, innovation and growth, investment and funding, coming to London and going global, diversity, and social impact.
Interop London
The flagship event of London Technology Week, Interop London connects the IT community and helps drive innovation. The conference provides a forum to share global trends and vendor solutions in a range of areas, including IT infrastructure, cloud computing, security, mobility, software and business intelligence. Interop London's programme includes a variety of demonstrations, case studies, world-class education sessions including workshops and training sessions, and vendor clinics. The conference also hosts hundreds of vendors. It will run from 16 to 18 June at the ExCeL London.
Cloud World Forum
The seventh annual Cloud World Forum will be staged on the 24th and 25th of June 2015 at the Olympia Grand at the Olympia Exhbition Centre in London. One of Europe's top cloud computing event, the forum brings together leading cloud computing providers, innovators and end-users from various sectors. The Cloud World Forum features more than 200 speakers and over 150 exhibitors, as well as some 5,000 visitors. The event is organised alongside the Analytics & Big Data Congress, a comprehensive gathering of analytics, big data and insights experts. It also features the Enterprise Apps theatre, a showcase for international platform integration, security and Bring Your Own Device (BYOD) case studies.
SES London
SES London runs from 9 to 10 February and offers glimpses into the latest tools, tips and tactics in online marketing. The conference focuses on paid, owned and earned digital marketing, as well as business intelligence and integrated media. Participants learn how to optimise their digital marketing campaigns by using proven and innovative trends in search, social media and analytics. Held at the Park Plaza Victoria London, SES London features more than 50 speakers from leading brands, media agencies and service providers.
QCon London
QCon London is billed as a practitioner-driver conference for technical team leaders, engineering directors, projects managers and architects who are leading innovators. The conference is an opportunity to share information within the developer communities. Tutorials run from March 2 to 3, while the conference itself is staged from March 4 to 6. There conference will hear from over 100 speakers. QCon London is part of a series of global conferences held throughout 2015 in São Paulo, Beijing, Tokyo, New York, Rio de Janeiro, Shanghai and San Francisco.
Digital Shoreditch Festival
Hosted in various venues throughout East London's Tech City, the Digital Shoreditch 2015 Festival features the best tech, creative and entrepreneurial talent from Europe and around the world. Held from 11 to 24 May, the festival includes debates, workshops, exhibits, trade shows, open houses and sessions. Social events including parties and dinners are also great opportunities to network with leading innovators in the technology sector. A range of themes are covered, from online learning and music to marketing and foodtech.
Mind the Product
Mind the Product 2015 focuses on product management, bringing together product leaders to explore ideas related to design, technology and business. Held at the Barbican, the two-day conference runs from September 10 to 11. First organised in 2012, the annual Mind the Product conference attracts over 600 product managers, designed and developers each year. It includes workshops and talks from experts in product management, design and development.
Silicon Valley Comes to the UK
Silicon Valley Comes to the UK (SVC2UK) is an invitation-only series of events for early stage investors, successful entrepreneurs, students and others. Founded eight years ago, SVC2UK helps promising first time CEOs to scale their companies while also inspiring students to become entrepreneurs. It also builds bridges between entrepreneurs and investors. The 2015 edition will be staged in November.
Wearable Technology Show
From 10 to 11 March 2015, the Wearable Technology Show will provide participants with an opportunity to hear from leading experts in wearable technology. The event is the largest of its kinds for wearables, augmented reality and Internet of Things (IoT) solutions. Held at ExCeL London, the Wearable Technology Show features product demonstrations and presentations alongside various networking opportunities. Speakers are expected from leading innovators, including Google, LG, Bosch and more.
Learning Technologies
Learning Technologies is Europe's leading showcase of organisational learning. It is also an important forum for highlighting the latest trends in technology that is used to support learning in the workplace. Organised alongside the the Learning and Skills conference, the event is expected to attract more than 7,000 visitors and 250 exhibitors at Olympia Central. It will also feature 150 free seminars and 70 speakers, including leaders in workplace learning.
Further information on business centre and office space availability in one of London's top locations for technology companies, Old Street, also referred to as the Silicon Roundabout.