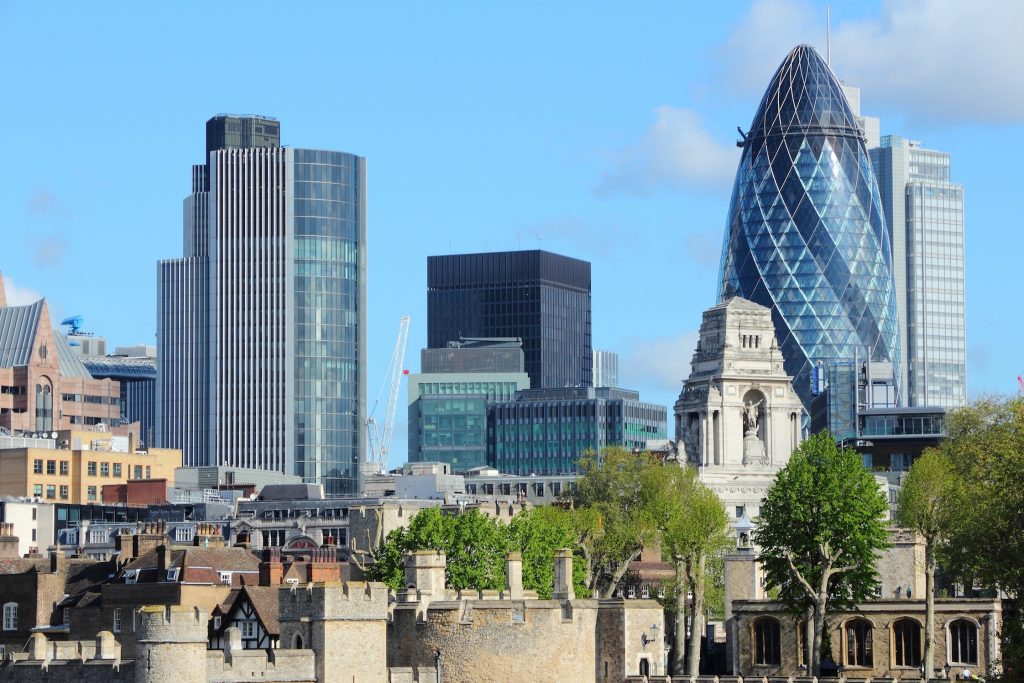 For decades, London has been a top location for the film industry. Hundreds of movies and TV series have been set in London, whether in famous studios like Pinewood, Ealing, Leavesden, or Shepperton, or in the city's streets and iconic buildings. More recently, some of London's most representative office buildings have drawn the attention of filmmakers, since their varied architectural styles lend themselves to becoming the setting of everything from comedy to action films. Let's take a look at the London office buildings that are making it big in Hollywood.
1. The Gherkin
One of London's most iconic buildings, the Gherkin has received multiple awards due to its unique design and futuristic architecture. This 41-storey high office building was completed in 2003 and its tenants include Regus, Standard Life, JDA, ION Trading, and Kirkland and Ellis (1).
The Gherkin has appeared in several Hollywood blockbusters, including:
– Match Point (2005)
– Basic Instinct 2 (2006)
– A Good Year (2006)
– Harry Potter and the Half Blood Prince (2009)
– Thor: The Dark World (2013)
2. One Canada Square
One Canada Square is one of the tallest buildings in the UK and is easily recognisable from afar due to its pyramid-shaped roof. Although initially the developers struggled to fill its offices due to the financial recession, the building is currently fully let, mostly by companies in the financial services industry, such as Accenture, Bank of New York, HSBC, Moody's, and Revolut (2).
Movies set here include:
– 28 Days Later (2002)
– Johnny English (2003)
– Harry Potter and the Order of the Phoenix (2007)
– Welcome to the Punch (2013)
3. Stone Buildings
This is a complex of 10 buildings dating from the 18th century, which have been home to legal and commercial offices for over a decade. They're currently occupied by barrister chambers and boutique legal firms. Hollywood movies like Basic Instinct 2 and Miss Potter were partly set here.
4. SIS Building
Also known as Vauxhall Cross, the SIS building is located by Albert Embankment. Built in the 1990s, it now serves as the headquarters of UK intelligence services, which moved here in 1994 (3). This office building stands out due to its post-modern architectural style, which is why it was chosen as one of the locations for 1995's James Bond movie Goldeneye (4).
5. Farmiloe Building
Located in the heart of Clerkenwell, this office building dates from the mid-19th century and has Grade II status. In 2014, approval was granted to turn it into 60,000 square feet of offices space, which will be made available for commercial purposes by the end of 2019 (5, 6). So far, the building has been featured in the following films:
– Batman Begins (2005), where the building's spectacular Victorian architecture with Gothic touches was the perfect backdrop for Gotham city.
– Da Vinci Code (2006)
– Eastern promises (2007)
– Sherlock Holmes (2009)
– Mission impossible Rogue Nation (2015)
In addition the above, the Farmiloe Building has made brief appearances in Inception, Legend, and Tinker Tailor Soldier Spy.
6. Broadgate Tower
Broadgate Plaza, situated in the City of London, is a popular film location for a variety of movies, from thrillers like Page Eight to comedies like Run Fatboy Run. Within this location, the Broadgate Tower building stands out for its modern architecture, and at 541 feet is one of the tallest buildings in the British capital. Office space is spread across 33 floors, and some of its tenants include Regus, Ricoh, Alpha Capital Markets, and Reed Smith (7). In 2012, James Bond movie Skyfall used this building to depict a Shanghai skyscraper (8).
Sources:
(1) http://www.thegherkinlondon.com/area-schedule/
(2) http://www.designcurial.com/news/csars-palace-one-canada-square-5662559/
(3) https://www.sis.gov.uk/our-history.html
(4) https://huntingbond.com/vauxhall-mi6-building-james-bond/
(5) https://www.standard.co.uk/business/business-news/batman-building-in-clerkenwell-to-become-offices-9438767.html
(6) https://www.thefarmiloe.com/
(7) https://www.broadgatetower.com/
(8) https://huntingbond.com/broadgate-tower-london/