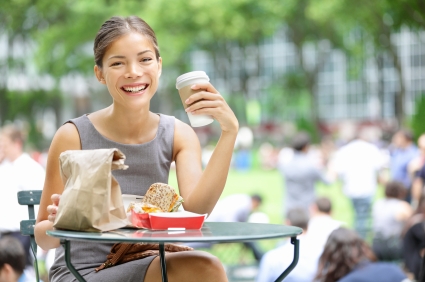 As one would expect from one of the most economically active cities in the world, London has more businesses than any other city in the United Kingdom. The private sector is made up of over 800,000 companies, while the public sector also employs large numbers of individuals across the city's 33 boroughs. On any given day, it is easy to spot office workers going on their lunch break, and in fact, many new businesses have sprung up all over the capital in order to accommodate demand and to provide a variety of options. In this article we examine the options that London office workers have when it comes to enjoying their lunch break.
Eating in: office lunches in London
Whether out of habit or in order to save some money, many office workers choose to bring their own lunch into work. Some choose to prepare their own lunch for health reasons too, especially since some reports unveiled the shocking facts behind some popular lunch options (such as cheese and onion pies that contain 31g of saturated fat or pizzas that have 230 per cent of the daily recommended amount of fat content).
Fortunately, eating in whilst at work does not necessarily have to be unhealthy or expensive. A very popular option for London office workers is to order delivered office lunches. Over the past few years there has been a surge in the number of catering companies that provide a great variety of options at reasonable prices. In some cases, it is even possible to negotiate a special price with regular catering suppliers. Another advantage of having lunch delivered to the office is that it saves time, as there is no need to spend the previous evening cooking at home or to leave the office to find a lunch spot. This can be particularly useful during those extremely busy periods at work or when unexpected projects crop up, something that is not uncommon at all in the highly-pressured working environment that some London offices can be.
The good news is that office workers do not need to look too far to find balanced lunch options that can be delivered to their workplace. Some large supermarkets, such Marks and Spencer, offer dedicated lunch delivery services, where you can choose from over 150 food and drink items. This service includes set corporate and executive menus that start at £13.60 per person. There are also sandwich, roll, and fish platters available for delivery, which may come in handy in those occasions when a mid-morning meeting overruns. Individual lunches like salads, wraps, and snacks are also available. It must be noted that a 4pm order deadline is applicable.
Another option is to order from health-conscious chain Abokado, which offers free delivery to offices that are within walking distance of their shops. Abokado's menu includes individual lunch items like wraps, sushi, salads, as well as sharing platters, which may be a good option as the shop requires a minimum order value of £30. There are also desserts, snacks, fruit, and smoothies available for delivery. Same-day orders are accepted.
There are literally hundreds of businesses that offer lunch delivery to offices in London. A simple walk around the area where your office is located will reveal many interesting options.
Eating outdoors: making the most of public spaces in the capital
Eating outdoors is a fantastic lunch option, as it helps break the working day routine. Eating outdoors in London can be very pleasant, especially during the summer months. Some interesting places to have lunch include:
London's fresh markets
Farmer's markets are not only a good place to pick up groceries. Some of London's top markets have stalls serving delicious lunch items, which feature everything from traditional British food to international fare. Some recommended options include the Berwick Street market (near Piccadilly Circus and open on weekdays), the Broadgate market (which is held on the second and last Thursday of every month in a strategic location within the City), and the relatively new Whitecross Street Food market, which serves office workers in the Hoxton and Clerkenwell area, near Old Street underground station. This market is open every Thursday and Friday.
RootMaster
If your office is anywhere near Brick Lane and you want to try a different oudoors lunch venue, the RootMaster restaurant is a must. This is an open-air venue that uses a converted red double-decker bus as its dining room, and serves vegetarian dishes like soups, quiches, and appetiser platters.
Other options for a different office lunch include the many rooftop restaurants around the City and Canary Wharf, and the outdoor restaurants located at some of the most iconic London parks, like Regent's Park, Hampstead Heath, and St Jame's Park. As you can see, London is a diverse and exciting city, even when it comes to the office lunch hour.