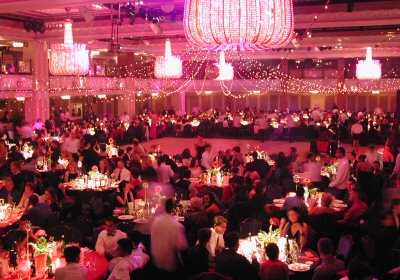 Yes, it's getting to be that time of year again. You can't walk past a shop without being blinded by flashing red noses and enough tinsel to carpet all of central London. Those old songs are being belted out at you wherever you turn, there are funny men dressed in red suits and you're thinking, "Is it too early in the relationship to be having Christmas with the 'out laws'?".
It's time to plan the office Christmas party. You don't want to be banished forever for planning the worst one since the girl from reception was ill all over the boss's new shoes. You want people to enjoy themselves, they deserve it after a year of surfing the net – I mean, hard work.
I think getting some input from staff is a good idea, what do they want to do? Would they like a themed event? Finger buffet? Party Bus? Whatever it is, it needs careful planning.
Get quotes from catering companies, ask for references and do follow them up. You don't want to end up with soggy sausage rolls and iffy deviled eggs. Is it an employee only party or can people bring dates, partners, pets?
There are plenty of companies out there that will take the hassle out of it for you, you just turn up, eat, drink and be merry for tomorrow you will feel like you crawled into a rat's mouth and died.
Having your Xmas do at a hotel means that if people do get into the Christmas spirit via the medium of spirits, they can book a room and have nothing to worry about except crawling up those last steps. Here is a short checklist to help you plan a party to remember, and not in the flash back horror movie way.
How many people? Is it plus one?
What's your budget? And stick to it.
Venue? Restaurant, hotel, boat, bus stop?
Theme? Fancy dress? River Cruise? Llama trek?
Food, have you checked on dietary requirements? Allergies, vegetarian, halal, kosher, vegan, fructarian and so on?
Open bar or drink tokens?
Music, DJ, live band, tape recorder?
Office parties can have notorious reputations, you want it to be fun without people having to look for a new job come the New Year. You don't want people falling asleep or those uncomfortable silences when everyone is surreptitiously checking their watches or coming up with excuses to leave early. Their cats called, he's locked himself out. Cousin Igor has just flown in.
Keeping people involved is also great for team building. Good luck with your party planning, hopefully you will basking in praise rather than hearing bah humbug.
Here are just a few Christmas Party organisers.
Medieval Banquet
www.medievalbanquet.com/
FIZZ
www.fizz.uk.com/christmas.html
West End Events
www.westendevents.co.uk/rocking-good-christmas.html
Venue Reservations
www.venuereservations.co.uk/christmas-events.htm
Awesome Events
www.awesome-events.co.uk/
Club Class Bus
www.clubclassbus.com/christmasparties.htm
Further advice on all things Christmassy in the office including office Xmas parties, company Christmas cards and Christmas on a Budget.
Image: © Jurga Sefton