Located in the trendy West End of London and being over a mile long, Regent Street is one of the most popular thoroughfares in the British capital. Regent Street has been an important landmark since its creation in 1825. The street was designed by architect Josh Nash, who was also the mind behind other impressive buildings like Buckingham Palace or the Royal Pavillion in Brighton.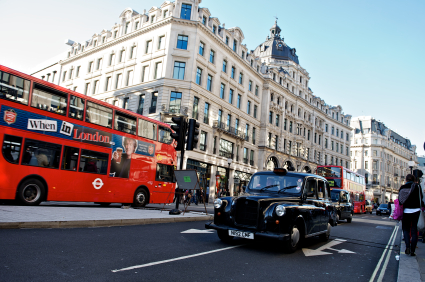 Currently, Regent Street is a protected conservation area and part of the Crown Estate, as every single building along its length is listed.
Regent Street: a premier destination for business and shopping
Although very close to the shopping mecca of Oxford Street, Regent Street is a shopping destination in its own right. It is estimated that the street is visited by more than 7.5 million people every year for purposes as diverse as business, shopping, and entertainment. There are 1.5 million square feet dedicated to retail space in Regent Street, as well as 1 million square feet of premium office space. Some prestigious tenants include international retail brands like Burberry, Apple, Hamleys, Ted Baker, Ferrari, Timberland, Levi's, GAP, Armani, Benetton, Lacoste, Hamleys, and Godiva. Liberty of London, located a couple of minutes away from Oxford Circus station, is one of the capital's leading department stores, and has the added interest of being housed in a charming Tudor style building.
The business world is also well represented in Regent Street, as there are numerous institutions of international prestige based here. Some of the most renowned include Lloyd's TBS, the University of Westminster Business School, London Green Financial, Cavendish Corporate Finance, and the Chelsea Building Society. It is easy to understand the economic value of this London address, considering that Regent Street employs more than 10,000 people in various key sectors.
A tour of Regent Street from one end to the other
Regent Street northern end is easily recognisable by the distinctive circular shape of the All Souls church. The Art Déco building known as the Broadcasting House is also on this end of Regent Street. Continuing south towards Oxford Circus station, the visitor will find the former Hanover Chapel, which currently houses an Apple store. Next is the Palladium House, another fine example of Art Déco architecture. Further south, the Habitat store still preserves some original features of a former cinema and arts centre. The southern end of Regent Street is marked by the 13-feet tall Duke of York column.
Transport links in Regent Street
Regent Street can be easily reached from other areas of London by tube. Oxford Circus station is located on the northern end of Regent Street, while Piccadilly Circus is on the opposite end. The Piccadilly line is convenient for visitors who need to reach Regent Street from Heathrow airport, while the Victoria Line that serves Oxford Circus station has rail connections with Gatwick and Stansted. In addition, there are 12 bus lines that link the area with Camden, Waterloo, Victoria station, Liverpool Street, Clapham, and Hampstead.
More about Regent Street:
The Residents' Society of Mayfair & St James's – Local community news, events and resources.
The Living Room WI – Situated in a building that used to be a Post Office, The Living Room is a great place to dine before your theatre show.
Momo – a popular restaurant, bar and café that blends Arabic music, food and visual aesthetics.
Regent Street Offices – A list of properties that offer serviced office space solutions in Regent Street area.
Further guides on important streets in the city of London including Baker Street, Broad Street, Goodge Street, Great Portland Street, Cannon Street and Old Street.