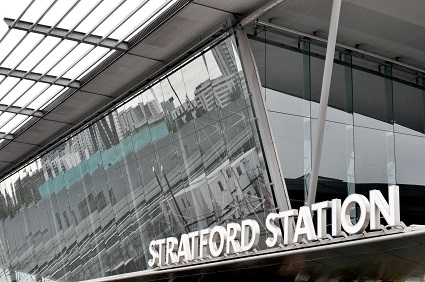 Stratford in East London continues to experience significant regeneration and expansion as a result of the 2012 Summer Olympics, which were centred around Queen Elizabeth Olympic Park. The district within the London Borough of Newham has seen a number of other projects bring new life to the area, including the multi-billion pound Westfield Stratford City shopping and commercial centre. The area's relatively low rents are expected to continue to attract businesses from across sectors in the foreseeable future.
Stratford's Economy
In recent years, Stratford has been the focal point for significant expansion and regeneration. High-profile projects have included the Queen Elizabeth Olympic Park, which includes a number of venues for the 2012 Olympic Games including the Olympic Stadium, the London Aquatics Centre, and the London Velopark. The Olympics also added approximately 3,500 new homes when the former Olympic Village was converted into the East Village development. Other projects on the Olympic Park site include 1,500 new homes as part of the East Wick and Sweetwater neighbourhoods, new facilities for University College London and the Victoria & Albert Museum, Loughborough University's iCity tech campus, and 15 new office and residential buildings in the International Quarter. Developments close to Westfield Stratford City will also add some 5,000 new homes as well as office space, public spaces, schools and other facilities. Other redevelopment projects have included upgrades to Stratford Station and the new 150 High Street, Stratford residential tower.
Office Space and Rents in Stratford
Many businesses are migrating to lower-cost areas of London. Low vacancy levels are driving rents higher in the City and West End, which is motivating businesses to look for better value in places like Stratford. Stratford is only one of the few markets in the capital that offers Grade A space for rent at under £40.00 per square foot per annum. Grade A office space includes new or recently refurbished properties with high quality specifications, including suspended ceilings, fully accessible raised floors for data and telecommunications cable management, passenger lift(s), and air conditioning. Rents for new or comprehensively refurbished Grade A office space in the First Quarter of 2015 was £35.00 to £39.50 per square foot per annum. This compares to £42.50 to £47.50 in prime locations of the Docklands such as Canary Wharf and £57.60 to £67.50 in prime areas of the City such as Gracechurch Street, Old Broad Street, Lime Street, and Fenchurch Street.
Other properties also remain relatively affordable in Stratford. Grade A properties that have been refurbished were available for rent at £22.50 to £35.00 per square foot per annum during the First Quarter of 2015. Properties without the same specifications as Grade A properties such as buildings without air conditioning systems or fully accessible raised floors for cable management are known as Grade B properties. Refurbished Grade B offices in Stratford are generally available for between £17.00 and £20.00 per square foot per annum. This compares to between £22.50 and £30.00 for prime Docklands addresses such as Canary Wharf and from £32.50 to £42.50 for similar properties at locations in the City.
Future Trends in Stratford's Office Market
Office rents in Stratford are expected to remain low in 2016 and into early 2017. Carter Jonas estimates that average rents will hit £38.50 in the First Quarter of 2016 and £40.00 in the First Quarter of 2017, compared to an average of £36.50 per square foot per annum in the First Quarter of 2015. By comparison, West London rents averaged £47.50 in the First Quarter of 2015 and are expected to rise to £55.00 by the First Quarter of 2017. Similarly, rents prime locations in the City are expected to reach £65.00 in early 2015 and £67.50 by the start of 2017.
Stratford continues to be an emerging market for office space, particularly with the ongoing development of regeneration projects and improvements to the area's transportation infrastructure. The International Quarter, for example, is attracting major tenants such as Transport for London (TfL) and the Financial Conduct Authority. Both organisations have agreed to letting up to 250,000 square feet and 425,000 square feet, respectively. Low costs and good transportation links are likely to continue to draw public and private sector occupiers over the next few years.