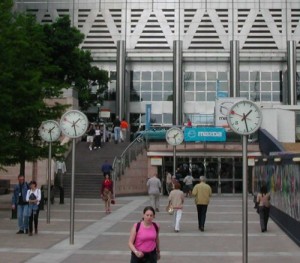 London is a busy, bustling hub full of opportunities and can be a great place to live and work but, like many capital cities, the cost of living can be very high. However, with a little ingenuity and creativity, it is possible to save money, try something new and even stumble across some hidden gems you might not otherwise discover.
Travelling around:
The Oyster Card makes travelling by tube and bus a little easier and cheaper; the savings on single journeys compared to buying a ticket on the day range from 50p to £3; what's more, if you make a number of journeys by bus and tube throughout the day, the fee is automatically capped at the maximum day rate.
Once you are in central London, it is surprisingly easy to get around on foot, it may be possible to avoid using multiple modes of transport by heading to a tube station relatively near your destination and walking the rest of the route. This way you become familiarised with your surroundings, get some exercise, save money and do something positive for the environment.
Looking good:
London is a stylish city but it is possible to look chic without breaking the bank. Search charity and thrift shops for designer garments including office wear in perfectly good condition at a fraction of the retail price; look out for sample sales held by many high-end stores, most are announced online through social networking sites and fashion blogs; visit Camden or Spitalfields markets for unique outfits and have a go at bartering for an even better price.
Look out for salons seeking hair models; trainee stylists offer free haircuts and colour in exchange for the practise, they are always observed closely by senior staff there is usually very little chance of a disaster.
Eating and drinking:
By far the best way to save money on a working lunch is to bring you own. Prepare a sandwich or salad or even leftovers from last night's dinner, it works out cheaper and usually healthier.
Alternatively, buy lunch from the supermarket, many offer meal deals and reward points schemes. For coffee, avoid the large chains and try out the numerous independently owned coffee shops, they are cheaper, you will be supporting small businesses and often the coffee is excellent.
The price of partying in London does not have to be astronomical. At the end of a working day, many bars offer 'happy hour' when drinks will generally be half price. If you and your colleagues plan to make a night of it, arrive at your chosen destination earlier, before the cover charge starts – this will vary from bar to bar, generally between 10pm and 11pm.
Vouchers:
Look out for tourist information centres where you can often find voucher books with money off local activities. Alternatively search online for vouchers and deals on everything from eating and drinking to shopping and theatre. Websites include: lastminute.com, vouchercodes.co.uk, groupon.co.uk, livingsocial.co.uk, travelzoo.com/uk, KGBdeals.co.uk.
Additional advice for office workers in London including Healthy Office Lunch Delivery Services in London, Business Etiquette, Office Kitchen Etiquette, Making a Good Impression on Your First Day in the Office, Tips for Job Interviews, A Guide to Managing Stress in the Workplace and advice on Working Remotely.