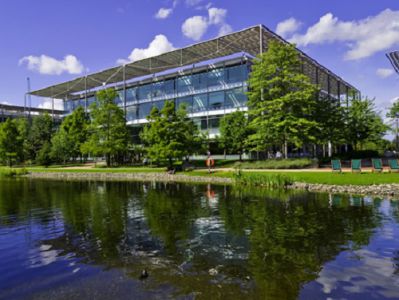 Chiswick Business Park is an award-winning commercial property development that offers first-class office and retail space along with multiple leisure amenities. This development has received numerous awards since 2001, the most notable of which include the 2002 British Construction Industry Award, the 2003 RIBA Award, the 2011 Best Business Award for Best Customer Focus, the 2012 Financial Times Top 50 Workplaces in the UK, the 2013 Queen's Award for Enterprise and Sustainable Development, and the 2016 Green Apple Award.
Currently, the park consists of 11 buildings that occupy nearly 1.5 million square feet, although further development is expected given that the park's developers have planning consent to build a total of 1.8 million square feet. Some of the features that characterise the space available at the park include floor-to-ceiling heights of 9.8 feet, open plan floor plates, VAV and air displacement heating and air conditioning systems, ample parking space, smart building automation and monitoring systems, and CCTV. Moreover, the park is known for its commitment to green practices, evident in the presence of sustainable washrooms and the recycling of food, green waste, and rainwater.
Amenities
This business park offers a wide range of amenities in addition to state-of-the-art commercial property space, including on-site coffee shops, restaurants, bars, and shops. On the leisure front, tenants have access to a Virgin Active fitness club, landscaped outdoor areas suitable for pedestrians and cyclists, dedicated outdoor space for corporate events, and annual sports events organised by the companies headquartered here. A miniature golf course is 1.6 miles away, and the park is only a few minutes' walk from the Gunnersbury Triangle Nature Reserve, which provides tenants with opportunities to unwind in a pleasant natural environment.
Useful Information
Address: 566 Chiswick High Road, London, W4 5YA
Phone: 0208 636 8080
Email: lifestyle@enjoy-work.com
Media Enquiries: send an email to news@enjoy-work.com or call 0208 636 8080
Transport Options
The park is only 5 miles away from central London and can be easily reached using the public transportation network. Chiswick Park, Gunnersbury station, and Kew Bridge are the most convenient stations to reach the park's entrance on Chiswick High Road. For the Bollo Lane entrance, the most convenient stations are South Acton and Acton Town, all of which are between 2 and 10 minutes' walk from the park. A number of London buses can drop you off near the park's main entrance. For further details, please refer to the printed directions can be downloaded in pdf format.
The park can be easily reached by private transport, as it is located near the Chiswick roundabout and within 2 miles of major roads like the A4 and M4, also offering easy access to the North and South Circular roads. The nearest airport is Heathrow, located 12 miles away via the M4.
Major Occupiers
As of February 2017, more than 50 companies were based at Chiswick Business Park, including British and multinational firms involved in business sectors like media, entertainment, technology, oil and gas, food and drinks, offshore, and luxury goods.
Key occupiers at Chiswick Business Park include:
– Danone
– Ericsson
– Halliburton
– Otis Elevators
– Paramount Pictures
– Pepsico
– Qualcomm
– Starbucks
– Singapore Airlines
– Swarowski
– Walt Disney
– Vue Entertainment
– Unisys
Social media
https://www.facebook.com/chiswickpark
http://www.linkedin.com/company/chiswick-park-enjoy-work/products
https://plus.google.com/103184555501732728222
Further information on office buildings and business premises availability in Chiswick.