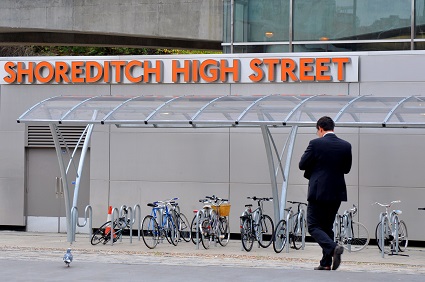 Located in London's East End, Shoreditch is found within the borders of the London Borough of Hackney. Sitting in the heard of Central London's modern core, the area is synonymous with the capital's thriving technology industry. Many of the UK's more innovative start-up technology companies are based in Shoreditch, alongside the world's leading technology and financial companies. The area is a major player in the UK's £72 billion technology sector.
Shoreditch's Evolution
The early history of Shoredtich was centred on theatre. The area was home to England's first playhouses. The Theatre was built in 1576 and was the stage for some of William Shakespeare's plays. Another early theatre, Curtain Theatre, also hosted Shakespeare's work steps from The Theatre. In 1599, Shakespeare's Company relocated The Theatre to Southwark and built The Globe. Silk weavers and traders moved into the area during the 17th century and established the area as a textile centre. By the 19th century, Shoredtich also had a thriving furniture industry.
During the late 19th century, industrial Shoreditch experienced a decline in its traditional textile and furniture industries. Once part of Middlesex, Shoreditch became part of the newly established County of London in 1889. In 1899, the Metropolitan Borough of Shoreditch was created and included the districts of Shoreditch, Hoxton and Haggerston. Bombings during the Second World War destroyed much of the area's housing stock, further contributing to Shoreditch's economic decline. Much of the area was the focus of heavy redevelopment following the war. In 1965, Shoreditch was absorbed by the London Borough of Hackney.
Since the mid-1990s, Shoreditch has been an increasingly popular and fashionable area of London along with nearby Hoxton. Old Street and Curtain Road are known for their pubs and clubs, as well as a number of theatre and music venues that rival the West End. Shoreditch also has a large number of bars, restaurants and art galleries. Once a working class district, the area has been the subject of gentrification over the past twenty years. This has seen a steady increase in land and property values. Many former industrial buildings have been converted into flats and commercial spaces, particularly offices. The new Hackney Community College campus in Shoreditch is also aiding in the area's transformation. Continue reading "Focus on Business in Shoreditch" →