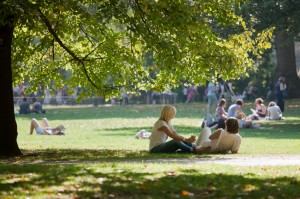 Cities are often associated with concrete and asphalt routes, steel and glass towers, and bustling motor vehicles causing commuter chaos. At the same time, urban areas are home to a wealth of biodiversity. An astounding 47 per cent of London is green space, and the city and surrounding area is home to some 3,000 parks and over 140 nature reserves. In London alone, residents share their city with approximately 13,000 different species of wildlife.
London's natural setting makes it a great place to enjoy the outdoors when taking a break from work at lunch or during the day. The Royal Parks of London are natural choices, and many are within a short walk or tube ride from London's major office hubs. Close to the heart of Central London is St. James's Park. Founded in 1603, the dazzling park sits between the iconic sights of Buckingham Palace and Trafalgar Square. Horse Guards Parade is also next to the park. From a resident colony of pelicans to fine views of Buckingham Palace from the Blue Bridge, St. James's Park is one of London's most scenic and ideal for a stroll away from the office.
St. James's Park is linked with Green Park, Hyde Park and Kensington Gardens, providing an excellent collection of outdoor green spaces to find a quiet spot to work outside, eat lunch with colleague or enjoy a quick break. The largest of the four closely linked Royal Parks in Central London is Hyde Park, which was created in 1637 and covers 350 acres. Hyde Park is also a great destination to unwind after work with recreational opportunities ranging from open water swimming and boating to cycling and tennis.
Continue reading "London's Green Spaces: Perfect London Parks for your Lunchtime Breaks" →