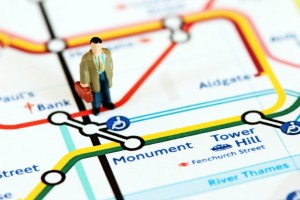 Built 150 yeas ago, the London Underground is now part and parcel of the life of many Londoners. Given the capital's notoriously bad traffic, the tube is often hailed as the quickest way of getting from A to B. But is it really so? Some of the trains running up and down the Metropolitan line can reach speeds of up to 60 miles per hour, but in the city centre, trains barely reach half of that speed. The reason? The stations are too close to each other. This means that in some cases, it might actually be faster to walk than to take the tube. If you are often pressed for time or simply enjoy walking around, take a look at a few alternative walking routes that can save you time and money.
Leicester Square to Covent Garden
These two Piccadilly line stations are only 270 yards apart. In fact, you will see signs at both stations recommending passengers to walk, especially at peak times. Walking takes just 4 minutes, plus you won't be putting your patience to the test on the crowded escalators or using up all your energy climbing the 193 steps at Covent Garden.
Charing Cross to Embankment
Many stations on the Jubilee line are barely 500 yards apart from each other. Charing Cross and Embankment are even closer, at just under 300 yards. Walking will definitely offer you a welcome break from the trains that are often packed with commuters. The walk down Northumberland Avenue is quite pleasant and takes only 5 minutes.
Farringdon to Chancery Lane
Trying to get by tube between these two stations involves changing from the Central to the Northern line at Bank station and changing lines again (after just 1 stop) at Moorgate. The trip seems too much of a hassle considering that you can walk between both stations is less than 10 minutes and enjoy a walk through the backstreets of old Holborn. Continue reading "Is it Faster to Walk Between Some London Underground Stations than Take the Tube?" →