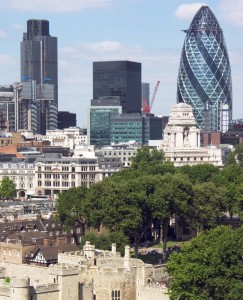 London is one of the world's most important business centres. The global city is a commerce and finance hub, according to the Institute for Urban Strategies, as well as a centre for education, entertainment, tourism, media, research and development, healthcare, professional services, and transport. There are five major business districts across the city, each with a distinct character and economic strengths.
City of London
The City of London is the historic centre of England's capital. First settled by the Romans in the around 47 AD, it is often simply referred to as the City. Emerging as one of the world's most important commercial centres during the 19th century, the City remains a significant business and financial hub. Although the area only has a population of 7,000 according to the 2011 Census, more than 380,000 work in the City of London. Approximately 155,000 people or 41 percent of workers in the City were employed in the financial sector in 2011, with 27 percent or 105,000 people employed by companies in the professional and estate sector.
The greatest concentration of financial companies is found in the east, particularly Bishopsgate. Insurance firms also have a major presence in the east end of the City. Legal firms primarily found in the north and west, while professional and estate companies are largely based in the west. Some of London's tallest buildings are found in the City, including the Natwest Tower, the first skyscraper in the UK. Newer skyscrapers include 30 St. Mary Axe (also known as the Gherkin), the Broadgate Tower, and the Heron Tower. Major office buildings under development include the Pinnacle, 20 Fenchurch Street, and the Leadenhall Building. The district serves as the headquarters for several major national and international firms, including Aviva, BT Group, Lloyds Banking Group, Prudential, Standard Chartered, Ernst and Young, Unilever, Old Mutual, and several of the world's largest law firms.
Canary Wharf
London's secondary financial centre is Canary Wharf. Situated approximately four kilometres or 2.5 miles from the City of London, Canary Wharf is located in the borough of Tower Hamlets. Some of the UK's tallest buildings are found in the district, including One Canada Square. Once the site of derelict docklands, Canary Wharf now boasts over 16 millions square feet of office, retail and leisure space. More than half of the property is owned and managed by Canary Wharf Group plc (CWG), a partnership of property development, investment and management companies. The district features 35 completed buildings and employs approximately 100,000 people, according to CWG. Continue reading "The Top Business Locations in London" →