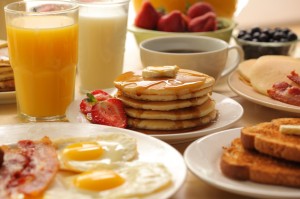 'Breakfast like a King, Lunch like a Prince and Dine like a Pauper' – a delicate balancing act of what quantities one should consume for the healthiest diet, this old saying has become somewhat turned on its head in recent years.
Breakfast is undoubtedly the most important meal of the day: it affects the rest of your day. Skipping this all important meal can lead to a host of irritations that will affect the entire day. Mood swings and gnawing hunger certainly won't lead to a productive start to your day, and can make you snappish and difficult to get on with – something that is certainly not going to be helpful if there's a big meeting coming up. After a full night's sleep, the brain desperately needs to replenish its glucose stores, and so feasting on a scrumptious and healthy breakfast will extend your attention span as well as increasing productivity.
Of course, grabbing a bacon butty swimming in grease and butter – while being delicious and filling at the time – can be no better than eating nothing at all. Full of fat, calories and salt, breakfast meats such as bacon and sausage can sit in your stomach all day, making you feel bloated and uncomfortable. A balanced breakfast with slow-release foods and fruit can work wonders as a morning pick-me-up.
Luckily, in this age of instant messages, email and microwave-able ready meals, the hassle of cooking up a large, healthy and balanced breakfast can be dropped into another's hands. Whether as part of the catering for a busy morning meeting or just to share with co-workers, there are many catering companies which offer a variety of readymade, delicious breakfast menus delivered to the office.
London's office breakfast delivery businesses are booming, with companies such as Grazing, Franks Express, Kudos and Office Diner being only a sample few amongst dozens. Continue reading "Office Breakfast Delivery Services in London" →