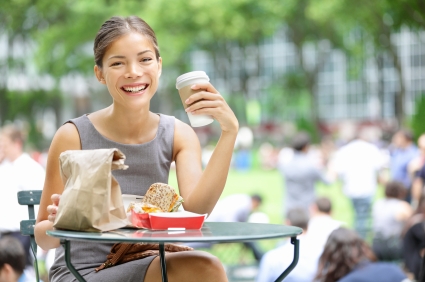 As one would expect from one of the most economically active cities in the world, London has more businesses than any other city in the United Kingdom. The private sector is made up of over 800,000 companies, while the public sector also employs large numbers of individuals across the city's 33 boroughs. On any given day, it is easy to spot office workers going on their lunch break, and in fact, many new businesses have sprung up all over the capital in order to accommodate demand and to provide a variety of options. In this article we examine the options that London office workers have when it comes to enjoying their lunch break.
Eating in: office lunches in London
Whether out of habit or in order to save some money, many office workers choose to bring their own lunch into work. Some choose to prepare their own lunch for health reasons too, especially since some reports unveiled the shocking facts behind some popular lunch options (such as cheese and onion pies that contain 31g of saturated fat or pizzas that have 230 per cent of the daily recommended amount of fat content).
Fortunately, eating in whilst at work does not necessarily have to be unhealthy or expensive. A very popular option for London office workers is to order delivered office lunches. Over the past few years there has been a surge in the number of catering companies that provide a great variety of options at reasonable prices. In some cases, it is even possible to negotiate a special price with regular catering suppliers. Another advantage of having lunch delivered to the office is that it saves time, as there is no need to spend the previous evening cooking at home or to leave the office to find a lunch spot. This can be particularly useful during those extremely busy periods at work or when unexpected projects crop up, something that is not uncommon at all in the highly-pressured working environment that some London offices can be. Continue reading "Office Lunches in London" →